Well I'll go to the foot of our stairs! Tonight's production of 'Hobson's Choice' by the Player's Theatre, Cheadle Hulme is proper good, proper northern and by gum, it's a right barrel of laughs!
The play has apparently been performed somewhere in the world almost every week in the one hundred years since it was written by Harold Brighouse. It's not difficult to understand why it's so popular.
The play is set in Salford and revolves around Henry Hobson and his three daughters and Henry's continuous battle against their "uppishness". The elder daughter, Maggie, is overbearing, controlling and domineering, but by virtue of these characteristics, ("why do you get your own way all the time?" "It's just habit"), she becomes the saviour and champion of the family business.
Outstanding performances tonight came from Ian Wilkinson (Henry Hobson), Sarah Howsam (Maggie Hobson) and Ian Tyler (William Mossop) but the supporting case were all excellent.
The part of Henry Hobson was made for Ian Wilkinson - his persona, mannerisms, facial expressions and accent were absolutely wonderful, he didn't even have to say anything to make me laugh and he has the best frown! This was genius casting as he embraced the role completely.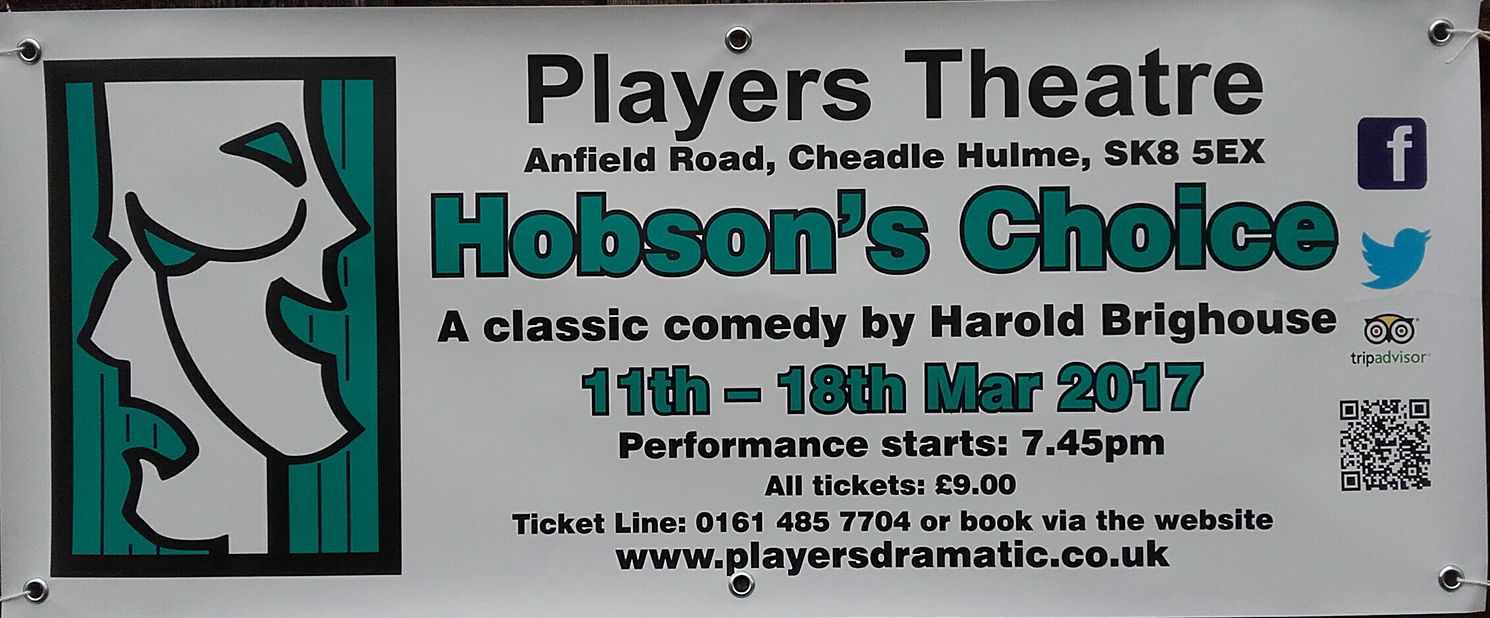 Ian Tyler has a face that is comedy gold - he can convey so much with just the raise of his eyebrows. A lot of his character's personality was portrayed via his face and mannerisms and he carried them off perfectly. Scenes containing him and Ian Wilkinson were a joy to watch: hilarious and fantastic theatre. The pair of them have excellent comedy timing and delivery. It seems wrong to refer to them as amateurs because the standard of their acting and performance was anything but.
Sarah Howsam played the part of Maggie to perfection - never knowingly unbossy, very headstrong and completely getting her own way by steamroller methods when called for. I loved it! Her accent was harsh and gritty and exactly right. In fact, she put me in mind of a young Ena Sharples (not in looks - don't worry, Sarah!) Maggie is the template of the archetypal strong, northern woman and Sarah did the role complete justice.
One very minor observation is that part of the scene in Willy and Maggie's home after the guests have left is a little protracted with not much happening: Maggie is tidying away the tea things and Willy has exited the room. This is a bit empty and possibly just needs to be tightened up a little.
For such a small theatre with a limited stage area, the sets were amazing. We were transported from Hobson's shoe shop to Maggie and Willy's dank cellar living room to Hobson's drawing room and all the props were totally authentic. One scene change was particularly involved and took a little time but everyone attended to this seamlessly and it earned them a round of applause from the audience.
Praise too must go to the Wardrobe Department because the costumes were perfect.
The acting tonight was first class, and the costumes, sets and lighting were professionally presented and executed. If you miss this production (which runs until Saturday 18th March), you will miss a lovely treat.
The Player's Theatre is a shining example of what passion for theatre can produce and I urge you to book tickets before they're all snapped up. http://www.playersdramatic.co.uk/
Reviewer: Nicky Lambert
Reviewed: 13th March 2017