Spellbinding theatre at its best
Anthony Shaffer's play is a myriad of twists and turns through a cleverly constructed framework of surprises which makes it a conundrum for a critic because to give any indication of the plot would only spoil your enjoyment of this superb production from Rainhill Garrick Society.
It is a play that is sometimes criticised yet under the impressive direction of Dave Hedges any such concerns are quickly dispelled: it's not dated yet perfectly reflects our interest in 'upstairs-downstairs' drama; it's not racist though it captures attitudes prevalent in our more recent political debate; nor is it demeaning to women but it highlights perfectly the 'old bull-young bull' behaviour of men.
The curtain opens on the living room of a Wiltshire manor house, very much of its time and place, and filled with games and novelties that come to make sense as we learn more about its owner, Andrew Wyke (Gerald Walker), who is sat at his desk crafting the latest investigatory episode in the life of his bestselling fictional detective St John Lord Merrydew until the interruption of a visitor at the door. But the appearance of Milo Tindle (John Duffy) is no surprise as he has been invited by Wyke to discuss affairs of the heart, in particular his suitability as the future husband of Wyke's current wife with whom he has been having an affair, and his ability to keep her in the custom she has become accustomed to. And so, a game begins, the first of many, as this finely honed and brilliantly played dark psychological drama unfolds. You will laugh out loud, be stunned into silence, and jump from your seat before you get to the interval. The second half gets even better. I was captivated and sat on the edge of my seat throughout – you don't get much better than this in my opinion.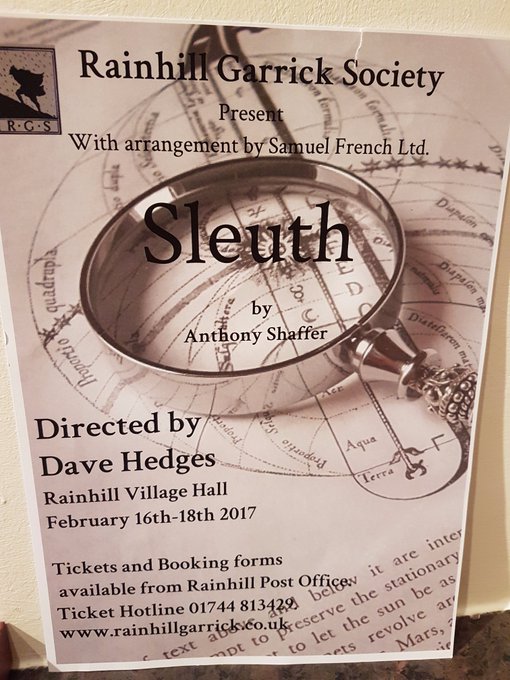 Walker and Duffy were at their best in their 'cat and mouse' manoeuvrings with performances full of energy and brilliant humour. Walker's slightly eccentric demeanour captures the introverted and self-interested author to a tee whilst Duffy carries off the smooth, stylish younger buck who knows what every woman wants convincingly. They are ably supported by Rob Williams, Richard Parker, and Adam Young. The set design by Richard Parker and constructed over three weekends by the whole company under the stewardship of Rob Williams is superb and a treasure trove of befitting props, many made from scratch, and special effects.
Rainhill Garrick Society was formed in 1942 and Sleuth is their 228th production. They meet weekly on Tuesday and Thursday at Rainhill Village Hall and are always looking for new members, so whether you want to tread the boards or just help backstage then get in touch – who knows where it might take you but you'll certainly have fun with this very friendly, talented, and welcoming group.
Their next production is a McGillivray and Zerling Jr comedy 'Farndale Avenue Housing Estate Townswoman's Guild Dramatic Society's Murder Mystery' which promises even more entertainment and lots of laughter. Directed by Judith Martindale it performs May 18th – 20th 2017 at 7.30pm. The first production for the next season – Seasons Greetings by Alan Ayckbourn in October – has also been confirmed. For further information on their productions or to get involved then visit their website http://rainhillgarrick.co.uk/
Sleuth plays at Rainhill Village Hall on Thursday 16th, Friday 17th and Saturday 18th January 2017 with performances starting at 7.30pm. Tickets at £6 (£5 concessions) are available at Rainhill Village Post Office or by calling 01744 813429.
Reviewer: Mark Davoren
Reviewed: 14th February 2017