I have thought long and hard about this and have come to the conclusion that sometimes being a reviewer can be difficult, especially when visiting a wonderful little theatre such as the Players Theatre, Cheadle Hulme to review the youth players in their current production of Wind In The Willows and coming away disappointed. The hospitality of everyone at this theatre only makes it more difficult to write any negative comments but I hope they will be taken as intended as constructive and from someone as a member of the audience with no connection to any of the actors or production team. I can almost hear the booing at me now (it is panto season!) but maybe my expectations were too high after hearing that this was an award winning team. Now it's not all doom and gloom so please read on, there is great potential amongst the young cast and given the age range from 8 to 17 it is wonderful that they are involved in performing in theatre and the last thing I want to do is to discourage anyone.
Okay, let's begin. The opening scene featured the cast at the front of the stage who commenced with a song choice which was questionable in relation to the context of the play. I understand fully it was as a welcome to the audience but felt it detracted from this story, particularly as it is a well known song from another popular musical. Whether it was the first night nerves or not, I would have liked to see some happy faces on stage, but maybe the performers were concentrating too hard during the opening dance routine, which was uninspiring and lacked energy and drive. It also felt a little cluttered all standing in line, more use of the stage would have been better, although saying that, the following dance/march did utilise the stage, but again, a little more bounce, smiles and enthusiasm would have gone a long way. In the second half of the show performances were more enjoyable with characters appearing to have relaxed and beginning to enjoy their roles.
Wind in the Willows is a childrens classic story written by Kenneth Grahame and adapted for the stage by John Morley and features several woodland creatures. A friendship develops between a Rat (Ratty) and a Mole along the river banks. One day they meet up with Toad, a rich and jovial character with a penchant for latest fads. After his horse drawn caravan home is wrecked Toads' interest turns to cars and he steals one. The woodland friends want to help out Toad but will he end up in prison and lose his home to the Weasels? This is a story that brings in plenty of other characters including otters, gypsies and the Police. The set was okay, nothing spectacular with just a few painted trees and the entrance to Mr Badgers home. Scene changes were very slight and occasionally a little slow, particularly when the actors exited from the front of stage and off through a side entrance. I was disappointed in the cardboard box 'horses head' for Dobbins and feel that with a little more imagination something more creative could have been made with little expense, maybe with paper mache or material. The two chase scenes around the theatre whilst they were fun, the music was far too low, I'm not even sure any was played during the first chase and I could only just make out the music from the infamous Benny Hill chase on the second.
Toad tonight was competently performed by Laura Griffiths as was Ratty acted by Adam Gibson. (Adam you would make a great Basil Fawlty!) Both gave great performances and were suitably cast. With tongue in cheek I will say 'I do not know his father, his grandfather....' but have to say Paddy Bever as Mr Badger delivered his lines well and with perfect comic timing. The booing and hissing started here each time the evil Chief Weasel Mia Gibson appeared, but in this instance the louder the boos the more of a compliment to the actor and in this case, they were well deserved! Mia possibly had the best singing voice too but I felt she lacked a little confidence at times as her level dropped, noticeably when she was joined by others......go for it, you can do it!
Oh my, oh my, oh my..... the words uttered by Mole and to be repeated by myself... oh my, oh my, oh my.....what a talent! This character was brought to life by 13 year old Daisy McDermott who gave an incredible performance tonight. She was a delight to watch as Mole and if she had real whiskers they would have twitched. Fabulous facial expressions and voice projection and a natural at encouraging the audience to join in with singing along. Her attention to detail for her character was amazing which included knees knocking during scary scenes. For me, Daisy was the star performer of the night, she really appeared to be enjoying herself and was brimming with confidence.
Overall it was an enjoyable show which just needs a little ironing out, some of which falls to the production team. With almost sell out audiences for both performances this theatre group should be proud of their achievements which can only get better. I wish them every success for the future.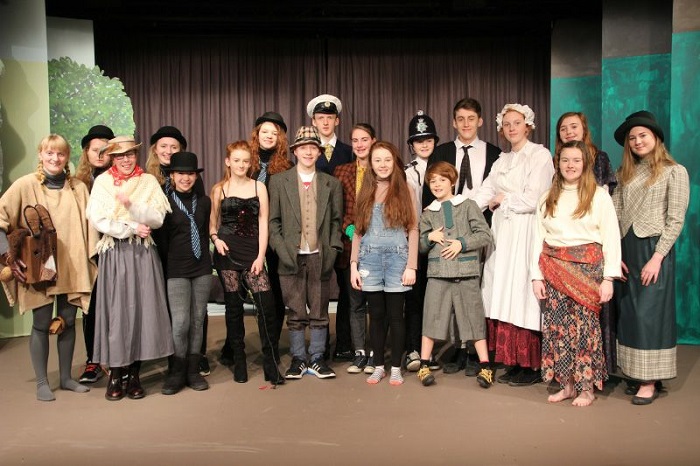 Reviewer: Lorna Weekes
Reviewed: 16th December 2016