Faced with howling winds on a cold, wet, wintry night in November, curling up in front of the fire with a cup of hot chocolate might seem the best way to spend the evening, but you would be wrong....The Players Theatre in Cheadle Hulme is the place to be! Currently being performed at this little gem of a theatre is Bill MacIlwraith's 'The Anniversary' which will certainly chase away those winter blues and leave you wiping tears of laughter away instead. Henry, Terry and Tom are three strapping lads employed in the family's (cowboy) building business, with a mum who controls every aspect of their life, is it too late for them to cut those apron strings or will she continue to wrap them around her little finger?
Barbara Harris is the caustic tongued matriarch and is simply superb with her barbed comments that would leave many in tears but also turns on the charm when it suits. Despite being widowed she gathers the family annually to celebrate her wedding anniversary but this year two of her 'boys' have celebrations of their own to share. Tom (Robbie Bulger) is newly engaged to pregnant Shirley and chooses to introduce his fiancée to the family tonight. Terry (Ash McDowell) and his wife Karen are emigrating to Canada and also choose this family gathering to break the news. Eldest son Henry (Chris Billington) has no secrets but still manages to shock Shirley but she shows a compassion for him unlike his siblings and sister-in-law.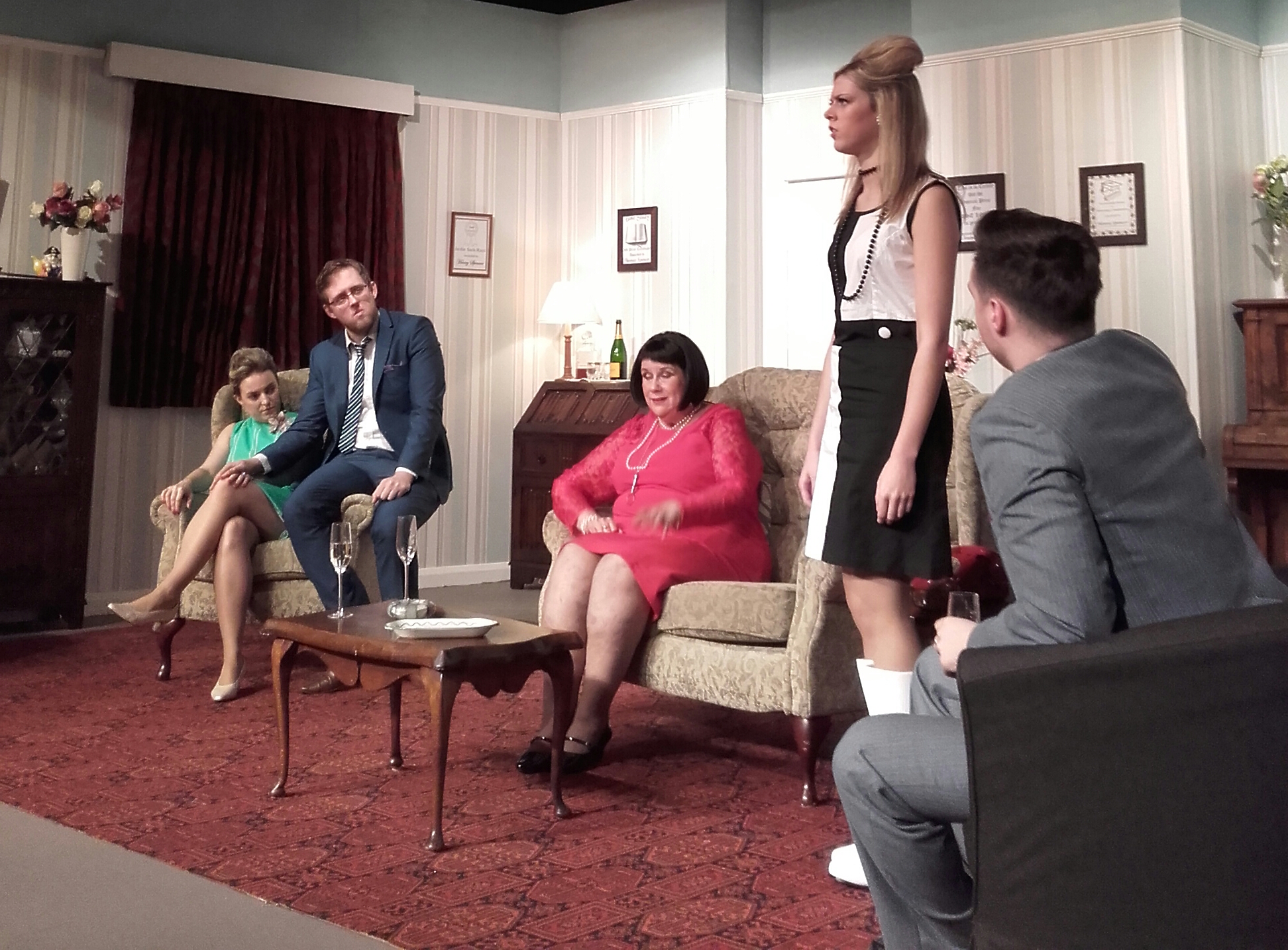 Charlotte Morgan as Karen is feisty and gives as good as she gets from her mother-in-law and despairs at her weakling of a husband ever doing the same, will this lily livered mummy's boy finally stand his ground and make that break? Shirley is warned about 'Mum' from all the others and despite suggestions she makes her getaway whilst she can, remains at Toms side, will she regret her decision? Emily Williams as Shirley is a 1960's icon with her Quant style dress and white knee high patent boots and is perfectly cast for the part, sitting back and taking in the family squabbles before letting loose with her own opinions. Is her fiancé the big man? or all talk and succumb to his mother? After all, blood is thicker than water!
I loved the portrayal of all of the sons who each brought their very different characters to life and perfectly complimented the female characters. Under the direction of Val Middleton-Egan this cast of six work amazingly well together with perfect comedic timing that is so necessary to create the smooth running of a production like this. The stage is set up as a lounge with the finest attention to detail and is solid (even when the doors slam there is no wobbly walls here!) and in true Hyacinth 'Bucket-Bouquet' style features electronic closing curtains!
Whilst watching the performers I could see this play evolve into a TV series, with similarities to the 80's programme Bread and the recent, Mrs Browns Boys. Both successful with a strong willed mum at the helm supported by loyal family. The Anniversary at the Players Theatre is a quality production and is not to be missed and continues with performances until 26th November 2016.
For further information and tickets: http://www.playersdramatic.co.uk/whats-on/#currentproductions
Reviewer: Lorna Weekes
Reviewed: 21st November 2016