An Entertaining Adaptation of a Literary Epic
Burjesta Theatre's autumn production is an in-house adaptation by Julian Bond, who also directs, of Dostoevsky's 19th C literary epic, 'Crime and Punishment', a pivotal novel of Russian literature set amongst the poverty and despair of St Petersburg with many of the cast playing multiple roles in a tale that is more 'whydunnit' than 'whodunnit'.
The play opens in a bar and introduces us to Raskalnikov (Nathan Benjamin), a poverty-stricken student who merely exists, and the scene is set quickly as we learn of the general dislike towards moneylender Alyona Ivanovna (Helen Lanceley) from Marmeladov (Michael Cavanagh), an alcoholic civil servant, and of his wife, Katerina (Lanceley), who is dying from consumption and his deeply religious daughter Sonya (Laura Connolly), who prostitutes herself to feed her family. Raskalnikov's subsequent visit to the moneylender who lives with her sister, Lizaveta (Pam Campbell), leaves us in no doubt as to his predicament as he pawns yet another possession for much less than it's worth to stave off the rent money he owes. These are indeed desperate times which often require desperate measures but Raskalnikov is an intellectual who believes in the distinction between the ordinary and the extraordinary - the latter, of whom he believes he is one, are entitled to cross the line to survive and excel, and his thoughts soon turn to murder.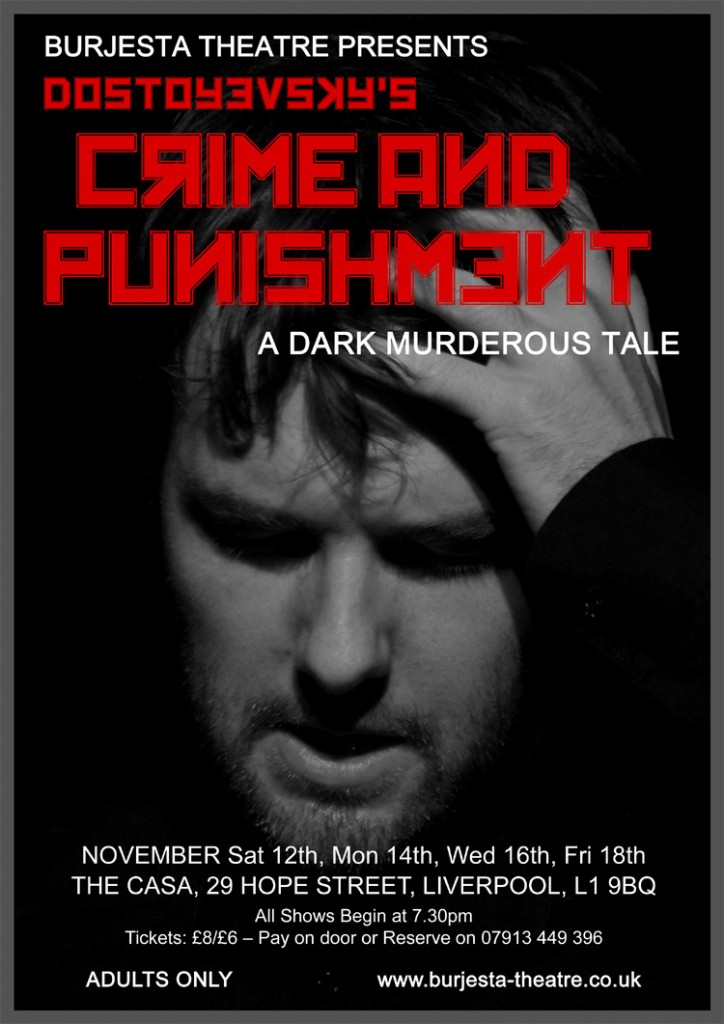 With his moral justification in place, he kills Alyona although he is haunted by having to also kill her sister who returns at the wrong time. Initially called in by Inspector Fomich (Bob Towers) and his assistant Zamyatov (PJ Murray) for questioning, when it transpires their enquiry is nothing to do with the actual murder, he collapses, plagued with a fever of his own guilt as his descent into darkness begins to spiral out of control. Assisted by friends with his recovery, he endeavours to assuage his guilt by helping those in need including the family of the now deceased Marmeladov and the youngest children (Callum Wright and Hooli Hutchison).
Raskalnikov is introduced by his friend Razumikhin (Towers) to detective Porfiry (Cavanagh), who on the surface appears to be a bit of a fool but is in fact intent on catching the real murderer – it is worthwhile noting here that the character of Porfiry was the inspiration for Peter Falks' Inspector Columbo – and is therefore happy to dismiss an attempted confession by a decorator (Yahya Baggash). Raskalnikov remains haunted by what he has done, cleverly played out through an accusatory Ghost-Man (Peter Durr), but as his relationship with Sonya develops, we see his spirituality surface on his way to finding atonement, as Porfiry, who lacks the hard evidence to convict him but recognises his redemptive qualities, enters in to philosophical debate in true Columbo-style, and with the crowning glory of Sonya's religious belief now bestowed upon him, Raskalnikov is ultimately compelled to confess.
The original novel is some 600 pages long and Bond has bravely, and rightly in my opinion, culled many of its sub-plots to allow a dramatic production to emerge. The opening scenes tell rather than show us what is going on but this is perhaps a necessary evil as there is a lot to get through and the audience need to get up to speed quickly. The half-stage at The Casa was used to full effect although stage entrances are more limited. Crowd scenes involving all the cast are well put together and tended to work better than some of the solo scenes in getting points across in what is a demanding storyline. It was pleasing to see opportunities to explore the inherent black humour of the piece being fully taken advantage of. As with any play of this nature, the hard work put in during the first half pays dividends in the second when the tale unfolds and I thought the wake scene with the German landlady (Campbell) involving all the cast was not only funny but worked particularly well at getting the audience back in the swing of things post-interval.
There were credible performances from all the cast but special mention must be made for Michael Cavanagh who was outstanding in his roles as Marmeladov and as Porfiry, and for Peter Durr who was excellent and believable throughout and who I hope to see in a leading role in future productions. Deborah Lindsay and Vienna Bond are to be commended for the wonderful costumes that captured the period perfectly.
Crime and Punishment performs at The Casa on Monday 14th, Wednesday 16th and Friday 18th of November with a start time of 7.30pm. Tickets cost £8 (£6 concessions) and can be reserved on 07913 449 396 or pay on the door.
Burjesta Theatre are now into their fifth year with twelve productions / 60 shows under their belt and with a strong reputation for putting on original work and adaptations. They also run weekly workshops each Wednesday at The Casa which are open to anyone over 18. For further details please see their website http://www.burjesta-theatre.co.uk/home/
The Casa Bar and Venue at 29 Hope Street is at the heart of the University/Theatre district of Liverpool between the world-famous Anglican and Roman Catholic cathedrals. It was set up in the aftermath of the Liverpool Dockworkers dispute and was established as an Industrial and Provident Society in 1998 with the objectives of relieving poverty, sickness and hardship and advancing education in Merseyside. Further details available at http://www.initiativefactory.org/
Reviewer: Mark Davoren
Reviewed: 12th November 2016