Suspense and Drama Played Out To Full Effect
Based on Daphne du Maurier's short story, The Birds (1952), which inspired Alfred Hitchcock's 1963 film of the same title, Conor McPherson's dramatization is set in an isolated lakeside house, sometime in the present, but explores a very different world albeit one that is equally mysterious and unexplained. Masses of birds have begun to violently attack at high tide, driving relative strangers Nat (Mike Sowden) and Diane (Geraldine Moloney Judge) to take refuge in the abandoned dwelling and form a bond to survive their haunting new circumstances.
With no electricity, a scarcity of food and no news of what is happening elsewhere, the tension is high and hopes for a future, any future, lie threadbare. The sudden arrival of a young woman, Julia (Kirsten Branscombe), serves only to prove the adage that whilst two is company, three is a crowd as our trio proceed to ruffle each other up the wrong way. The brief appearance of a neighbouring farmer, Tierney (Gareth Crawshaw), only serves to stall the inevitable as paranoia and claustrophobia strike in equal measure as this psychological nightmare begins to unfold.
We learn little of the characters in the opening scenes but enough to allow us to form apparently considered opinion: Nat is separated from his partner and has had mental health issues; Diane is a writer, divorced and with a daughter; Julia has a mysterious past and obsesses over the Bible; Tierney reinforces that even when we have the basic essentials we still need a human touch. Diane's regular written diary updates are expressed through a voice-over which serves to set a tone for what may be going on as life is reflected upon and dilemmas explored. But all is not necessarily as it seems and that's not just the onions.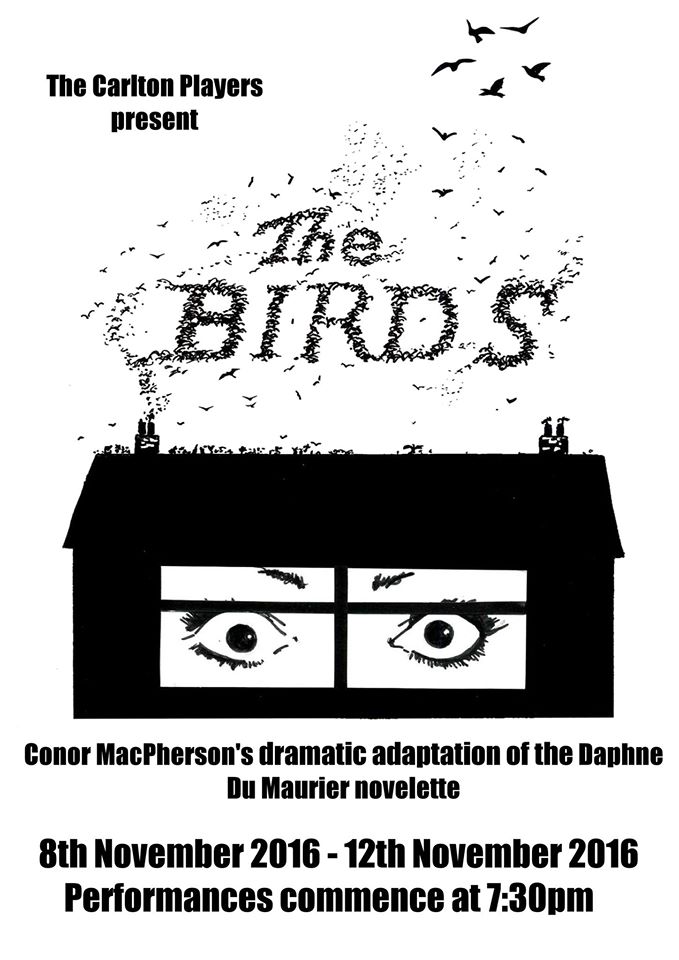 Productions of McPherson's play have typically received much criticism in relation to its characters, its length, the patchiness of scenes and so it is much to the credit of Carlton Players that their production was not affected by any of these. The main leads work well off each other and the short, punctured nature of the scenes clearly establishes the passage of time and that these are strangers thrust together in the most unimaginable of circumstances and as much as they work together, equally they do not necessarily trust each other as relationships evolve, unravel and more. Any burgeoning relationship between Nat and Diane is torn asunder by the arrival of the younger, more beautiful Julia and human nature is played out to full effect and its worst conclusions where you least expect it.
Suspense is achieved by more than acting alone and the key to its success in a play of this nature is through orchestrating the lighting and sound effects with the action both on- and off-stage. Other productions of this play have often been criticised for their handling of the bird scenes and so it is pleasing to see how Carlton Players captured the full effect of the isolation, the high winds and the regular arrival on the tide of those birds, incessantly squawking and battering at the windows and shutters, trying to get in. In conjunction with the staccato nature of the scenes, this is where the audience begin to experience the horror, to feel a part of it and I was not the only one to jump from my seat on occasion at what the technical team of Phyllis Brighouse, Craig Reynolds and Brian Williamson cleverly played out through my own imagination. Now that is powerful drama and it is much to the credit of co-directors Michael Sanders and Phil McConnell in pulling together the respective strands of cast and crew in such a wonderful way. I often hear audiences commending a production on their way out but when you hear them discussing the finer technical points which made the whole so believable you know the team have well and truly cracked it.
The Little Theatre in Birkenhead is a delightful venue complete with bar and seating almost 300 including full disabled access. Productions date from 1930 and there are some wonderful photographs of earlier members adorning the interior. The Carlton Players are the resident company at The Little Theatre and produce 7 plays a year including a pantomime, comedies and serious plays.
Further details for both can be found at http://www.carltonlittletheatre.co.uk/
The production of The Birds runs through to Saturday 12th November with performances starting at 7.30pm. Tickets are available via http://www.wegottickets.com/carltonlittletheatre
Reviewer: Mark Davoren
Reviewed: 8th November 2016