Written at the end of 'The Book Musical' era, before the popularity of through-sung, 'Rock Operas' really hit, this Musical is traditional in every sense. It has both overture and entr'acte; a flimsy storyline with quite ordinary dialogue leading up to songs a-plenty; good characters versus bad, with good winning the day; and of course, a dog! But what is it about THIS Musical that has made it remain a perennial favourite whilst others have been and gone without so much as a second glance? Of course, it's a very heart-warming and life and love affirming story featuring young children. It's also a very 'real' story in the sense that such orphanages did actually exist [although I doubt they had quite such a dreadful Mistress as Miss Hannigan], and the time and place are historically accurate. Franklin D. Roosevelt was the President, and he did announce a 'New Deal' to help turn the economy of the USA round; and he did have amongst his staff a certain Harold Ickes; and Louis Brandels was the Associate Justice to The Supreme Court. So there was something there that the American public could definitely relate to.
For us, maybe we remember the comic strips of our youth, and see many similarities between those and the characters portrayed in this Musical. I do, but have never seen the comic Little Orphan Annie upon which this is based. Or maybe we just love to see good triumph over evil and see it done, not with either pen or sword, but with a young 11-year-old girl who melts not just Warbucks' heart, but everyone else's too.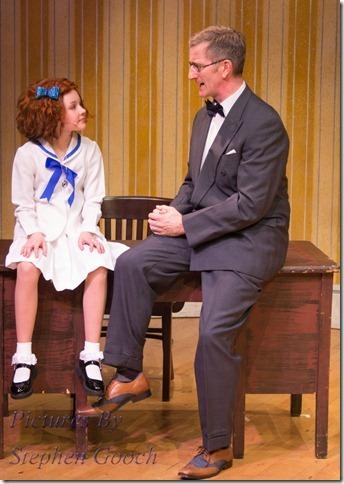 This particular production, presented by Sale And Altrincham Musical Society, was faithful to the book in every way. The costuming was superb, the music, under the direction of John G Barry, was also sterling (despite it's very rocky opening bars) and the singing, especially from the orphan girls was excellent. The characterisations were all kept very similar to the original, and so the characters that we have grown to either love or hate (rather like a pantomime) were there before us, somehow familiar, which felt good. What didn't work quite so well for the society in this production though was the choice of set. The wait in between scenes as the changes were affected seemed to take for ever. They were certainly some of the slowest scene changes I have ever encountered and not only did this dampen the pleasure of the experience it also lengthened the show quite considerably. It didn't finish until nearly 10:30pm.
The cast however, were extremely well chosen, and all put in lovely performances. Of course, the star of the show undoubtedly was the dog. You have a real animal on stage with youngsters in the audience and the 'ah' factor is bound to happen, that's a given! However, the 'second' star of the show was of course Natalia Jacques who played Annie. In the programme it says she is 13 years old, although I found that very difficult to believe from her stage performance this evening. So convincing was her performance, along with her diminutive stature, that she was a rather forward 11 year old right from the start, and her wonderful voice, both speaking and singing, captivated.
Miss Hannigan, the drunken head of the orphanage was played with relish by Philippa Shellard; a character that can easily descend into caricature if not too careful, but the balance was held, and combined with a great belt voice, Shellard really relished in playing this character to the max.
Oliver Warbucks was perhaps the most untraditional interpretation of them all. Played here by Peter Birch I felt that on his first entrance he was simply too nice. If a young orphan girl is going to change his life and melt his heart, then he has to be cold and domineering to begin with, and I felt more could have been made of this. He was simply too nice from the off! However, he did build up a lovely rapport with Annie, and their love of each other did feel real. I also liked and appreciated Birch singing the two numbers which are sometimes cut from the score, as they were both additions to the original in any case. Birch is not a singer, but gave them his best shot and very much like many before him, including Rex Harrison, managed to hit the right notes in the cadences and pretty much speak the rest. It actually worked for him, and somehow added to the character.
Warbucks' Private Secretary, Grace Farrell was played here with a definite touch of 'The King And I' by Sarah Thewlis. A consummate actress, her every eye movement mattered, and one really did understand this character and her position and affections.
The smaller roles were Phillip Maxwell and Olivia Barrett as Rooster and Lily St. Regis; the two crooks who first try to swindle Rooster's own sister, and then, with her help, go for the top prize of masquerading as Annie's parents in order to get to the money. Both roles nicely placed and the Easy Street sequence was lovely. Tony Rostron played the wheelchair-bound president with bluster and humanity; and Dave Hunt gave a highly comedic interpretation to Ickes.
Of all the orphans, who were all excellently chosen and showed their individual characters well, the two to impress just a little more were Molly (Isobel Mason) and the girl who started the singing for 'You're Never Fully Dressed Without A Smile' (I don't know the name sorry).
If 20 minutes could be cut from this show [quicker scene changes and lose the overture and entr'acte for a start] then it would be an excellent show indeed. It was very enjoyable, but sadly it dragged and even with some lively choreography (James Goodwin) and some nice directorial choices (Nick Angus) the pace of the Musical never really moved faster than a walk all evening. This was opening night though, and so hopefully once the cast and crew get 'into their stride' it will naturally speed up anyway.
Reviewer: Mark Dee
Reviewed:8th November 2016