Hot Flush! by Julie Benson, with music and lyrics by Ollie Ashmore, is billed as 'The Naughtiest Musical in Town' and certainly Zodiac's Director, Laura Bason, and Musical Director, Tim Walker, have combined perfectly to deliver what is undoubtedly one of the most entertaining, funniest and enjoyable productions I have seen this year.
With a sprinkling of Chaka Khan and ABBA in the background, we meet our four female protagonists: Myra (Jude Kenyon) is a successful barrister, specialising in divorce, whose husband, Howard, has just left her for some bimbo with artificial everything, leaving her with pent up anger and frustration sated by drinking and smoking. Helen (Jo Oultram) is a widow whose only daughter has just left for university, and lots more by the sound of it, who is trying to get her life back on track one day at a time as she battles loneliness.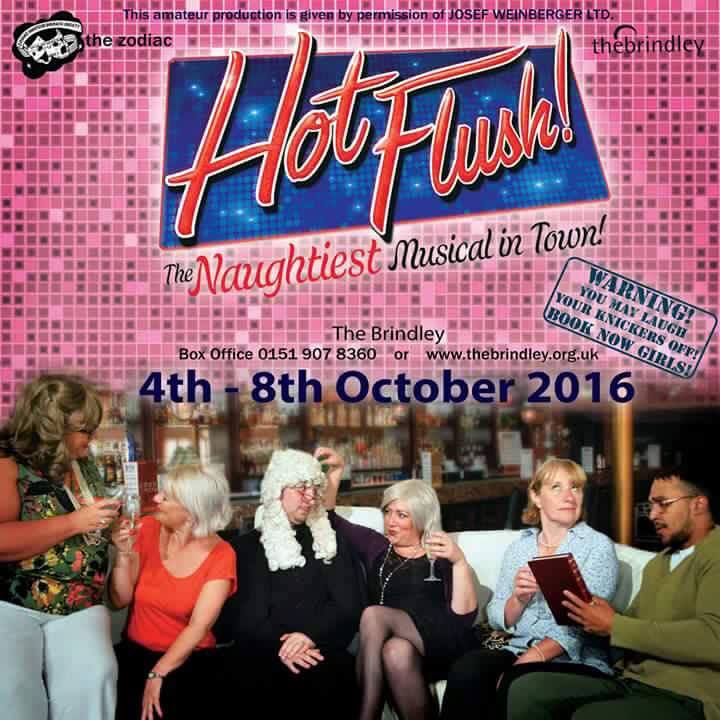 Sylvia (Nicola Holland), a sassy and sex-mad New York gal, has been married to Joe since forever and got bored with him on day two and so has been working her way through the alphabet of men and now on her second run through has reached D for Daniel - Myra's eighteen-year old son! And finally we have Jessica (Rachel Kirkbride), the truly larger than life and lonely charity fundraiser whose recently retired husband Richard has taken himself off to the garden shed and, with money no object, only has to worry about fending off the advances of the local vicar.
So with one thing in common – going through the menopause – our intrepid four form the Hot Flush Club who meet at their local bar every Tuesday without fail to wallow and celebrate in equal measure as their stories unfold through a series of vignettes allowing us to share in the friendships, the secrets, the tears, the laughs and the ups and downs of these four ordinary women living extraordinary lives.
All four ladies are an absolute delight as they individually tell and sing their respective stories as well as combining seamlessly to deliver some great numbers, brilliantly choreographed by Jessica Rigby, including 'H.R.T.', 'A Cure By Now', 'So Much Love', 'The Best Years' and of course the title song 'Hot Flush!', all of which showcase their superb range of acting and singing talent. There's nothing tougher than an opening night but by the second half you could see they were enjoying this as much as the audience were delighting in its every comedic moment.
For a production that revels in one-liners and jokes at the expense of men, our cast are ably supported by two young men (Kriss Hubbard and Chris Doyle) covering approximately 15 roles between them, and delivering some great numbers including 'A Man's World'. I would have liked to have seen more men in the audience as well because this musical is simply downright funny and in the hands of the Zodiac is even better, and, you never know, they might just learn a thing or few! Also, somewhat ironically given tonight's production, the Zodiac are actively seeking men for their productions so why not give it a go – email This email address is being protected from spambots. You need JavaScript enabled to view it. for more information.
The five-way split set is ideal in capturing each of the four homes and the bar with Neil Hampson's sound and lighting setting each scene perfectly and providing ideal musical interludes as minor changes are made with much credit to the Production Manager, Aaron Cawley, for their ease of execution. The use of the Studio at The Brindley allowed the right level of intimacy which can often be lost in a large auditorium but presents another challenge as this week-long run has already sold out for every night. Perhaps a run extension is in order? I would certainly hope so as this production should not be missed.
The Zodiac, or more formally Zodiac Amateur Operatic Society (ZAOS), was formed in 1968 and is an amateur musical theatre society based in Cheshire. They typically perform a major musical production in the Spring with a second production in the Autumn. They rehearse in the Frodsham/Runcorn area and perform either at The Brindley in Runcorn or more intimate productions at Frodsham Community Centre. Further details can be found at www.zaos.org.uk
The Brindley Theatre is owned by Halton Borough Council and is the main centre for arts and entertainment for the borough of Halton which covers the twin towns of Runcorn and Widnes on either side of the River Mersey. Opened in 2004, facilities include a 400-seat theatre; 108-seat studio; gallery space; digital cinema and a bar & terrace cafe. For more information about The Brindley Theatre, forthcoming productions and to make a booking then please visit their website www.thebrindley.org.uk
Hot Flush! performs at The Brindley Theatre, Runcorn from 4th to 8th October 2016.
Reviewer: Mark Davoren
Reviewed: 4th October 2016