A Perfectly Delivered Classic Comedy Farce
Derek Benfield's 1982 comedy piece is a well-woven tale of suburban married life, affairs and all the complications that entail as each character twists and turns to avoid being caught out whilst misunderstandings aplenty run alongside. It is rightly considered one of the great classic farces and as such it is well presented in this production from Players Theatre under the direction of Bren Brooks.
Brian (Chris Jorgensson) has been encouraged to take up jogging by his wife, Hilary (Anne Wint), who has gone to the lengths of buying him a red tracksuit even if it's not his colour. But instead of jogging on a Wednesday evening, Brian is in fact spending a couple of hours with his girlfriend Wendy (Shona Mason) in the flat of his good friend George (Geoff Bird). Unbeknown to Brian, who believes he goes to play darts at the local pub, George is in fact round at Brian's flat indulging in Hilary who in turn is convinced she has packed Brian off for his jogging for a couple of hours - well he's certainly always out of breath when he gets back!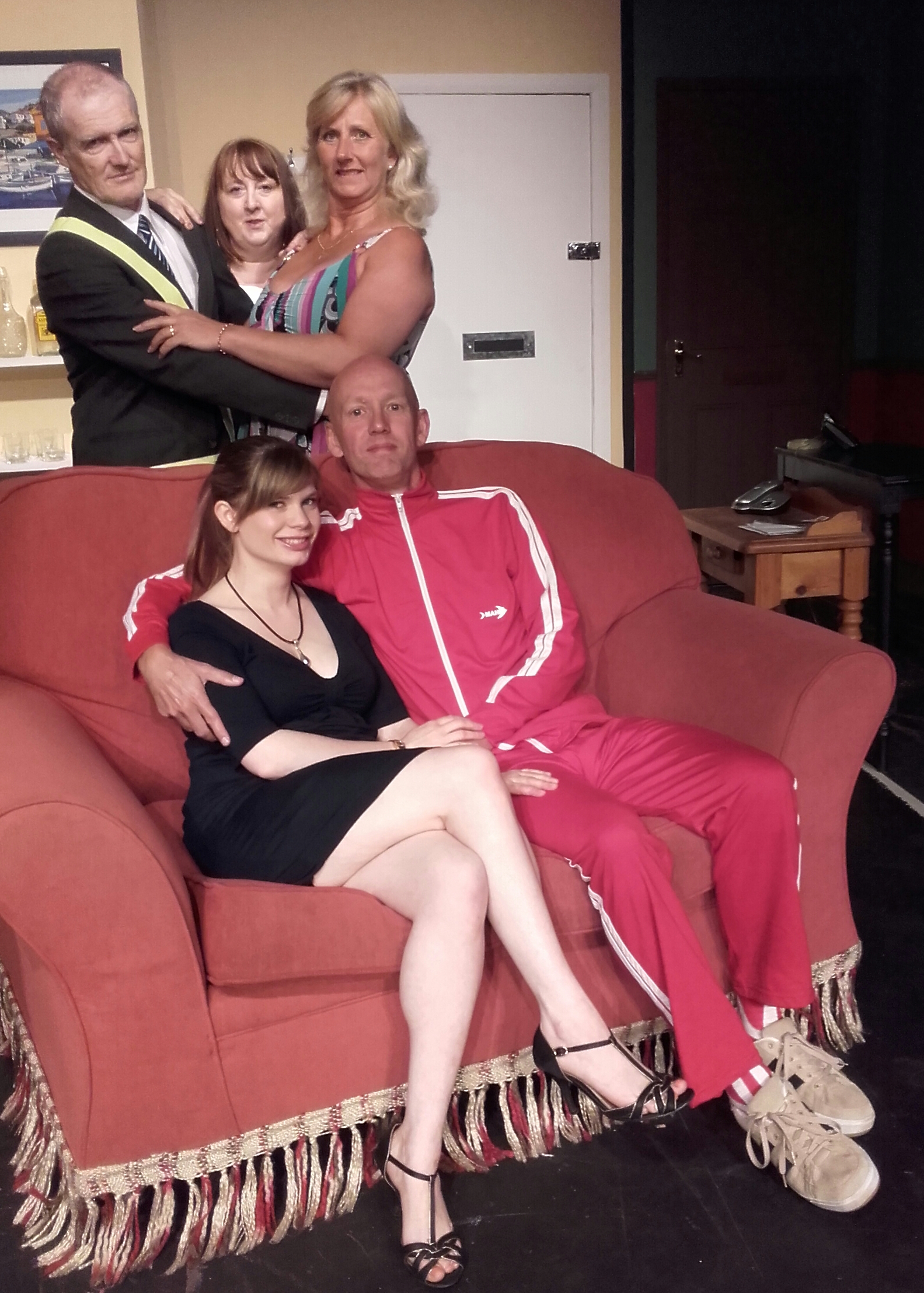 All goes well until George's wife Jessica (Angela Dunn) returns a day early from a business trip to America to discover Brian and Wendy at the flat - Brian's quick thinking leads to the explanation that Wendy is in fact a Red Cross nurse who has helped him following a fall in the local park. A slightly suspicious Jessica decides to go off to the pub to find George but when he's not there she ends up at Hilary's - cue mayhem and the rapid departure of George minus trousers and shoes.
Tall tales and downright lies follow as we interchange between the two residences as each character tries to get out of their respective hole whilst serving only to make it that bit deeper as the linchpin of the play, Jessica, is spun story after story leading upto the final scene which brings all five characters together and all is revealed. Or is it? You'll have to come and see as there is much, much more to this than meets the eye.
All of the cast rose to the occasion (you see, even I'm at it now) in a play that is so intricately written it requires precise timing and believable performances to carry an audience who know more than the characters do as to what is going on. Given the regular outbursts of laughter, and not just at the obvious out-loud pieces, this was clearly achieved. I know that Players Theatre pride themselves on giving everyone a go and so it was pleasing to discover that two of the cast (of five) were new to Players Theatre and one was in fact making their full dramatic debut. The performances and chemistry on stage were that good you couldn't tell.
The choice of 'Me and Mrs Jones' was ideal to open both halves and the split set design worked perfectly as we switched between the two locations. It was particularly effective at the conclusion of the first half where we are required to move in rapid succession between each property and I thought the use of cast freezing rather than just relying solely on lighting worked brilliantly to create the necessary dramatic effect to take us into the interval. The second half served to confirm that there is nothing touch and go about this production.
Players Theatre was founded in 1924 and established its current venue on Anfield Road, Cheadle Hulme in 1949. Following a number of modifications it was fully refurbished in 1985 in just the thirteen weeks that sat between the close of one season and the start of another. Its widened stage belies the intimacy of its 100+ seat auditorium. It has full disabled facilities including a loop system in the auditorium and a stair-lift to the first floor licensed bar and its accessibility is further extended with directional signage on the wider road network leading off from the nearby M56 and M60. A full programme for 2016/17 (September through to May) is already confirmed and which also includes two productions from their youth section.
I must extend my thanks to Krysy Jorgensson and the team for their kind hospitality tonight - it really is a delightful venue and they are a great bunch with a strong social aspect including regular monthly events for members as well as themed suppers, a summer BBQ and a 100-Club: other than a break from proceedings in July, there is always activity of some sort going on. The Youth Players provides a fantastic opportunity for 8-15 year olds to experience not only acting but to learn stagecraft skills and it was pleasing, but not surprising, to hear that a number of them have been shortlisted for awards following the recent Greater Manchester Drama Federation One-Act Festival which was hosted here.
Touch and Go plays through to Saturday 1st October 2016 with performances starting at 7.45pm. Tickets can be secured by calling 0161 485 7704 or book via the website www.playersdramatic.co.uk.
Reviewer: Mark Davoren
Reviewed: 26th September 2016