Originally created for Youth Music Theatre UK, and was performed for just two performances at South Hill Park, Bracknell in 2009, Loserville is a musical with music and lyrics by James Bourne and Elliot Davis. The story is based on an album entitled "Welcome to Loserville" from Bourne's second band, Son of Dork. (With his first band being the chart-topping boyband Busted). The show then performed at both West Yorkshire Playhouse, Leeds and The Garrick Theatre, in the West End in 2012 and revived in 2015 at London's Union Theatre.
Released in November 2005 by Mercury Records, "Ticket Out of Loserville" was the only studio album released by Son of Dork, and only peaked at number thirty-five in the UK albums chart. So for it to be turned into a musical seemed a bizarre choice at the time, and it's run of the Garrick received mixed reviews and closed early in January 2013. (The original run was scheduled to end in March 2013).
The story is the typical geeks vs jocks theme which pens the message to be who you really are and that someone will love you for it regardless. The story focuses on lead character - ironically named Michael Dork (hardly subtle is it??) With a plot thread of sending the first message between computers. The jokes centre around Star Trek and Star Wars, which as a non-geek, went completely over my head.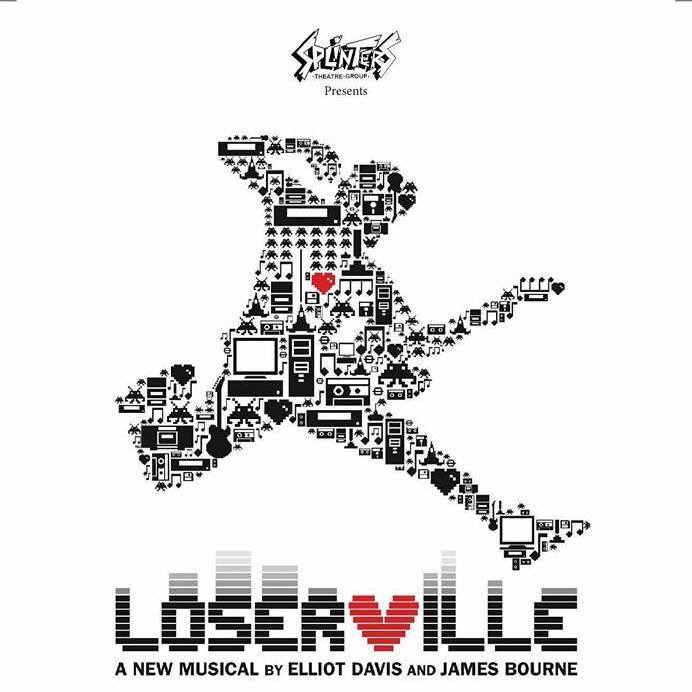 This production is performed by Splinters Theatre Group; an amateur theatre and performing arts group for performers aged between 14-30, although with this particular musical being set within a school, this production features more of the younger cast members. Splinters was formed in Sheffield in 1989 with the aim of bringing the best local talent together in a bid to be the best amateur group in the area. Having seen other Amateur Sheffield Youth based groups productions, I can hand on heart say that Splinters have my vote for being the best Youth production company in Sheffield.
Both leading cast members Richard Granger (playing Michael Dork) and Lucy Keeton (playing Holly Manson), are both making their Splinter debut and gave fantastic performances.
Unfortunately as I have found with all previous productions at the Montgomery Theatre, Sheffield, there was continuous microphone issues throughout the performance. This was first really noticeable in the fourth song "Brains and Looks" sang by Antonia Gallagher in the role of Leia Dawkins where the microphone cut off the start of the song and continued throughout the song making parts of the song totally muted. However, when the microphone was working Leia really made up for the lost audio and gave an outstanding performance vocally.
The choreography (Aggie Gryszel and Mark Harris) was slick and flawless throughout paired with an impressive neon-esque stage set focused on a large retro computer screen which was cleverly used as a projector throughout the performance, and of course, used as a "computer screen" when Michael and co cracked the sending of messages between computers. I couldn't help but notice the error at the final scene however, when Holly unveiled the invention by sending a message to Michael but had clearly signed her name as "Hollie" when the programme and original scripted character uses the spelling "Holly".
All four leads gave fantastic performances despite the ongoing sound issues. Joseph Walker as school jock and bully Lucas Lloyd, Antonia Gallagher as Lucas' gold digging girlfriend Leia, and of course Richard Granger as geek Michael Dork and his equally geeky girlfriend Holly (Lucy Keeton) made the musical a pleasure to watch, although for me personally I do not rate Loserville as a musical, the cast gave such a splendid performance that it made the snoozeville storyline and punk-pop style music and lyrics somewhat bearable.
I was relieved to see that the next production by Splinters is a musical I love and know inside out - Rock of Ages is scheduled for February 2017, at the Octagon Centre, Sheffield.
Loserville plays at the Montgomery Theatre until Saturday 24th September and tickets are available through the Ticket Secretary on 07790 413537.
After seeing the talented cast in Tuesday night's performance, I am looking forward to future productions from Splinters Theatre Group.
Reviewer: Lottie Davis-Browne
Reviewed: 21st September 2016