"What's the buzz? Tell me what's happening?" For over forty-five years, Jesus Christ Superstar has wowed audiences and being somewhat of a phenomenon with hit Broadway and West End performances as well as playing in forty-two countries around the world. Having opened on Broadway in 1971, JCS has appeared in the West End in 1972, 1996 and had various UK tours with the most recent tour hailing from a TV search to find a new "unknown" Jesus (Ben Forster), and has recently had another revival at Regents Park Open Air Theatre, closing on the 27th August 2016.
Wakefield Youth Musical Theatre is currently performing the fabulous rock spectacle of a musical at Wakefield's Theatre Royal, and I felt privileged to have been invited along to see just exactly what the buzz was….
I won't lie, I cannot say I entered the theatre with great enthusiasm, despite seeing productions of Jesus Christ Superstar before, as a musical it has failed to wow me or even hold my concentration from start to finish. Although the show has some fantastic musical numbers, including my favourite "Herod's Song" and "Hosanna", as a storyline I have always felt as if the flow of the storyline (which is loosely based on the Gospels' accounts of the last week of Jesus and his disciples in Jerusalem and ending with the crucifixion) lacks something and unless you are familiar with the story of Jesus' last few days, it can appear dull and difficult to follow.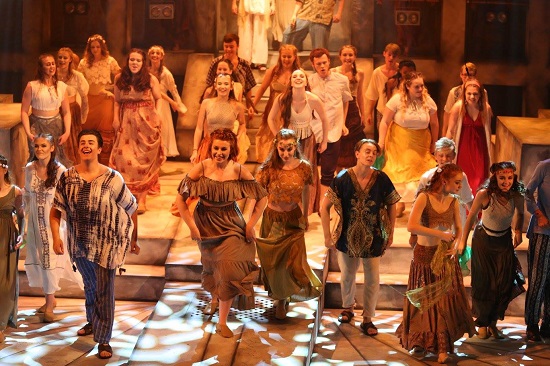 The stage set however, even before the show started really caught my eye and for an amateur production I was impressed with such a fabulous stage set. From the overture and opening number "Heaven on Their Minds" to the grand finale with the crucifying of Jesus Christ, I found myself totally submersed in this production. Although for me as a whole it still does not particularly work well as musical, but this highly talented young cast, with the eldest cast members being no older 21, literally took my breath away.
The casting was spot on – Luke Race, as Jesus (sharing the role on alternate nights with Michael Frith) was perfectly angelic in both performance and vocals, supported by Bethany Rosamond as devoted follower Mary Magdalene whose rendition of "I Don't Know How to Love Him" was utterly sensational, only halted slightly during the ad-lib section where she was slightly off key, however despite that Bethany gave a superstar of a performance for someone of such a young age in what is a challenging role. Alex Hall gave a convincing performance as Judas, one of the twelve apostles of Jesus; concerned for the poor and the consequences of Jesus's fame.
For me however, the performance that really made me sit up in my seat was Luke Wilby as Herod, giving a totally fabulous glittery and super camp performance of "Herod's Song". This was also made even more super by the fabulous choreography, which was evident throughout the entire show and for me is what really made this performance so outstanding and memorable. Louise Denison has done a truly wonderful job as both Director and Choreographer and I am already trying to see if I can fit another visit in to see this spectacular performance of what in my opinion is the best performance by a Youth cast that I have ever seen!
My only minor disappointments were – the crucifix Jesus was tied to and dragged onto stage moments before his final moments – this was just too flimsy looking and compared to the rest of the fantastic stage set, and Judas' death, which if you blinked you wouldn't even have realised he had "hung" himself. However, the final scene with the crucifixion of Jesus was spectacular and I had not predicted that part of the stage set being so Super!
Wakefield Youth Theatre are yet another example of the amount of sheet talent the North of England has to offer, and although this evenings show was my first introduction to Wakefield Youth Theatre, they have already gained my "following" and support for their future productions, with the Madness themed "Our House" already penned as their next performance (August 2017) I have already booked tickets for every performance (well, at least in my head, but it's a start!)
However, in the meantime, I am keen to return to see this production, which is anything BUT amateur, once more before it plays it's last performance on Saturday 10th September. This really is a Superstar of a performance! Find out what the buzz is all about for yourself and book your tickets now before the show sells out, limited ticket availability….but please save me a seat!
Reviewer: Lottie Davis-Browne
Reviewed: 1st September 2016