Presented by Oldham's own Amateur Dramatic and Operatic Society, 'New Music', and with a cast of mostly juveniles, this was bound to prove a popular choice for Oldham's Musical lovers.
First night nerves were definitely in evidence, and the cast really didn't seem to get fully into their stride until the second act, but the one thing which I can wholeheartedly applaud them on was their patience and professionalism when dealing with a less than capable technical department.
To my horror the society decided to use pre-recorded backing tracks for the show, and this was basically their downfall. rather than have a live band with a conductor, so that the band can follow the soloist, this had been turned on its head and suddenly we were faced with extremely longs pauses between end of dialogue and start of song; the music starting too soon, or too quietly so that the singer missed the first line or so of the song; the wrong music being played; the music being played too many times; the music starting during dialogue; etc etc..... but every time this happened (and it happened for every song!), the cast simply waited in character or ad-libbed a little or just simply carried on regardless. Absolutely well done to you all!
That sadly wasn't the only thing wrong technically. The mic levels were all over the place and they seemed to be arbitrarily adjusting them throughout. I couldn't hear Sandy at all until about half-way through and then I heard the singing but not her speaking. Frenchy and Marty were also too quiet. Mics were crackling a lot too, and at least twice they weren't turned off on the characters' exits as we were treated to them speaking backstage during the next scene!
The scene changes were long and laborious. Every change took far too much time to affect, and for such a little effect. Only a few items of scenery each time, and yet the blackouts seemed sometimes longer than the actual scenes! Also we could see the stage hands walking across places of unlit stage, especially Stage Right in order to move the car either on or off stage. Further, the prompt and I think director were sitting on the bottom steps in the auditorium following the script and whenever it went to blackout on stage they turned on their torch and illuminated themselves for the whole audience to see which was most irritating.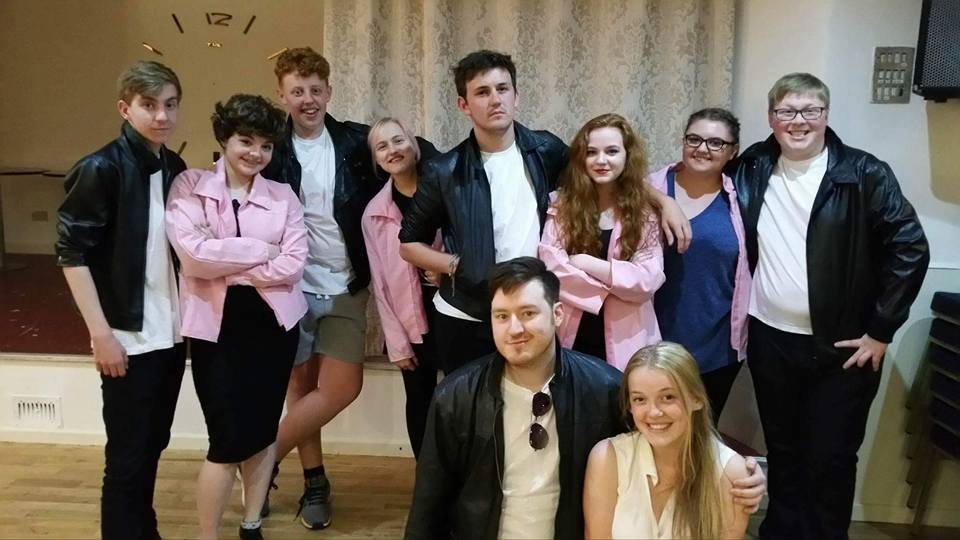 OK, enough already! Let's look at the acting. A lot of effort had been made to try and recreate the characters from the film rather than working with what you have and creating your own take on these people. I feel sure that the acting would have shone much brighter if the actors had been able to work with a blank canvass rather than trying to make a carbon copy of the now too famous Travolta and Newton-John film. That being said though, there were a couple of stand-out performances for me. Xander Lang-Whiston put in a very comical and rather unique and immensely likeable performance of Roger, and Darcy McCoy commanded the stage as Rizzo; whilst Emily Simister put in a creditable show as Jan.
The two main leads were good and both looked right. Dale Martin as Danny Zuko had the singing voice and knew what the character was about, but never really was quite convincing enough as the tough Greaser gang-leader with a soft heart. Megan Fielden as Sandy, again, looked perfect for the role. Pity I couldn't hear a word she said in the first half. Her transformation was excellently managed - even looking like a different girl altogether.
The whole show lacked pace and energy, and there were very few dances in this show. That's a shame because it is basically very much a dance-centric show. In fact the first dance was the finale of Act 1. Before that there were a few token moves here and there.
The second act did move a lot faster and the cast seemed to relax more into their roles and pick up on their cues more, with the massive crowd-pleaser 'Beauty School Drop Out' being the only moment in the show which didn't model itself on either stage-directions or the film. Using the 5 T-Birds as Teen Angels backing group was just genius. All 5 wearing towel-turbans and silver glitter salon bibs and hamming it up for all its worth simply stole the show!
Costumes on the whole were passable, although most were distinctly too modern, especially footwear and men's suits, as was the bed; but I did appreciate authentic looking radio and home-made record player.
In an audience made up tonight of majority family and friends of the cast, we all laughed along with the mistakes made, and still enjoyed the show despite it being somewhat rough around the edges. Hopefully though the Stage Manager will have managed to sort out the technical issues before tomorrow's performance and then the cast will be able to relax further into their roles and shine more.
Reviewer: Mark Dee
Reviewed: 22nd June 2016