An Accomplished Ensemble Piece
Stephen Berkoff's 'Dahling, You Were Marvellous' offers a biting parody of the world of theatre as it pokes fun at the pretensions of thespians and the superficial nature of their lifestyle. Set in a fashionable West End restaurant where the after show party following an opening night performance is in full swing, we get to meet a range of characters from the worlds of theatre, TV and film which include a New York movie star, a renowned theatre director, a fringe elitist, a fat-cat producer, a harsh critic (yes, really!) amongst a crowd of sycophants as they schmooze, network and backstab in their craving for an audience, any audience.
This was Liverpool Media Academy's (LMA) Year 1 HND students end of year performance and having seen their first production of The Crucible last November, I was keen to see how they were progressing. In a typical Berkoff stylised piece, the simplicity of the set design lends ensured our focus was on the actors at all times, with a particular emphasis on their physical work, within and without a scene. It was theatre in the round albeit performed last night on a traditional stage, extended across the orchestra pit.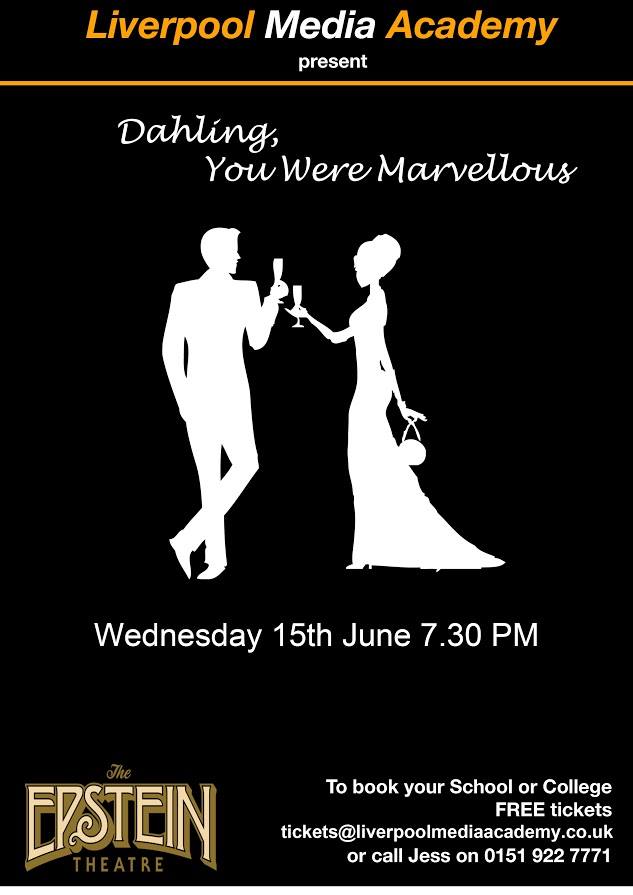 The cast were very strong and fully embraced the ensemble nature of the piece and the constant switching across the stage to a new set of characters was expertly handled. Some of the cast had the opportunity to further demonstrate their acting ability by playing multiple roles and which they handled with ease. Ultimately for such a big cast, there were 21 in total, the standard of acting was incredibly high and much credit must be given to director Mike Neary for pulling this together so seamlessly and as such I am happy to give a name call for each cast member:
Abby Bush; Amy Dalton; Anthony Devine; Christopher Hird; Georgia Rooney; Georgia Wills; Harvey Fitzpatrick; Joe McGee; John Dixon; Josh O'Grady; Kaylee-Ann Meredith; Liam Powell-Berry; Mark Harper; Marni Stanley; Nadine Cullen; Olivia Grace; Peter Shock; Rebecca Barrett; Samantha Westwell; Sophie Powell; Thomas Dalton.
As always there are standout performances which deserve special mention, and it is interesting that these essentially formed around three of the character groupings:
Harvey Fitzpatrick's Brick, the New York movie star, was excellently delivered and to great comic effect as he 'mastered' his Shakespearean delivery. Anthony Devine's Sir Michael Wally, the renowned director, was delivered with just the right level of camp and who could forget the Heimlich manoeuvre and all that entailed. Nadine Cullen as Brick's snake-skin clad girlfriend was superb with her mimicry and demonstrated great strength of concentration and wonderful use of body language, particularly with her eyes and gestures, to deliver an outstanding performance.
Christopher Hird's Steve and Abby Bush's Linda as the aspiring Lord and Lady Macbeth delighted as they fully engaged with their characters foibles (or should that just be balls?) to deliver performances of real depth and ensuring I will never be able to watch Macbeth again without a wry smile appearing on my face.
Liam Powell-Berry perfectly captured Terry, Brando-impression and all, as we see his descent to B-list status. Kaylee-Ann Meredith's Billy was the complete sassy lady and it was pleasing to see how she remained in character throughout, even when the action was elsewhere on the stage. Mark Harper's fat cat producer was equally impressive and well played for laughs.
Last mention to Olivia Grace who appeared in multiple roles and demonstrated the necessary acting prowess demanded for a play of this nature.
I had two 'concerns' last night although neither reflect on the quality of the performance. Firstly the cast were using microphones and whilst there was an initial issue with speakers and feedback, this was quickly resolved. I do feel however, and particularly in light of the intimate nature of the Epstein Theatre, that a focus on proper use of the voice would benefit the students in the longer term as they learn to differentiate between projecting and shouting.
The other concern is more unfortunate as it reflects on the seven people sat behind me last night who almost ruined the performance for me as they talked, made sexual remarks about cast members and crunched crisps most noisily. When I asked them afterwards why they had attended it transpired that some were LMA students, others their friends, who were here to support the performing cast - guys and gals, that is NOT how you do it.
In all, a thoroughly enjoyable evening and it was a delight to see how the cast have grown in ability and confidence over the year and I look forward to seeing their further development over the next two years.
The Epstein Theatre is located in the heart of Liverpool and showcases a wide-range of theatre and musical productions as well as collaborating with local colleges for drama students to put on their own productions. Further details at www.epsteinliverpool.co.uk
Reviewer: Mark Davoren
Reviewed: 15th June 2016