Starting off the show the scene is set in an apartment with young composer Stephen (Callum Moyles-Moore) sat at his piano desperately writing what he hopes will become a hit musical. Ignoring his wife's pleas for him to get ready to celebrate their 6th wedding anniversary and with her parents due to arrive at any time, he drifts off into his imaginary world of music and dance.... and so begins a fantastic evening's entertainment by a talented cast from Preston's College and featuring the music of Barry Manilow.
Heading to New York from her home in Tulsa is Lola La Mar, who is fabulously performed throughout by Stephanie Ball with a beautiful singing voice and a very likeable character. Lola is a young singer with high hopes of becoming a star and auditions for the famous Copacabana nightclub owned by Sam Silver (Adam Murphy-Jackson) after wandering in and meeting former Copa Girl, Gladys (Laura Jackson) and songwriter hopeful Tony. (Moyles- Moore) Initially she is rejected but Gladys and Tony persuade Sam to give her another chance after Tony offers to rewrite her audition song. Hiring her, Lola is elated and hugs Tony and here begins their romance inspiring Tony to write a song for her.
The stage is filled with dancers wearing stunning costumes, the first of many costumes worn during the show and special mention has to go to the wardrobe/seamstress department for their creations.
Also well done to the female dancer suffering a slight wardrobe malfunction but continuing to perform regardless. The majority of the dance routines were performed well with just an occasional high kick out of place and a few clumsy moves due to lack of space (see below). One particular routine worthy of special mention was at the Copacabana club and set with the dancers sitting on the edge of the stage, very well performed and professional.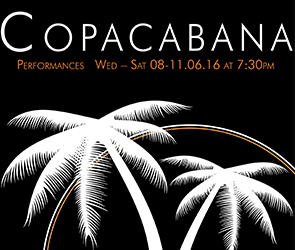 Let's get the criticism out of the way... it was difficult to follow the storyline at first as during dialogue the band continued to play what should have been background music but actually drowned out the performers. We were sat in the fourth row of the stalls and the light from the orchestra pit was also glaring and detracted. After the interval we moved to the back of the theatre and enjoyed the show much more from there, the band did not play over the acting as much either. At times the stage had far too many people on and it spoilt the dance routines and appeared cluttered, it was much better with less cast and you were able to appreciate what was happening. Watching the dancers in one scene I almost missed Gangsta Rico Castelli drugging Lola as this act was performed at one side of the stage and my attention had been taken by the dancers. Right, that's that, now on with the show!
Italian Gangsta Rico Castelli (Lloyd Mitchell) swaggers into the Copacabana club with Conchita Alvarez (Roberta Stevenson) draped across his arm and much to the annoyance of Sam Silver as each time he makes an appearance one of his dancers disappears. Each of these parts are well portrayed with very credible performances by all. Rico makes a beeline for Lola to the dismay of Conchita who has suddenly become a 'has been' and too old for Rico. In his usual style, the gangsta gets what he wants and drugs and kidnaps Lola and whisks her off to star in his Club Tropicana in Havana replacing Conchita.
In a bid to rescue her, Tony is hot on his heels accompanied by Gladys and Sam. Meeting up with Conchita, who initially hated Lola but realises she did not voluntary want to replace her, they plot her rescue. During Lola performing 'El Bravo' at the Tropicana, Tony storms the stage but Rico appears armed with a gun and aims at Tony. A single gun shot and a body on the stage...... but our hero is saved by Conchita who has shot dead Rico. All ends happily as Lola and Tony are reunited and return to the Copacabana.
Forward to the present... Stephen finishes composing his song and snaps back to reality. Lola had been his wife Samantha, her parents were Gladys and Sam Silver in his imagination. And his musical is born.
Both Moyles-Moore and Ball play key characters in the show and have a tremendous amount of lines and songs to perform which are delivered extremely well even if a little flat on some of the songs. . A personal favourite performer for me tonight was Laura Jackson as Gladys, a totally engaging character and well suited to Jackson.
The scenery is on a par with any professional presentation and changes are smoothly executed.
The whole cast are to be applauded for their evident hard work and enthusiasm displayed throughout and with a little ironing out, this show is up there amongst the best. The accents were all believable too. Well done to each and everyone of you and to all involved in this production. Definitely some stars in the making.
Performances continue at the Charter Theatre until 11th June 2016. For further info: http://www.prestonguildhall.com/events/view/358
Reviewer: Lorna Weekes
Reviewed: 8th June 2016