I certainly heard these people sing!
Les Misérables, the unequivocal musical phenomenon that is the second longest running musical in the world has run in London continuously since 1985. In Broadway from 1987 to 2003 it became Broadway's fifth longest running show. In 2005 Wakefield Theatre Royal performed Les Misérables School Edition for the first time, again in 2011 and now for a third time in 2018. I have had the personal pleasure of seeing all 3 of these Wakefield Youth Music Theatre's productions of the show.
Les Misérables, based on Victor Hugo's classic novel tells the story of the 1832 Paris uprising and centres on two men Jean Valjean, a prisoner in 1815 who served 19 years for stealing a loaf of bread, is freed but breaks his parole and his nemesis police inspector Javert, who is intent on bringing him back to jail. Valjean using money from stolen silver embarks on a honest life with a new identity. After helping poor factory worker Fantine and her daughter Cosette, he becomes her guardian. The revolution drags the family into its horrors, as Valjean saves Cosette's beloved Marius from the barricades and he finds himself face to face once more with Javert.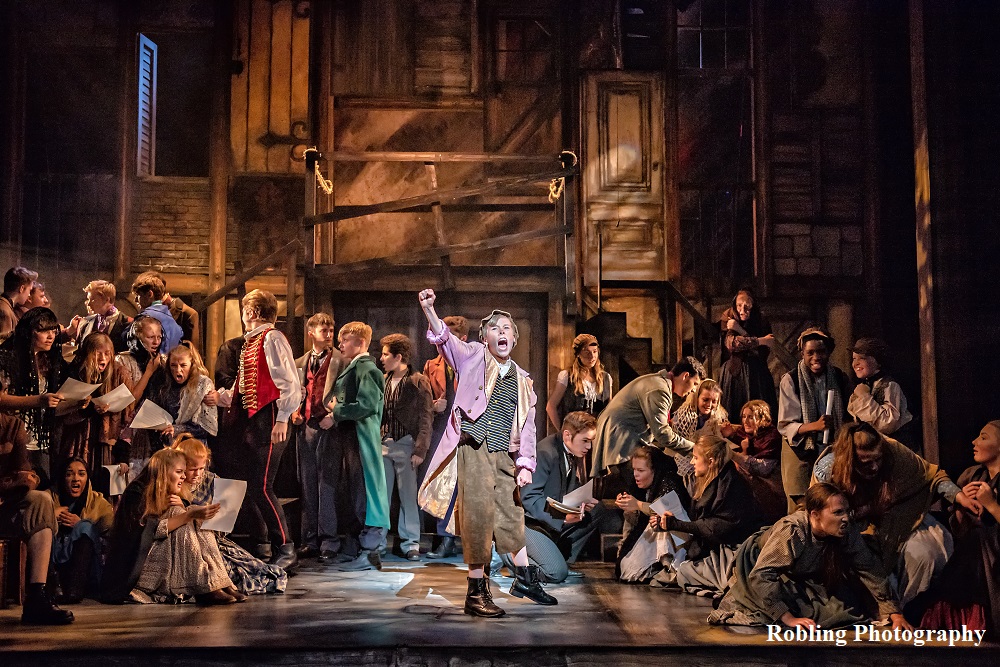 Youth productions like this are a fabulous educational grounding for the future of our theatre and after tonight it is obvious we are in safe hands. This was a professional quality production. The set used in Wakefield Youth Music's production was innovative and a refreshing change to the norm, it worked very well and had an abstract feel to the numerous doors that formed a wall of opportunity and decisions. This was statutory throughout and avoided the need for multiple scenery changes. The mechanics of flying the barricades in to add to this, was done with speed and effect. I do feel occasionally it limited the playing space for large ensemble numbers. The lighting added the ambience beautifully and was never obtrusive. With a 50 strong cast of 9 to 18-year olds this production was a feast for the senses. The absolute strength of this production is the energy of the youthful cast and the standout feature is without doubt the singing! I really did hear these people sing! and sing wonderfully. I was very impressed, and I am sure they did not need the clip tracks that were used in the ensemble numbers, with limited choreography they really were not needed.
A massive amount of credit must go to the musical director, Jim Lunt. This production really did not have a weak link vocally. There are too many individuals I would like to mention but I feel I must praise the performance of Joseph Davis as Javert, this young performer grew into his role and Javert's suicide really showed he understood the turmoil Javert felt. Davis had a stillness in performance that maturely betrayed Javert's stoicism and dogged beliefs. Ella Wilson as Eponine was a delight to watch, she has a wonderfully expressive stage face and her vocal is flawless. Emma Burke as Cosette has a wonderful soprano voice, crystal clear! Daniel Romano in the difficult role of Valjean had perfect diction, I didn't miss one word. The absolute stand out triple threat performer for me has to be Lauren Dickinson as Madame Thenadier, she made this role original and never once succumbed to the 'pantomime dame' that this role can become - very, very impressive!
Christopher Atkinson as Grantaire and other roles drew my attention every time he was on stage, for all the right reasons, I found myself watching him constantly. There was another ensemble member that really drew my attention (I am sorry i don't know her name) and I feel I must mention her, she played the Crone and wore a blue flowered dress in Act two. This young lady was mesmerising to watch and fully immersed in her characters, a great young actress.
After seeing many productions of his show, If I was to offer any criticism it would be that some of the detail and relationships on stage were under developed. I am well aware this is a difficult show for young performers, maybe the very short rehearsal period didn't allow the intricacies to be fully explored. But I am sure these will develop as the show runs.
Well done to every person involved in Les Misérables, on stage, creative and production team. Wakefield Youth Music were recognised by the National Theatre this year and awarded the Jenny Harris Award to celebrate excellence in performing arts education and after tonight I can wholeheartedly say, it is well deserved. The show is running until the 8th September - really, do not miss this one. I left the theatre knowing I had witnessed a special evening. http://www.theatreroyalwakefield.co.uk/whats-on/les-miserables/
Reviewer: Tracey Bell
Reviewed: 31st August 2018
North West End Rating: ★★★★