Hard on the heels of the Oldham Coliseum production of 'A Taste of Honey', Salford Arts Theatre have revived another classic Northern piece with their production of Harold Brighouses' 'Hobson's Choice.'
Written in 1915 and set in Victorian Salford, it tells the tale of Horatio Henry Hobson (Scott Berry), owner of a Salford boot making business and overbearing father to three daughters. Hobson is brought to us as a man who oozes satisfaction with his lot in life, spending his days pontificating in the saloon of the Moonraker's bar, leaving the running of the business chiefly in the hands of his oldest daughter Maggie (Lyndsay Fielding). Over the course of the play we witness his gradual descent from arrogance and conceit to childlike reliance, as he comes to realise whom he can trust in his family. His characters descent is juxtaposed against the rise of Willie Mossop (Joseph Walsh), the boot boy who is literally taken in hand by Maggie and blossoms from a stuttering illiterate, to a confident prosperous businessman strong enough to stand up to Hobson by the conclusion.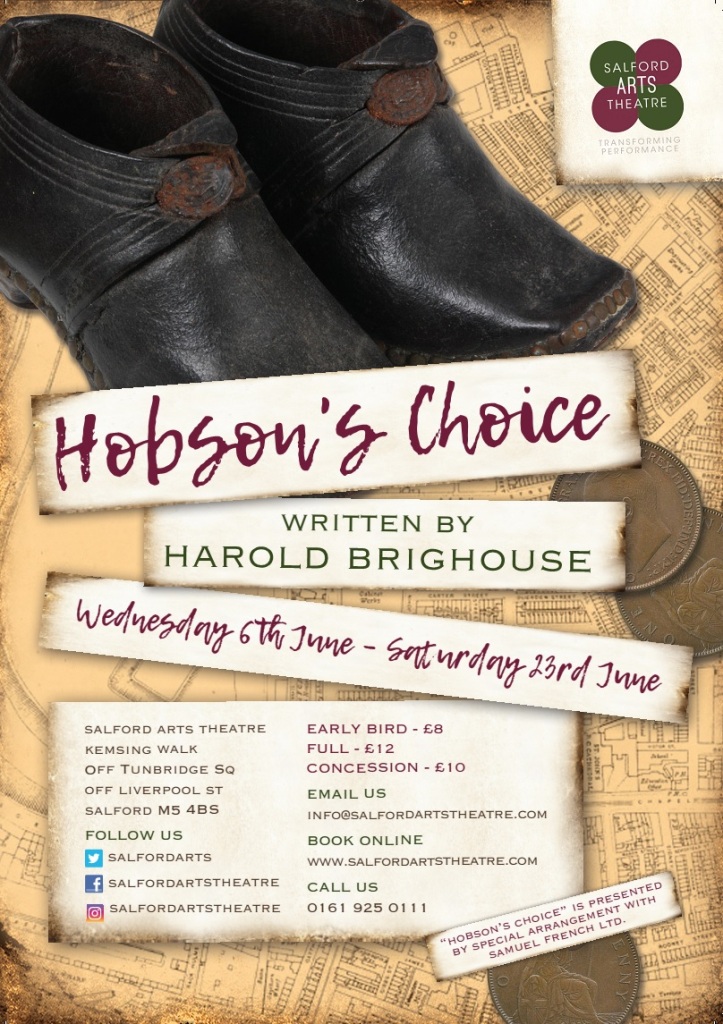 In all of this Brighouse strongly echoes the themes developed in more well known stories, both Cinderella (put upon daughter finds redemption and escapes from wicked sisters) and even King Lear (selfish father with three daughters learns the meaning of family and love) are influences, however the tone is kept firmly on the comedic rather than the tragic in his interpretation.
The first half gives Fielding the opportunity to shine and her confident and strong delivery draws out the strength of Maggie perfectly, 'bumptious, thirty and too ripe for marriage' according to her bullying father, she directs Mossop to marry her without fear of contradiction from either him or her parent. This is a resolute Salford woman in the tradition of Delaney and early Coronation Street, both of which owe a clear debt to Brighouse's writing. She is ably supported by Elka Lee Green (Alice) and Connie James (Vickey), her two sisters who dream of marriage, clothes and a world away from 'trade', both Green and James imbue their characters with a selfishness without ever making them truly wicked.
After the interval, it is the male characters which step to the fore with Walsh notable as the boyish Mossop trying to live up to the expectations of his ambitious older wife. The passages between Walsh and Fielding were touching, though the relationship did seem more maternal than marital and I would like to have seen the sexual tension inherent in these scenes emphasised more strongly, but as a couple they lack that dimension.
Berry develops the character of Hobson from a two dimensional tyrant into a pathetic alcoholic wreck, utilising the humour of the writing to ensure that the piece remains essentially comedic, whilst hinting at the darker side of Hobson with threats of violence when he is thwarted. His chief protagonist is Dr MacFarlane (excellent Edinburgh accent from Christopher Wollaton), who allies with Maggie to finally cow Hobson, ensuring that all the daughters are happily married and a satisfactory conclusion is reached.
It would have supported the wholly excellent cast better if the props and set were of a higher quality and the lighting of characters on the thrust stage in the second half was intermittently poor, and it was a shame that such an excellent ensemble was witnessed by such a sparse audience.
It would be tempting to pigeonhole this play as an example of early 20th century parochial; rife with sexism and paternalistic attitudes, but this would be an error. The reason it has stood the test of time is its positive attitude to the female characters, written in a time of huge suffrage activity, and its discussion of class prejudice and social mobility. Also, this is a celebration of Victorian values, rather than a subversion of them and the traits of hard work, fiscal responsibility and conventional marriage that are celebrated, were championed by another Maggie as Prime Minister, and still infuse our politics today.
'Hobson's Choice' is defined as no choice at all; however you have a choice, so go and see it!!
At Salford Arts Theatre until 23rd June. http://www.salfordartstheatre.com/whats-on
Reviewer: Paul Wilcox
Reviewed: 8th June 2018
North West End Rating: ★★★