Derelict is a team of artists and producers based in Preston, Lancashire last show of the year is no 'wallflower.' It's the brainchild of Kate O' Donnell, a transgender Artistic Director and actress, who has brought her own private world to the stage for all to see whilst challenging perceptions. Tonight she'll see if the audience is worth their salt and can keep up with her and the transgender community in 2018.
The opening scene is set, conjuring up 1930's Hollywood, silent screen movies. This is more than an aesthetic pleasure but a reference to her transition in 2003 which may not seem that long ago but perceptions of transgender then were it seems a little prehistoric to say the least, if not trapped in a time warp. Kate's charm effervesces as she enlightens minds with her unique style of performance encapsulating dance, theatrics and song to illuminate her life changing decision to commit to gender reassignment and a few other plastic surgeries to boot.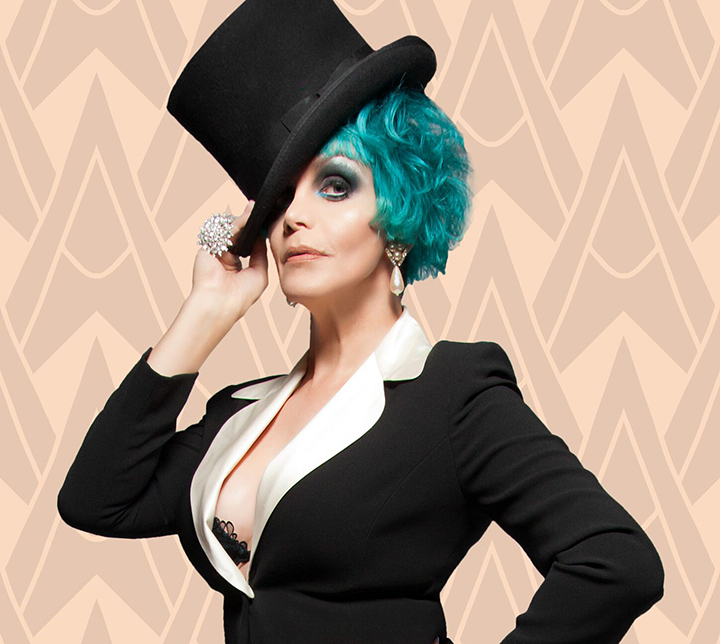 Kate gives a Cara Delavingne feel in a dapper tuxedo; she absolutely does not look her 53 years. Her smooth wrinkle free skin, turquoise tipped nails and toned physique, belay that of a person half her age.
Her wit is acerbic and self-depreciating (tales of unloving parents are regaled), with a tinge of tragedy and has tonight's audience in hysterics, loving every moment and eating out of the palm of her hand all very effortlessly. O' Donnell throws a lot of food for thought and questions. Who do you tell? Who you think might help, maybe won't. There's a lot of interaction with the audience and she works it really well. A fascinating method for choosing your very own transgender name is shared (favourite singer + mother's maiden name).
So absorbed in the story you may be forgiven for not noticing her clothes are slowly being removed, with the help of a be suited gentleman. The pace of the show often speeds from politely saucy to downright outrageous. But of course this is what we signed up for isn't it? We are voyeurs to a 'fad,' as Kate lovingly describes herself whilst sporting a very short silk dressing gown.
The final scene is a poignantly beautiful moment, where the stage becomes a mirrored ballroom (with clever prop manipulation) Kate and her partner glide across the floor as Fred and Ginger for a romantic ballroom waltz. Every inch captivating as it felt like time had flown by. The performance gave a well rounded and concise illustration of what it's like to be transgender today. There's good, there's bad like everything but the message is 'let's face the music and dance.'
In the week that is entitled transgenderawareness November 12th – 19th it's worth noting that there are still huge issues of prejudice, discrimination and violence that transgender people face on a daily basis. On leaving we are given a photocopy of Kate's original notes she made following her decision to commit to her gender reassignment. This was a lovely personal touch and would be very useful for anyone considering the transformation.
Reviewer: Rachel Foster
Reviewed: 16th November 2018
North West End Rating: ★★★★