Following success at Latitude Festival, Paines Plough bring a unique look at the UK grime scene to venues across the country. Billed as 'theatre you can rave to', the show effortlessly blends live music with spoken word, and takes us on a journey of nostalgia.
From entering the theatre we are instantly taken to that world; there is loud dance music, club lighting, and even that indescribable nightclub smell! Before the performance began we were treated to a set by singer Martyna Baker, and musician/DJ Gabriel Benn. Baker had a fantastic, relaxed style with the audience, and is clearly an accomplished and confident vocalist.
Unfortunately the audience seemed to be trickling in with no regard for time keeping, and it was slightly awkward to sit in a traditional theatre setting and listen to this type of music, when really we wanted to be up dancing.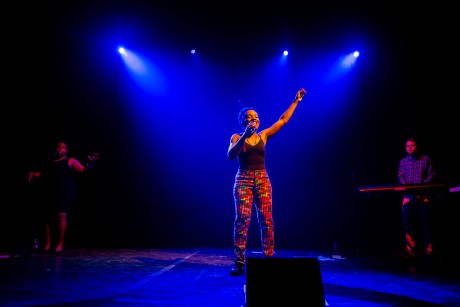 After a slightly patronising introduction where we have to have the format of the show spelled out for us (very unnecessary), we are on with the story, Nadia's recollection of a summer night before university with friends, boyfriends, raves, and a lot of drugs to sell. I found the story somewhat tedious after a while, but it worked beautifully with the musical soundtrack, smoothly transitioning between Baker's vocals and Seroca Davis's depiction of Nadia.
I have a couple of minor gripes with the production. Firstly, I didn't understand why Davis was using a handheld mic, which seemed to be impairing her at times. A head mic would have given much more freedom of movement. We are also reminded constantly of the London setting, with frequent textual references and even a performance of 'It's A London Thing', a risky move considering the play is touring the country and could potentially alienate certain audiences, particularly somewhere with a musical history such as Manchester.
Overall it was a mixed reaction from the crowd, who I'd imagine would be very different from their festival performances. It was not really for me, who would rather have an early night with Netflix rather than clubbing until the early hours, and the elderly gentleman in front of me seemed to regret his decision almost instantly. However judging by the huge cheer given at the curtain call by the Friday night crowd, they are definitely on to a winner for the right audience. If you are ready for a night out, with drinks and dancing, and would like a trip down memory lane, this might just be the show for you.
Reviewed: 15th April 2016
Reviewed: Poppy Stewart