This was the second live Temperance Movement show I have had the privilege of attending. The last time I saw them was in December 2014 after their first self-titled album dropped, too much success, instantly captivating hundreds of thousands of fans in the UK and broader Europe. To date it has sold over 31,000 copies on CD and vinyl and is still the subject of countless fan clubs' discussions, blogs, and dedicated YouTube channels, updated nightly.
In the 14 months since then, the band have been very busy. They've recorded and released a brand new album 'White Bear' (which is proving to be another major high for the blues quintet), toured the length and breadth of America and lost and gained a lead guitarist. Luke Potashnick, who some may remember for 90's band Rooster, left TTM in late 2015 to pursue a career in music production and the band have since found a replacement in the form of Matt White who, judging from tonight's performance, has settled in and fused seamlessly with the rest of the bands' dynamic.
The music of The Temperance Movement captures the imagination and charisma of its creators and shamelessly thrusts it at its listeners in a not unwelcome assault on the senses. This time, playing at the Academy 2 in Manchester's University quarter, both the band and the audience was uncontainable within the relatively small venue. This wasn't a bad thing: many relish the chance to touch fingers with their rock idol at a concert where the front barriers are barely arm's length from the stage. This time, lead singer Phil Campbell's explosive presence was relished by every single person in the room—especially those close enough to see the profuse amount of sweat pouring over him.
Considering the substantial fan club of this band, I'm so glad they still indulge in the intimate venues; the sense of fun and excitement at a standing room only concert is intoxicating— but forget about keeping hold of a drink.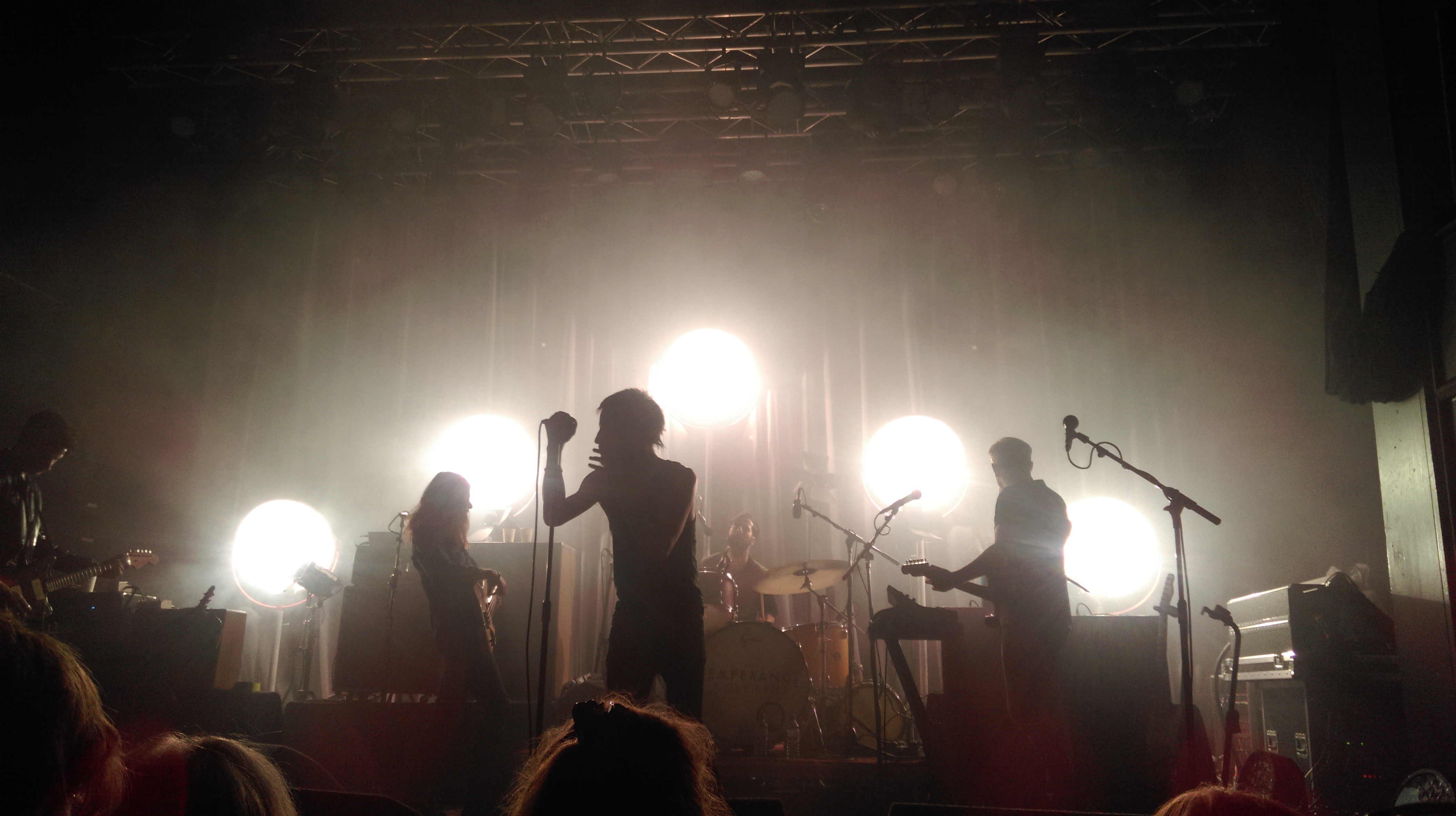 This is not to say these guys haven't experienced the big time though; the week after the release of their debut EP 'Pride' in September 2012 the band appeared as the opening act of the Sunflower Jam SuperJam at the Royal Albert Hall. The five tracks from this ("Ain't No Telling", "Only Friend", "Pride", "Be Lucky" and "Lovers & Fighters") were all played last night to much appreciation from the audience, alongside more whiskey tempered, soul-blues from the newest album.
Between them all, Campbell and his bandmates, guitarist Paul Sayer, bassist Nick Fyffe, and drummer Damon Wilson, have cultivated a genre that mixes a deep, earthy blend of home-made harmonies: my favourite kind of laconic rock 'n' roll full of swagger, and the kind of folk tinged influences that make it feel-good, inspiring listening.
Campbell's infectious energy is astounding: the man bounces on his stage, moving around too much to keep hold of any instrument other than a tambourine. The few times he does pick up his guitar, he plays with a look of intense concentration—trying to keep still just long enough to let deft fingers pluck music before he's off again, uncontrollable.
As brilliant as they are to listen to on the radio or on one of their records, it just doesn't compare to their live presence. There are moments of real harmonic beauty within some numbers; a new tonal language beyond me, mystifying. Wordless communication between musicians is not a new thing, but it takes on an ethereal, intangible yet still somehow tactile quality in 'Magnify' and 'A pleasant peace I feel'—almost like a taste.
Also off the new album, favourites from last night are 'The Sun and Moon Roll Round Too Soon' and the title track 'White Bear' which is a testament to their ability to blend rock and roll with soothing, romantic tones too.
I've believed since first discovering this band by accident that they were formed with very simple, determined intentions. Their sound is honest, and full of the kind of grit that can be vulnerable, with an outward swagger to rival the best of them.
The music has an electricity that makes a listener hunger for more. My conclusion: soulful, honest, exciting, energising and impressive. You'll be humming these tunes for days after a TTM show. My accompanying friend to last night's gig had only just discovered the band, and even she bought a t-shirt.
Reviewer: Natalie Romero
Reviewed: 24th January 2016