Once upon a time..... Pantomime was staged just at Christmas, now it has become tradition to make that visit to the theatre to catch one at Easter too. Forget the chocolate eggs, they don't last long, but the fun and laughter you will have watching this much loved fairytale will remain in your memory forever.
Regal Entertainments yet again bring a fabulous pantomime to the stage at the Theatre Royal, St Helens, which will delight children of all ages including the ones up to 100 years of age! (even older are allowed). The story of Cinderella needs no introduction and is brought to life as it reveals stunning costumes on par, if not better than seen in much larger productions along with amazing scenery. This year the addition of real Shetland ponies to draw the coach is simply magical. From principal actors to the tiniest of dancers the standard is high, all giving first class performances.
Lee Latchford-Evans, probably known best as a member of pop band Steps is also however, an accomplished actor, having performed in the West End in the musical Grease and as Triston in the national tour of All Creatures Great and Small, plus several other roles on stage and film. Now cast in Cinderella, Latchford -Evans makes the absolute perfect Prince Charming to Georgina Parkinson, the beautiful and sweet Cinderella. There is real chemistry between them as they perform a wonderful duet in the forest, broken up with some really funny action from the jealous Buttons, (Lewis Devine). Parkinson is quite delightful and I am sure there are many young girls in the audience dreaming of becoming her.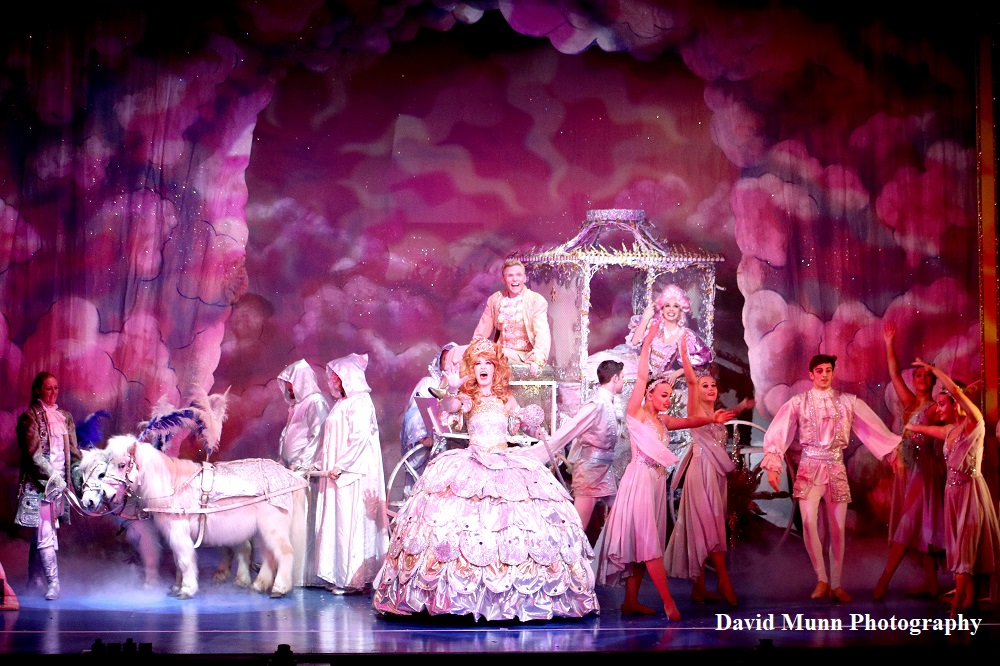 I was lucky enough to see Devine make his debut in the Christmas panto and it is no wonder he is making a return as he has instant likeability and is a big hit with the audience interacting with them from his first appearance and encouraging the use of his catchphrase, 'I say But and you say Tons' whenever he appears and skips across the stage. He is absolutely full of life and his dance to a Beyoncé song is hilarious. He is totally out-staged though by lucky golden ticket winning youngsters, who join him for a sing song.
No panto is complete without a panto dame and as this is Cinderella with two ugly sisters we are fortunate to benefit from double trouble in the form of resident dame Si Foster and Mark Newell as Kendal and Kylie Kardashian Hardup. The wearers of the most outrageous costumes and incredible wigs are loved and hated at the same time. Larger than life their comedic timing is spot on and you won't know whether to laugh or boo at their antics. I'd suggest 'boo' as loud as you can and save the laughs for Buttons!
Dandini, the Prince's right hand man, is the handsome and dashing Andrew Geater who, along with Samantha Palin as the Fairy Godmother, give quality performances revealing amazing vocals.
Senior dancers, along with this afternoons 'Sparkle' ensemble of junior dancers (Glitter and Fairydust perform on alternate shows) are a pure joy to watch. Choreography is fabulous (Nazene Langfield) and there are many beautiful performances especially as Cinders prepares for the ball and charming appearances of woodland creatures. Everyone on stage appears to be loving the show just as much as the audience are.
With a spectacular finale and unsurprisingly, a medley of 'Steps' songs, I did not want the show to end and fully recommend you purchase tickets at your earliest opportunity. I'm now looking forward to the next panto in the autumn, Beauty and the Beast!
Cinderella continues its run until Sunday 15th April with matinee and early evening performances. For tickets and further information: http://www.sthelenstheatreroyal.com/show/?show_id=873579869
Reviewer: Lorna Weekes
Reviewed: 24th March 2018
North West End Rating: ★★★★★