Meighan Youth Theatre celebrated its tenth anniversary tonight by performing a selection of songs from fifteen of its productions from the very first ("Aladdin") to the most recent ("Chicago"). Performers old and new were on the stage tonight, demonstrating the wealth of astounding talent which is in abundance within this company.
The confidence and joy which emanates from every single performer is almost tangible. I have seen some of the performers grow within the company over the past four years and they exude natural ability and confidence without arrogance.
Some of the songs were sung simply, others were more theatrical. I liked the variation and the staging.
There were several high points for me tonight, one being "Grease Is The Word" which was performed dynamically and with real attitude. Every person was oozing character (including appropriate hair slicking from Aidan Burgess!) and it was so watchable and enjoyable. This was much more than a group of performers singing – and the choreography was excellent. Following on from that we had a smouldering performance from Kirsty Podlaski, singing "There Are Worse Things I Could Do". I don't particularly care for that song but she really sold it to me tonight.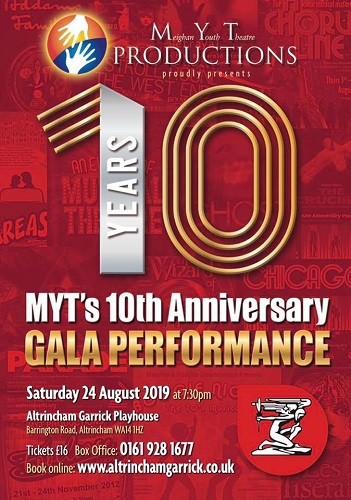 The final section in the first half was five songs from "Les Misérables". This alone was worth the ticket price. Totally outstanding performances from all concerned: it was almost emotionally draining to watch, it was so heartfelt and full of feeling. Adam Boardman performed "Stars" - such stage presence! He was commanding and intense and the song could have been created for him to perform, he did it with style and charisma. Dillon Burgess's rendition of "Empty Chairs at Empty Tables" was loaded with sorrow and grief: it is the best version of the song I have ever seen. The final song was "One Day More" which was rousing and powerful....and what a way to end the first half: it earned them a more than well deserved standing ovation for a West End worthy performance. I have never been in any theatre or any show where the cast have received a standing ovation at the end of the first act so tonight was a first.
The second act was my favourite as I have seen and reviewed all these MYT productions. It was like having my own personal compilation of favourites. We started off with "Ghost the Musical": first performed in 2015 and a slightly more mature performance by Chris Wagstaff and Hannah-Grace Lawson which I thoroughly enjoyed from start to finish. The chemistry between them was authentic and very believable. Chris appears to have a casual confidence which really boosts his performance. I loved his version of "Unchained Melody" in which he also played the guitar. It was excellent. Hannah sang "With You" and her voice is simply beautiful and quite hypnotic.
The next high point for me was "When You're An Addams" from 'The Addams Family'. Sam Kipling's Gomez is hilarious and I couldn't take my eyes off him – his whole characterisation is genius, from his facial expressions to his posturing and accent, he is just wonderful in this role.
From 'A Chorus Line' we had Niamh Mulvihill singing "Dance: Ten, Looks: Three" which is just epic from start to finish. The girl can certainly work this song! The characterisation, acting and her entire performance is again worthy of the West End and I absolutely loved it. Watching Caroline Featherstone singing "What I Did For Love" was quite something to behold: I feel as though I have watched her grow up within MYT and she has blossomed into an extremely talented performer with ability way beyond her years.
The profoundly stirring "The Old Red Hills of Home" from 'Parade' came next: a song which never fails to send shivers down my spine. The MYT version of 'Parade' in 2018 was haunting and masterfully performed and the excerpts performed tonight captured that feeling.
Saving one of my favourites to last: the most recent production which was 'Chicago'. I think I enjoyed "We Both Reached for The Gun" even more than I did a few weeks ago during the run and Emmanuel Moro as Billy Flynn absolutely stole my attention during this song. Such charisma and stage presence. As for Amelia Atherton's performance of "When You're Good to Mama" - the lady who was sitting behind me summed it up pretty well when she exclaimed "WOW!" at the end of it. Amelia is a stunning performer who is quite captivating in her performance. She is an absolute powerhouse of talent.
The finale of "Will You Join in Our Crusade" from Les Misérables was an absolutely perfect way to round off an evening which was a sparkling showcase of outstanding, breath-taking talent.
Everyone involved in this celebration tonight should be immensely proud. The talent, energy and commitment from all the performers is quite awe inspiring.
Joseph Meighan's eye for detail and ability to create wonderful theatre is something very special and we have certainly witnessed future West End stars in action tonight.
Reviewer: Nicky Lambert
Reviewed: 24th August 2019
North West End Rating: ★★★★★