A Very Funny and Highly Entertaining Reinterpretation
Shakespeare's The Two Gentleman of Verona is one of his earlier, if not possibly first, works and is generally less well known and performed so it was a real delight to see this co-production between the Liverpool Everyman & Playhouse and Shakespeare's Globe coming to the Everyman following a national and international tour. This comedy of love, misconception and betrayal has been re-imagined under the direction of the Everyman's very own Nick Bagnall in the 1960's, a time of change in popular culture, with an accompanying musical (Leigh Davies) and visual (Katie Sykes) feast as we move between the easy-listening Verona to the modernity of Milan with the Outlaws in the forest suitably reinterpreted as hippies.
The two gentleman in question are Valentine (Guy Hughes) and his best friend, Proteus (Dharmesh Patel), with their names giving a clear indication as to their nature as we follow Valentine the lover all the way to Milan, where he is ably assisted by his servant Speed (TJ Holmes) with his subsequent pursuit of Silvia (Aruhan Galieva). The shape-shifting Proteus is indeed all things to all men, and women, as he flies from his love in Verona for Julia (Leah Brotherhead) to that of Silvia when he pitches up in Milan whilst deceiving her father the Duke of Milan (Garry Cooper), whose experience and demeanour contrast ever so to the youthful follies of those around him, and his preferred hand to marry his daughter, Thurio (Amber James), all at the same time. Proteus is supported by a dim-witted servant, Launce (Charlotte Mills), who is much in contrast to the wit of Speed.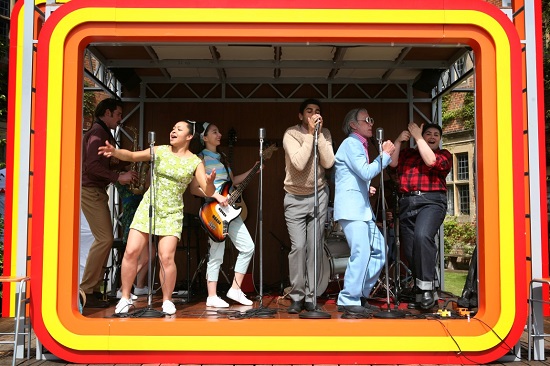 We are introduced to a number of devices in the play that are to re-appear in later Shakespeare productions: women dressing up as men to pursue an ambition ordinarily denied of them; the misplacement of love tokens; the deep bond of friendship; clownish figures; the clashes between generations as well as genders; the differences between class; the contrast between civil society and wilderness; a plot that is dark on the one hand and full of hilarity on the other; the idiom of language, particularly in relation to love.
Many of the cast take on additional roles to suit the varying locations including in Verona, Cooper as Antonio, Proteus' father; James as Lucetta, maid to Julia and as Panthino, servant to Antonio. In Milan, Holmes is Eglamour, an accomplice to Silvia as she steals away to the forest, whilst Fred Thomas performs as a musician throughout including cameos as Crab, Launce's dog. Oh, and Brotherhead's Julia becomes Sebastian in Milan but that is very much for the purposes of the plot. The musical themes and costumes are used to good effect to differentiate location and character although sometimes the changes are that quick (and back again) it is easy for anyone not conversant with the play to get a little lost, particularly with James who has the most work to do playing an array of male and female roles although to her credit they are distinct and recognisable. I especially liked the use of records to pass messages between characters, which was very much in keeping with the musical theme and also brought back great memories of making up cassette recordings in my not so long ago youth to make some point or another.
There are two main criticisms levelled at Shakespeare in relation to the play. Firstly, the writing is loose in a number of places and it is generally considered that strong direction is necessary to make it work. Bagnall's re-setting is a brave choice but one that works well as it captures the distinct scene changes through the music and dress as well as some clever visual gags when we meet the Outlaws in the second half. The clever use of three levels (or rather two and ladders) with the retro music box at the rear of the stage allows action switches to synchronise perfectly and we often get to see a scene from three dimensions – Shakespeare would have been proud. All of the cast displayed musical talent through their vocals and the wide range of instruments on offer. The second major criticism levelled is the treatment of women so much credit to Bagnall for the inspired ending which addresses this brilliantly as well as getting around the abruptness of the original play ending at the same time.
There were accomplished performances from all of the cast but the standout for me was Garry Cooper for what I can best describe as an acting masterclass and which one hopes will prove invaluable for his younger colleagues in years to come. A special mention too to TJ Holmes who was a late stand-in for this performance and excelled throughout, particularly as Speed.
Founded in 1964 in the appropriately named Hope Hall in an area of Liverpool noted for its bohemian environment and political edge, the Everyman built a reputation for ground-breaking work. In 2000, the Everyman joined forces with the Playhouse to become Liverpool & Merseyside Theatres Trust (LMTT) with Gemma Bodinetz (Artistic Director) and Deborah Aydon (Executive Director) appointed as joint Chief Executives in 2003. In March 2014 following ten years of planning and two years of construction, a brand new incarnation was opened and which became the first theatre in the UK to win the prestigious RIBA Stirling Prize. Further details http://www.everymanplayhouse.com/
The Two Gentleman of Verona performs at the Everyman through to Saturday 29th October 2016.
Reviewer: Mark Davoren
Reviewed: 11th October 2016
North West End Rating: ★★★★
Picture: Gary Calton