Benidorm was a surprise hit for ITV with millions of viewers loving the daft antics of the Hotel Solana staff and their long suffering guests over ten primetime seasons.
Despite that success the TV series was axed last year, but its huge popular appeal made it an obvious choice to become a stage show, which touches down at Leeds Grand Theatre from Monday 18th March. Many of the show's most popular characters will join the onstage chaos in an all new story, including over the top hairdresser Kenneth Du Beke played by Tony Maudsley.
"If you watched the TV show it follows on quite nicely, although you don't need to have watched the TV series as it stands alone as a show," says Tony. "Basically, it is the Solana hotel staff trying to save their place being taken over by a big corporate company which would put their jobs under threat. They are also trying to find out who an undercover hotel inspector is with hilarious consequences obviously.
"It is the classic Benidorm formula of semi farce with a lot of heart so from the moment people walk into the theatre it is all beautifully familiar to them. The colours on the set are the same, and a lot of the set has been brought over for the studio in Benidorm. The people who come along will get a belly full of everything they are looking for."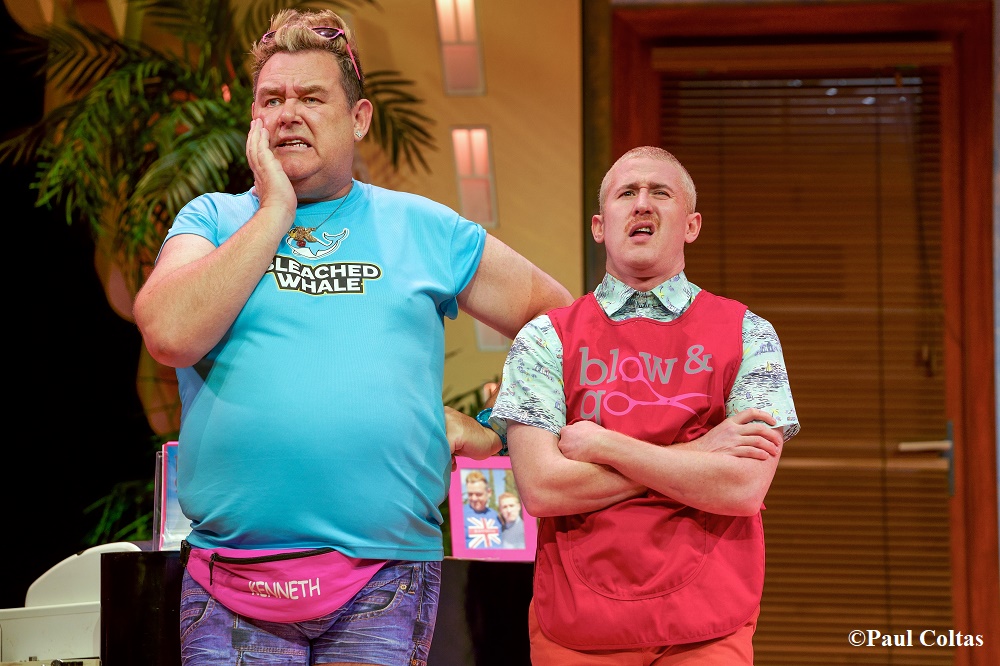 In the TV series there were 17 main characters from a crossdressing barman to a perma-tanned bitter pensioner causing mayhem on her mobility scooter, and the producers have recruited plenty of the much loved waifs and strays who haunt the slightly shabby hotel.
"You have hotel manager Joyce Temple-Savage played by Sherrie Hewson, Mateo the barman who is Jake Canuso, you've got Adam Gillan as Liam, Jaqueline played by Janine Duvitiski and Shelley Longworth who is Sam. We've got also got Asa Elilott, who was the Neptune singer for a couple of seasons. to add a bit of music to the show."
Unlike the crude Mrs Brown's Boys the fun in Benidorm is much more cheeky end of the pier stuff, but always on the side of the underdog. Kenneth Du Beke is a wonderfully over the top chancer who became one of the show's main characters after he took on the hotel's shabby salon.
"He's flamboyant to say the very least, and a bit mutton dressed as lamb as he is a fortysomething dressed as a twentysomething," laughs Tony. "He dresses in the way no man in his forties should dress, he has dyed blonde hair and he is a gay hairdresser who doesn't apologise for his behaviour. He wears his heart on his sleeve, and he's a fun time boy who likes going out and getting drunk.
"He is happy to admit that he wakes up many mornings in a skip with a kebab still in his hand. He dresses like a firework explosion in a paint factory, but he is basically a good, fun guy who is very honest about what he likes. He has a very big heart and is very loyal to all the people he works with."
Despite some sneering from the broadsheet critics Benidorm was a primetime hit that was for many people a guilty viewing pleasure. The stage version is penned by Derren Litten who created the show as well as writing many of the show's 73 episodes. Tony thinks he knows the secret to Benidorm's success.
"I think it is people watching themselves to be honest and it is working class people on holiday having a great time, and not apologising for it," muses Tony. "I think with that cast of 17 people there was always somebody within their family, if not their whole family, they could watch and go 'Oh god, that's grandad, grandma, auntie Vi or Uncle so and so'.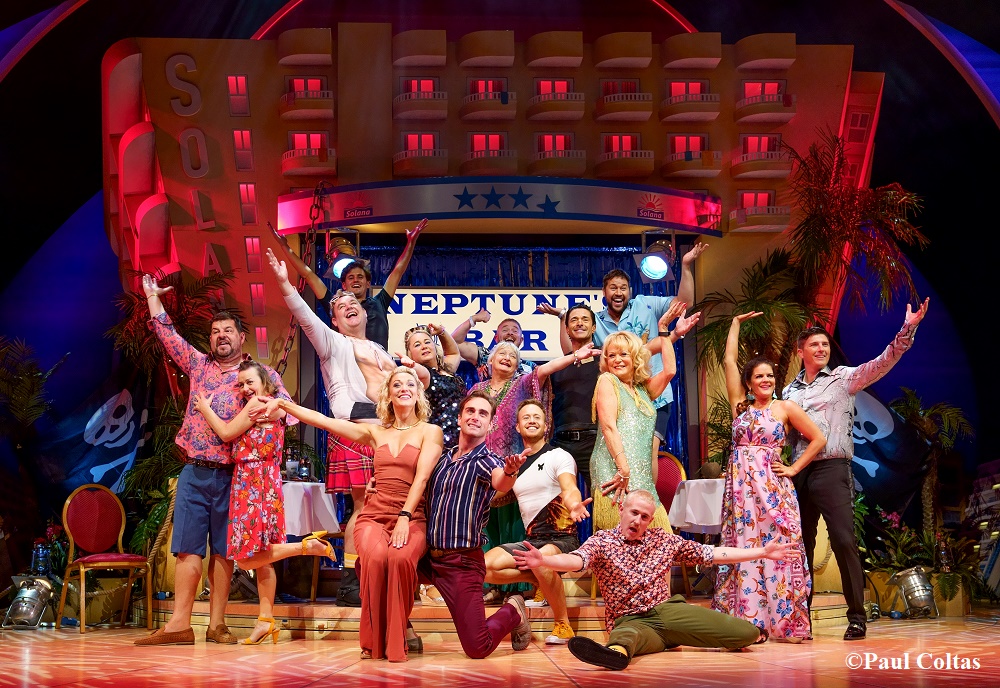 "Derren is a very observant writer, and he represents that whole breed of Brits who go on holiday abroad, which is why it is so familiar and likeable. It is them watching us watching themselves."
Even though the TV show pulled in the viewers year after year the cast of the touring version knew they were taking a big risk going on the road with something that meant so much to so many people.
"The reaction is better than we expected or even understood. On the opening night in Newcastle we had no idea how it would be received, but it took the roof off the theatre. We felt like the Beatles as we came out onstage, they were clapping for each of us, and at the end the audience were on their feet screaming and clapping.
"I think we underestimated how much the audiences had invested in these characters over the years. We didn't realise because we filmed the show in complete silence with no laughter, so to feel the love coming to the stage for those characters you know you've really hit the spot with those guys.
"They are so upset that the show has been axed, and more upset than even ITV realise. It's a shame in a way as I think Benidorm had a couple more years in it."
Another reason why Benidorm was such a success was it was utterly unpretentious going over the head of the broadsheet cynics directly into people's home, which bonded the cast as they were filming in the very epicentre of the annual British invasion of Spain.
"The thing about the show we were literally in Benidorm for four months so we had to get on. I always described us as being a big dysfunctional family, so we had our fights and moments, but my god we loved each other. We worked hard and played very hard together.
"We were in the sunshine paradise of karaoke and kebab so there was no way we weren't going to have a good time. We were out and about with the viewers so they would very often bump into us in the streets as drunk they were."
Benidorm – Live! is at Leeds Grand Theatre from Monday 18th March to Saturday 23rd March. To book www.leedsgrandtheatre.com or 0844 8442700.