Stick Man is a favorite book in our household (as all Julia Donaldson's stories tend to be), so my 5-year-old daughter was excited to see this live on the stage. Scamp Theatre's production certainly didn't disappoint today at the Lowry Quay's Theatre as my daughter and the packed auditorium were enchanted from beginning to end!
Stick Man is a wonderful story: Stick Man leaves his Stick Lady Love and their three stick children in his family tree and goes out for a jog. Unfortunately, along the way, he meets various people and animals who mistake him for a stick and set to use him as they see fit. The dog has a nibble, the girl plays pooh sticks, the swan uses him to build a nest, and he's a bat and many more things throughout the show. All of which take Stick Man further and further away from his home until he ends up in grave danger on Christmas Eve.
The production is a mix of catchy songs, storytelling, puppetry, humour and audience participation, supported by the most wonderful musical score performed on dozens of instruments by the very talented Euan Wilson's one-man band. Christopher Currie and Kate Malyon lead the cast with exuberance and energy that is totally engaging. These storytellers and puppeteers are absolutely magnificent as they use their facial expressions and body language to convey the story to the audience.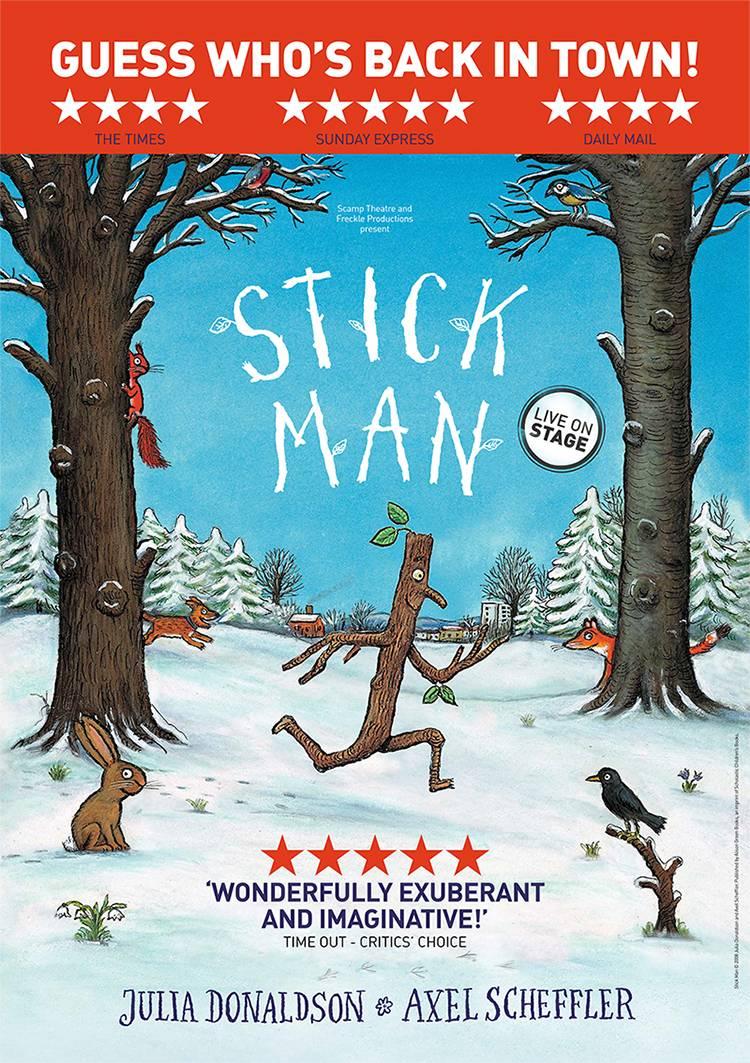 Stick Man was truly outstanding, and I had a smile on my face (and at the end a tiny tear in my eye) from start to finish for so many reasons. There is romance, danger, despair and a happy ending all in perfect measures to keep the show lively and make for perfect children's theatre.
Sally Cookson has thought of everything with the stage direction. Just at that moment when the children may get restless from sitting still for a while, they get to join in with the show, either with the cast running around the theatre, a hint of pantomime 'he's behind you', or bouncing a beach ball around the theatre. The most outstanding feature though is the choreography, which flows and bubbles through the performance, giving the production a polished finesse that is truly impressive.
I genuinely loved this performance and from the reaction of my 5-year-old daughter and the many other children in the audience, it was a big hit with them all too. Lots of giggling, calling out, and hand waving filled the auditorium. The production is recommended for 3 years and over but many of today's audience were far younger: a real testimony to the superb cast and show was that even the tiny ones didn't take their eyes off the stage for a minute.
The set was quite basic with little more than a table in the centre and props were kept to a minimum; however the ones used – including three twirling navy umbrellas for the sea – worked well and kept the eyes of the young audience on what was happening rather than distracting them with the fancy scenery.
My favorite moment in the show had to be the happily ever after moment when Stickman was reunited with his family with the help of Santa. Highlighting that family is important and home is the place to be. However, it was rather strange to see Santa in a show at this time of year. But he does feature in the storybook after all and I'm sure there won't be any parents moaning (including me) about his premature appearance – not when he reminded our little ones to be good for the next three months!
This is definitely not a show to be missed and is a magical hour of family theatre that is heart-warming and uplifting.
When I asked my 5-year-old companion what she thought of the show she said "I'd give it 20 thumbs up mummy I loved it!" as she skipped out of the show singing 'stickman' at the top of her voice; high praise from my co-reviewer.
Scamp theatre and Freckle Productions' adaptation of Julia Donaldson's and Axel Scheffler's Stickman is on tour until January 2018 for more information visit www.stickmanlive.com
Reviewer: Victoria Wilmot
Reviewed: 30th September 2017
North West End Rating: ★★★★