The one question on my lips tonight upon leaving the Lowry after watching The Addams Family is why hasn't this show been seen on the major UK stage before. Countless amateur versions of the show have been performed across the country and now thankfully Katy Lipson, Aria Entertainment and Music & Lyrics Limited decided to bring this fun family show to the UK, and what a superb decision that was.
The show follows Wednesday Addams (Carrie Hope Fletcher) who has met the love of her life in Lucas Beineke (Oliver Ormson) and has to convince her rather dysfunctional family and ultimately her mother, Morticia (Samantha Womack) to give the couple their blessing.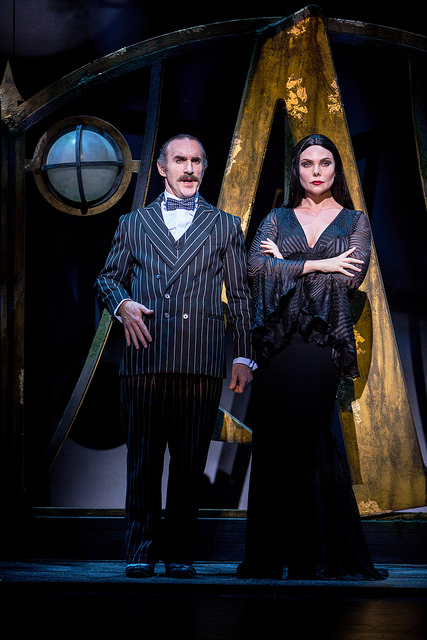 For me the star of this show does not appear on stage but is the casting director James Orange. Not one character on the stage tonight looked out of place from the head of the family Gomez Addams (Cameron Blakely) down to 'Thing', who sadly wasn't listed in tonight's programme.
This show triumphs with three strong couples. Blakely as Gomez plays the hen-pecked husband of Morticia skilfully and with superb comic timing with Womack playing the perfect straight woman, and despite what Gomez thinks, the head of the family.
Ormson and Fletcher as the youngsters in love mirror Gomez and Morticia much closer than they'd ever like to admit with Fletcher shining during her solo number 'Pulled' which she sings whilst torturing her younger brother Pugsley played innocently by Grant McIntyre.
The final couple are Lucas' parents Mal (Dale Rapley) and Alice (Charlotte Page) who until visiting the Addams have been surviving day to day in an almost loveless marriage. After Pugsley steals one of his Grandmas (Valda Aviks) magic potions the evening meal doesn't exactly go to plan and more strain is put on their marriage.
The final two main roles in this laugh a minute production are Uncle Fester played exceptionally by Les Dennis. With his bald head and dark eyes he strikes up a relationship with an unusual partner with whom he goes off into the moonlight. Finally, full credit has to go to Dickon Gough who plays larger than life servant Lurch. Deliberate and measured in everything he does he benefitted from some of the biggest laughs of the evening.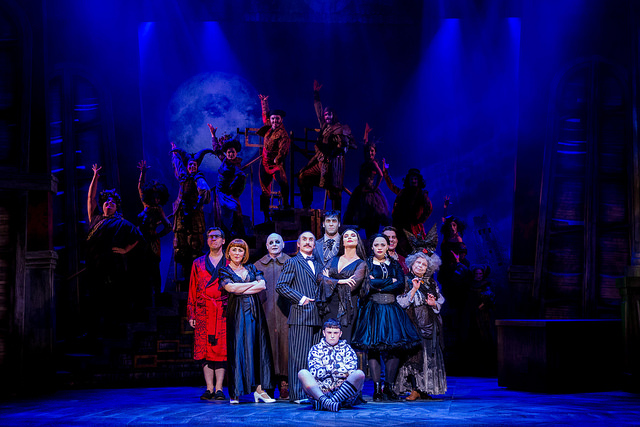 An ensemble of 10 played historical ancestors who are woken from the dead, an annual tradition that this year is delayed from ending until the course of true love is set and followed.
Diego Pitarch has designed a suitably grand yet partially derelict set based around the family mansion which sits in the middle of Central Park in New York. Clever transitions helped move the story along at pace and was lit thoughtfully by Ben Cracknell.
Finally, an 8-piece band under the directorship of Andrew Corcoran played the music of Andrew Lippa and sounded larger in size than the number in the pit.
The Addams Family is a triumph from start to finish and the perfect family musical with something for everyone within. I cannot praise this production highly enough and urge you to catch it on tour before it closes later this year. http://www.theaddamsfamily.co.uk
Reviewer: Paul Downham
Reviewed: 30th August 2017
North West End Rating: ★★★★★
Photos: Matt Martin