The Great American 80's Soap Opera by Vertigo Productions tells the story of Valiants Point, a soap opera that's on the verge of being cancelled after viewing figures start to drop. Producer Dick Eisenberg (Stu Reeve) appoints clueless Darren Riley (Paul Worrall) as the new writer of the show in hope to win back viewers.
From the beginning you can tell this is going to be a laugh out loud comedy. The rivalry between Cristal St. James (Dale Vicker) and Catherine Cooper-Connors (Emma Morgan) is hilarious, as they both aim to be the soap's leading lady.
The staging was simple, yet effective, with more than just a touch of tacky décor to remind the audience that we're being transported back to the 1980s. On closer inspection you can tell there are some duds in the props, however these cleverly come into play later in the play.
My only slight criticism of the production is the character of Rain played by Bekka-Jane Milner. Not that she played the role badly, but I did find a lot of the character's actions distasteful and slightly degrading.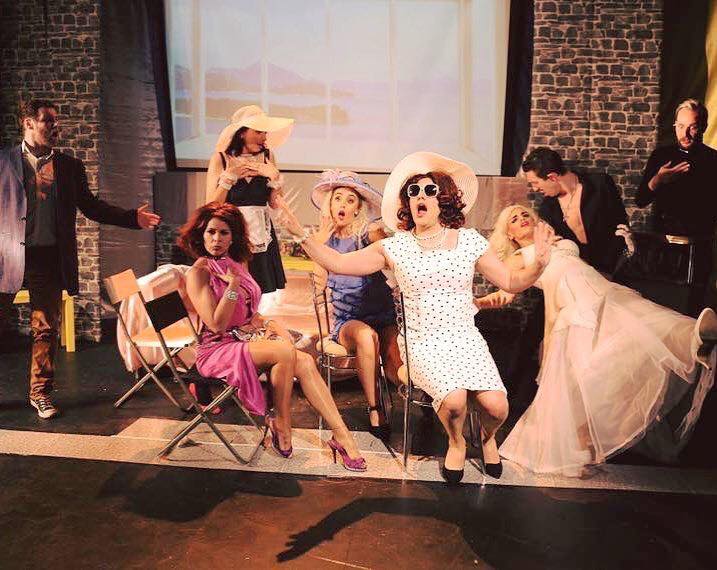 I thought the earthquake scene was hilarious and couldn't be topped, but when Cristal and Catherine 'lost' their skirts I almost wet myself. However, the final scene of the live episode was simply hilarious - Vickers' squatting had me in stitches.
Director of Valiants Points Aaron Carsey (Joe Slack) is secretly plotting to create a show so bad that it is taken off the air, and he can take the prime time slot with a new show. In a last ditch attempt to hammer the nail in the show's coffin, Aaron announces that the show will be broadcast live, resulting in a comedy of errors. This did remind of 'The Play That Goes Wrong' - which did start its life as a fringe show, and is currently wowing audiences on a UK tour.
The standout performer of the night is without a doubt Dale Vickers. His talent for comedy is a natural born gift. He even had me laughing when he wasn't speaking, just his presence and reactions were hilarious.
However, to be fair the entire cast worked well as an ensemble and all actors did a great job. Emma Morgan had flexibility I didn't know was humanly possible, Daniel JJ Timblin was perfectly cast as superbitch Summer Valentine and the dedication and commitment from Joe Slack to his role was top-notch.
The Great American 80's Soap Opera is a hilarious comedy that will leave you close to wetting yourself. If slapstick comedy is your style of humour, then you definitely won't be disappointed with this.
Reviewer: Sean Foster
Reviewed: 4th May 2017
North West End Rating: ★★★★