Christmas has arrived with an almighty flourish at the Sheffield Lyceum Theatre this year and 'strictly' speaking – this is quite possibly their best Pantomime yet! 'Cinderella' written by Paul Hendy for Evolution Pantomimes delivers a thoroughly refreshing, modern and downright uplifting production that oozes every morsel of talent on display. There really is something for everyone!
The cast this year are an all singing, all dancing sensation and this becomes immediately obvious when 2016 Strictly winner Joanne Clifton bursts on to the stage! She Cha Cha's, Tango's and Waltzes on to the stage at every opportunity and the traditional fairy rhyming couplets get a modern twist! The legend that is Damian Williams returns once again and this time he has a partner in crime! The ugly sisters are every bit as grotesque and ridiculous as you would expect.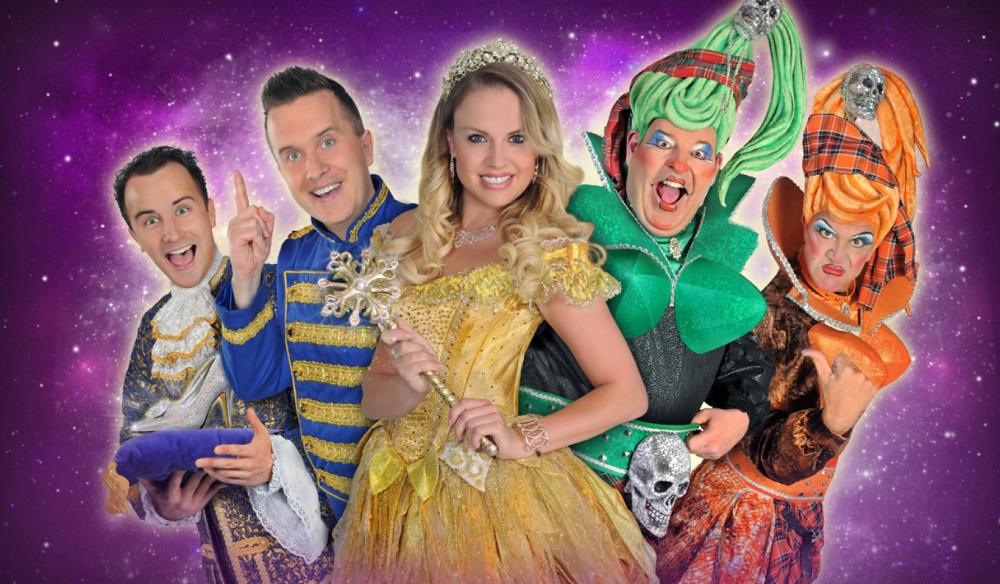 Matt Daines as Melania does an excellent job keeping up with Damien Williams as 'Donaldina'. Quick wit, loud costumes and plenty of boos are the order of the day. The pair are clearly well rehearsed and they burst into life every time they enter.
Phil Gallagher (Cbeebes' Mister Maker) makes an excellent Buttons. He is funny, charming and likeable. Phil had the audience onside from the outset and when he is rejected by Cinderella he has the audience shouting 'We love you buttons'!! Phil is supported by a strong, talented and youthful cast, which Include Oliver Watton and Ben Thornton as 'Prince Charming' and 'Dandini'. The pair have great stage chemistry and boundless vocal ability. 'Cinderella' played by Evelyn Hoskins is beautiful, sweet but packs a real punch when the ugly sisters attempt to bully her. Yorkshire-born Mark Faith as the doddery and dithery Baron Hardup completes a stellar principle line-up. The ensemble cast are excellent but a special shout-out must go to Lewis Herring as the overzealous ensemble member! He has real stage presence and shines every time he makes an appearance.
The star of the show for me was young Tillie Copley as Mildred! A member of SPA (Sheffield Performing Arts) she oozes confidence, theatrical ability and you certainly wouldn't argue with her! She performed her heart out and deserved the rapturous applause she received at several moments throughout the night. And as if that wasn't enough – she can even rap too! Theatre is in very safe hands with starts such as Tillie and the rest of the young ensemble who all had great stage presence and great dance ability!
It would be remiss of me not to mention the hard work that goes off behind the scenes. The band, led by James Harrison (possible the most enthusiastic Musical Director I have ever seen) are excellent throughout. The costumes designed by Helga Wood are stunning. Lighting – designed by Gary Longfield was incredible and perfectly complimented Michelle Marden's bright, bold and beautiful set design! Also, a mention to all of the crew working on this production. A lot of hard work goes on behind the scenes over the Christmas period and a lot of time is spent away from families in the name of delivering an outstanding production. This pays off and all of the hard work is massively appreciated!
This is quite simply a stunning pantomime you'd be a fool to miss it! I cannot wait for next year! Playing until the 5th January 2020 https://www.sheffieldtheatres.co.uk/events/cinderella
Reviewer: Chris Hanlon
Reviewed: 10th December 2019
North West End UK Rating: ★★★★★