Panto season is upon us and with so much choice of pantomimes around Liverpool and the surrounding areas; it is difficult to stand out from the crowd. Luckily, Epstein Entertainments are serving a slice of diverse creativity, fun and laughter with their latest production of Cinderella.
The classic story of Cinderella is served with a modern twist as we meet a Fairy Godmother (Samantha Palin) who is "in training" however her voice left nothing to be desired as she effortlessly belted out some beautiful numbers. Cinderella (Sammy Winward) was sweet and likable throughout and her pretty voice complimented her characterisation as the much loved damsel in distress. Prince Charming (Andrew Geater) was slick and professional in his royal performance and his side kick Dandini (Warren Donnelly) came to the fore during his dialogue sections. The ugly sisters who were ingeniously named "Kate & Megan" (Crissy Rock & Sarah White) brought comedy and daft fun however I couldn't help but want a little more from these two. Rock looked a little shaky in her confidence and diction however by the time we got to the "it doesn't fit" scene, their characters had evolved, and this scene was entertainment galore. The opposite rung true for Buttons (Lewis Devine) whose confidence and stage presence shone for miles from the very beginning! He was loved by the audience every minute he was on stage due to his quick wit, hilarious movements and not to mention, an excellent singing voice.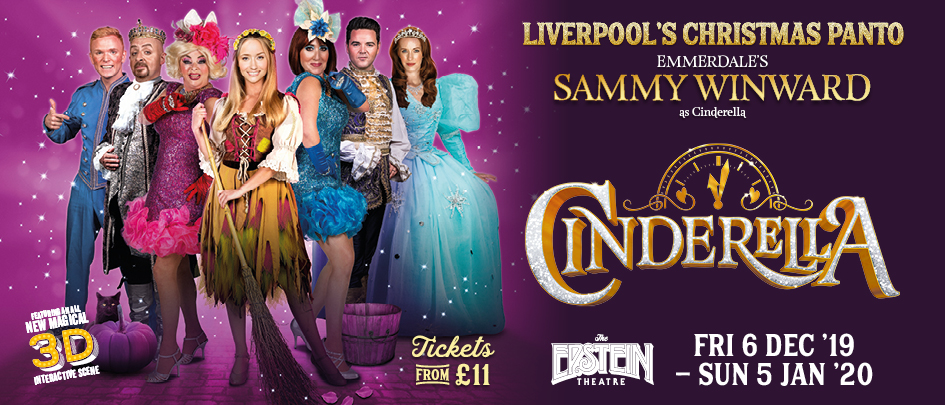 This star-studded cast would be nothing without their professional dancers and Juvenile Dancers who made up the chorus. These individuals sparkled in true exaggerated pantomime fashion demonstrating their well rehearsed choreography in impressive costumes.
The music choices were panto perfect – 9 to 5, I need a hero, one night only, I want you back, shotgun to name but a few. This variety created a number of great singalongs that had the audience singing and clapping until their hearts content. There was also clever use of underscoring throughout with the Emmerdale theme tune not going unnoticed! It was hard to believe that there were only two musicians present during this performance due to the full, high quality sound from the music throughout. Congratulations to Musical director Alan Moore and Drummer Sam Mainard for a stellar performance.
Although I felt the first half got off to an ordinary start, the second half blew me away with two particular highlights being the "love lifts us up where we belong" song performed by Buttons and Fairy Godmother in a hilarious scene were everything goes wrong. And of course, the unique 3D scene that captivated the audience – literally! This is not something I have seen done before so well done to Epstein Entertainments for utilising technology to create a truly enchanting, unique pantomime experience.
Adult jokes involving "Kitkat Chunkys", pink fluffy horse drawn carriages and audience participation throughout- this show really was jam packed full of fun for everyone. You may think you've seen Cinderella before, but this version is filled with magical surprises that make it a highly entertaining, enjoyable night for all the family. Cinderella continues at the Epstein theatre until Saturday the 5th of January, for ticket information, please visit https://www.epsteinliverpool.co.uk/events/cinderella-2/
Reviewer: Bláthíne Maguire
Reviewed: 9th December 2019
North West End UK Rating: ★★★★