It's panto season once again! Oh yes it is! And this year's festive offering at New Brighton's Floral Pavilion is Snow White and the Seven Dwarfs. It tells the classic story of the princess Snow White who goes to hide in the forest from her wicked stepmother, only to be tricked by said stepmother into eating a poisoned apple. Of course, there's a happy ending though as Snow White's true love comes and wakes her from her sleep.
Andrew Margerison directs this production and he does a good job. This production doesn't do anything mind-blowing but it does what it needs to do. I did feel Andrew Ryan's script could have been slicker and slightly more up to date. There were several jokes that I'd had heard many times before and the structure of the storytelling didn't feel as smooth as it could have been. Lee Lomas' choreography is brilliant and the small band under the direction of George Strickland sound very strong and you soon forget there are only three musicians.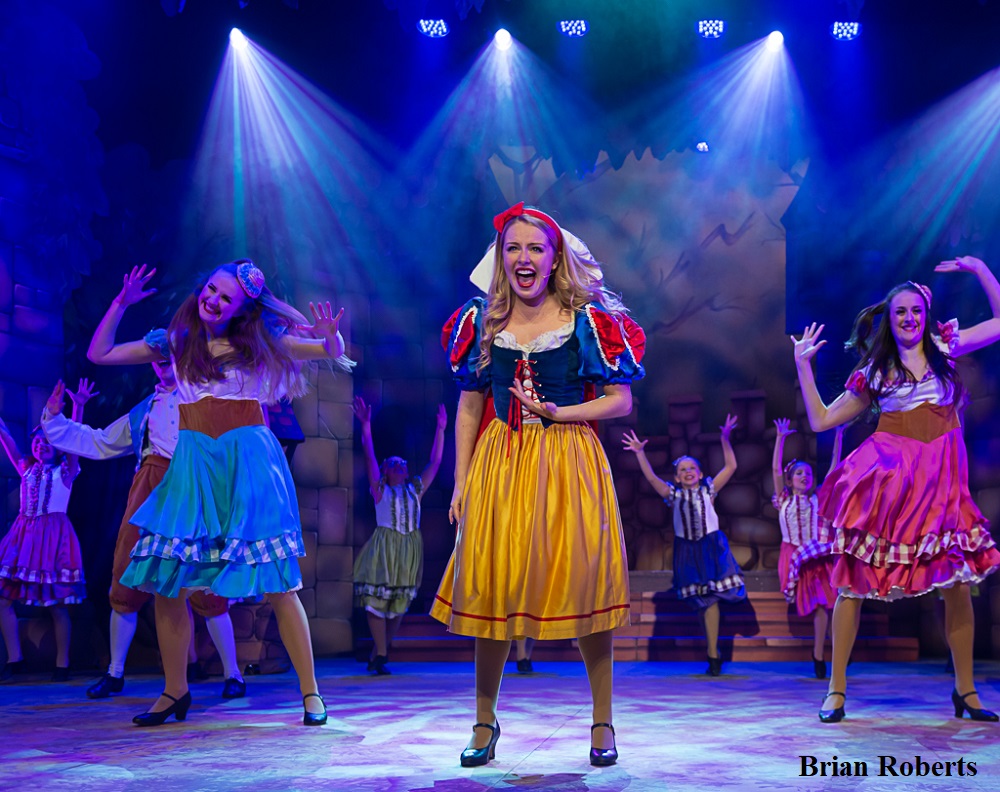 Elizabeth Dennis' costumes look great whilst Andy Batty's set fits the genre perfectly. I did feel this production had a simpler set than other productions though and many sets are seen several times. A few more lavish sets through the show wouldn't have gone amiss as many scenes just use front cloths.
Naomi Gisbey plays the title role of Snow White and she shines in this role. She is warm and likeable and her vocals are outstanding throughout. She does feel a little underused at times though. Luke Walsh is equally brilliant as Prince Frederick of Fazakerly. He gets to showcase his exceptional rock vocals in his number It's My Life, although the song doesn't feel hugely necessary plot wise. You could tell Walsh wasn't too accustomed to leading audience participation in the small amount he did though.
Philip Meeks plays Nurse Dolly and he is a very strong dame. He gets plenty of stage time, his costumes are fantastic and he has a fantastic rapport with Sean Jones as Muddles. Jones was great as Muddles. He had the audience on side from the off and he was perfectly likeable. I didn't like the scene where the Wicked Queen hypnotises Muddles to get him to kill Snow White however. To me, it just felt like a way to cut out the role of the Henchman that many versions of Snow White have. Jones and Meeks definitely get most of the stage time and they are fantastic, even if their characters don't have a huge amount of relevance to the plot.
Claire Sweeney headlines this production as the Wicked Queen. She commands the stage whenever she's on it and commands the audience to get the reaction she wants. Her vocals are strong and she comes across as completely evil. However as the Mirror isn't given a lot of personality in this version of Snow White, opportunities are missed in those interactions.
The Seven Dwarfs in this production all give great performances. Particular highlights were Chris Chapman as Pop, Fatemeh Sarabani as Kip, Emma Jones as Smiler and Kieran Dumont as Twitcher (who gets to join in with the 12 Days of Christmas routine). The cast is supported by a very strong ensemble who perform the choreography fantastically, alongside a team of young people from Hoylake School of Dance.
This production of Snow White is a traditional, fun pantomime suitable for the whole family. It does lack a level of spectacle that is often expected from panto but it has a very strong cast. If this is your local pantomime, be sure to get down before it closes on 5th January.
Reviewer: Jacob Bush
Reviewed: 7th December 2019
North West End UK Rating: ★★★