Oh no its not! Oh yes it is!....... and what better way for a school half term treat than popping on down to St Helens Theatre Royal to watch a first class show suitable for all ages which is thoroughly entertaining in every way. Regal Entertainments present the Sleeping Beauty with a stellar cast who all appear committed to giving their best performances as the characters they portray and from the tiniest tot in the perfectly choreographed 'Glitter' group of Dance Dynamix, to the larger than life and over the top Pantomime Dame there isn't a weak link in the chain. The junior dancer's roles are shared with Sparkle group of Attitude Dance on alternate performances.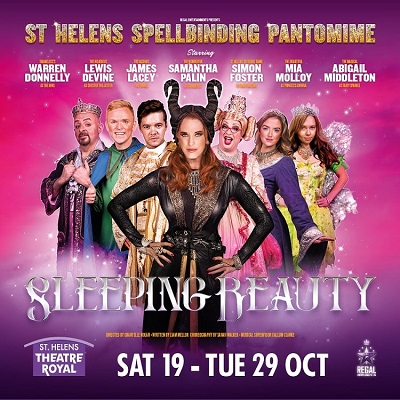 The Sleeping Beauty is a centuries old tale and this Pantomime version is written by Liam Mellor and directed by Chantelle Nolan with choreography by Sarah Walker. It has all the essential ingredients associated with Pantomime which include the Good.... Fairy Sparkle (Abigail Middleton) the Bad.... Fairy Carabosse (Samantha Palin) and well, as mentioned before and I'm sure relishes the title, Simon Foster as the Ugly....Dame Queenie! There's the King (Warren Donnelly) and his daughter, the beautiful Princess Aurora (Mia Molloy) and the handsome Prince George).
Add to these slapstick, excellent song and dance, not so subtle innuendo, fabulous scenery and stunning costumes you could not possibly want for more, but more is what you get, in the form of firm family favourite Lewis Devine, as loveable, hilarious, Chester the Jester. In almost every scene Devine works his little striped socks off and engages with the audience from the start encouraging shouting his catchphrase whenever he appears....that's a lot of shouting! I was exhausted just watching his boundless energy. Four youngsters from the audience won a golden ticket and join him on stage to perform the Hokey Cokey and for once there are no overawed kiddies which I suspect is testament to Devines popularity. Well done Thea, Oscar, Hannah and Lucy!
Dame Queenie expertly adds to the comedy whether with Chester, or her husband the King and her colourful array of wigs and outfits are second to none. The scheming Fairy Carabosse is met with boos and jeers at her every appearance which she thoroughly deserves. Her cackle is evil (but her singing is amazing) and her intention of casting a spell which means Princess Aurora will die on her 18th birthday is met with horror. Thank goodness for Fairy Sparkle who might just be able to thwart her plans with the aid of Prince George. With all lines in verse, can she lift the curse, will the Princes' charm save Aurora from harm?
There's just one way to know.....go and watch the show!
Sleeping Beauty continues until 29th October with matinee performances on some days. For tickets and more information: http://www.sthelenstheatreroyal.com/show/?show_id=873602561
Reviewer: Lorna Weekes
Reviewed: 19th October 2019
North West End UK Rating: ★★★★★