A Manchester Fringe institution comes to Manchester's newest Fringe theatre; where established meets up-and-coming. Isn't that what the Fringe is all about? The established giving the up-and-coming a chance and a fair crack at the whip. How very fitting then that these two have partnered.
53TWO is a very adaptable space underneath Deansgate railway arches at the side of what used to be Central Station. Admittedly the venue still needs a little work, but its presence has already been felt and appreciated, and will only continue to grow. It is also a larger venue than the odd square thrust space that Joshua Brooks offered, and so both audience and actor can better appreciate the product.
As usual, 6 short plays with a maximum running time of approx 20 minutes were our fare, but it does seem that the stipulation for using plays written only by established film and TV writers has been relaxed a little. Not that this is a bad thing per se, just that that was what JB Shorts were known for originally.
However, to the plays...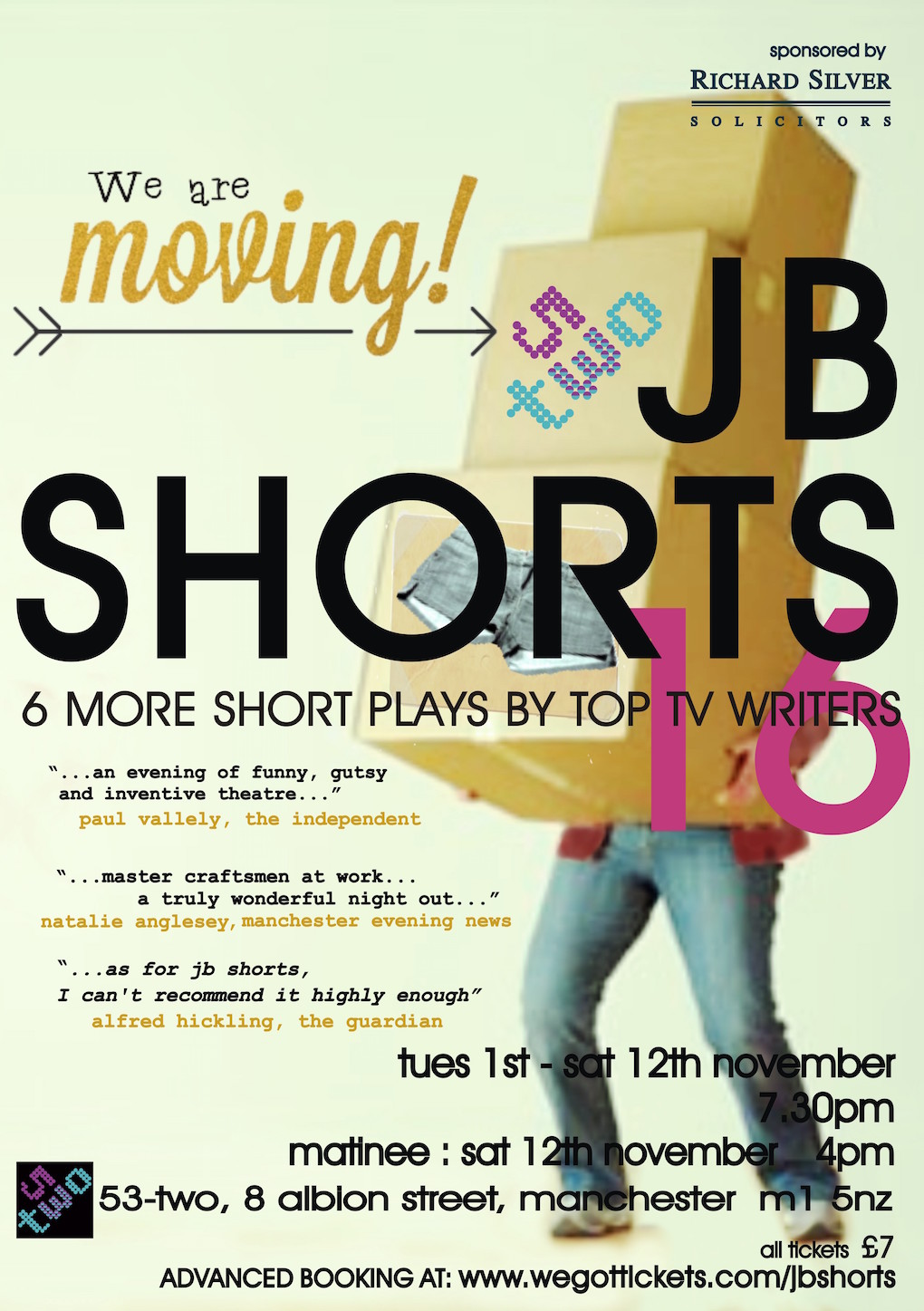 All six were either comedic or farcical which was a pity. It would have been nice to have had at least one drama either side of the interval, but again, it was what it was, and this probably didn't worry most; in fact, it probably hadn't even occurred to them.


We started with a two-hander, and we were in very capable hands with established writer Sarah McDonald Hughes and director Martin Gibbons as we follow the holiday antics of two 16-year-old girls in 'Magaluf'. The two young girls bringing this notorious holiday style of binge drinking and free sex, crawling from club to club under the Spanish sun very much in focus were Amy Lythgoe and Natalie-Jay Bowes.
In the second play - actually an interesting premise which failed to get off the ground possibly due to some highly eccentric and over-the-top acting and poor directing more than anything else - we are transported to a world where witches exist and bemoan that they are being denied their cultural identity. It's an interesting starting point for a play, and to then make the three witches interact with characters such as MacMeth and Duffy and talk about the Burnham Wood Gang was intelligent and clever. So why didn't this piece work? The directing was unfocused and the actors were caricatures and therefore totally unbelievable. The play was 'Toil And Trouble' by distinguished writer Trevor Suthers, and directed by Sue Jenkins, with a cast of three witches, Maria O'Hare, Jenny Gregson, Jennifer Bray and the young man high on meths, Peter Ash.
The last play before the interval was another interesting concept. It's an old story, a worn-out device but the comedic or tragic possibilities of such a device are endless; hence its timelessness. In 'In My Shoes' by Dave Simpson, we see an aging couple bickering. The one asks the other for a divorce. She is seeing a much younger man, whilst he has another female companion. It's thundering and lightning, and as one clap strikes, it momentarily paralyses the two and they switch bodies. In their new bodies, they now meet each others' partners and start to learn more about themselves and each other than they ever did in their own bodies. Directed by Alyx Tole, the play had very little change in pace, and although the body changing was necessary it did take up a little too much time. Judy Holt and Murray Taylor were the protagonists Carol and Peter, with their respective new loves Jacqueline Leonard and Sushil Chudasama.
After the interval, the standard did improve somewhat, and to start the second act was the most intelligently written and best crafted of the 6 scripts, 'A Grand Malaise And A Small Cappuccino' by stand-up comedian Justin Moorhouse. Directed by Rupert Hill, this two-hander is a benefits interview with a twist, and is played superbly by Les Toomes (Martin) and Rosina Carbone (Angela).
Following this, again an interesting idea spoilt by indulgent directing and overacting. 'Rebrand' by James Quinn and Aileen Quinn sees three PR executives having a brainstorming session in order to re-brand the British Armed Forces to the public and do away with 'offensive' words such a 'war'. It's a great idea and should have worked much better than it did. Directed by Megan Marie-Griffith, it was allowed to descend into the realms of monodimensional caricature and falseness, when in actual fact, if what they had to say had been delivered realistically it would have packed a much greater punch. Surely this style of OTT acting went out of fashion with The League Of Gentlemen? The three actors were Toby Hadoke, Danielle Henry and Amy Gavin.
And finally, to the showstopping finale. In a style shamelessly ripped from The Reduced Shakespeare Company, we were taken on a whirlwind and highly comical ride through Emily Bronte's 'Wuthering Heights' (At Hurricane Speed), written, with apologies to Emily Bronte, by Lindsay Williams and Peter Kerry. This was actually highly entertaining and extremely humorous. With some rather clever and inspired directing by Joyce Branagh, this rather boring and outmoded novel was brought to startling life and proved to be a massive crow-pleaser. Unsurprising really when it was delivered with panache and the tongue firmly in the cheek. Using members of the audience as 'extras' was inspired and worked brilliantly too. Verity Henry was Cathy, Richard Weston was Heathcliffe and Amy Drake was Nellie. However, the performance of the whole evening simply has to go to Robin Simpson who played Lockwood and many other characters along the way too. His stage presence and his personable naturalism made me watch him above anything else in the most unassuming way.
The lighting for all was kept (obviously) to a minimum, but it all worked and worked well. What didn't work quite so well though was the set. The idea that one-set-fits-all just didn't cut it for me. The first play needed to have a black curtain, nothing more, and I was wondering the whole time why that set was there. It was then used for the second play and worked well in context. (although the relevance of Poe's raven at the end still escapes me). That set needed then to be cleared and just the smaller items of chairs and table brought on each time for each separate play. The set was distracting and unnecessary.
As usual with these JB Shorts evenings, there is a complete mixed bag of plays, writers, directors, actors, and therefore styles and tastes. In such circumstances, not every play is going to please everyone; however, the overall mood this evening was one of joy, jollity and pleasure. We all enjoyed most of it, and indeed a grand night was had by all, and JB Productions can chalk up number 16 as yet another resounding success.
Reviewer: Mark Dee
Reviewed: 3rd November 2016