Simon Beaufoy's stage adaptation of the film The Full Monty was definitely more treat than trick tonight. What's not to like? It has become a British classic and the title of the film promised a lot - and tonight every actor delivered.
After a delayed start, due to a power surge, and with continued microphone issues throughout the night the cast pulled out all their collective acting talent to evoke a dark period in the life of Sheffield. A Sheffield that had been hit hard by the dismantling of the traditional industries of the North but had not yet reached the regeneration that followed a decade or two later. This was reflected in the set design, a decaying industrial backdrop that, with simple adjustments, the occasional sign and clever use of doors, became all the scenes for tonight's performance.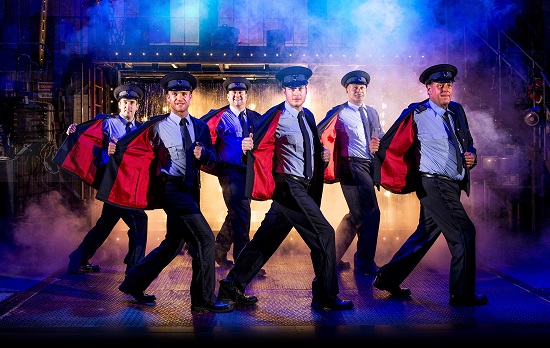 With some moments of gallows humour (quite literally in one scene) and some really touching conversations we were drawn into the story of Gaz, artfully played by Gary Lucy, and his son Nathan, brilliantly played by the 12 year old Reiss Ward. Reiss, from Sheffield himself, ably held his own against a stellar cast and the relationship between him and Gary was believable, tender and had real northern grit. Their relationship was the driving force behind the whole play; with Gaz wanting to make good, after making some poor choices, to gain the respect of his son, his estranged-wife and a of himself. Ultimately, after many bumps in the road, enabling him the chance of seeing his son, after he lost custody rights.
Gaz's great money-making idea was to form a troop of male strippers, for a one night only performance, gaining enough money to pay his paternity allowance. The by-product of this wild idea was the rebuilding of the lives of his former work colleagues and others in the community. Hence we meet Dave (Kai Owen), Lomper (Anthony Lewis), Gerald (Andrew Dunn), Horse (Louis Emerick) and Guy (Chris Fountain). A great ensemble cast that took on the lead character roles and who, along with Gaz, bared their all in the final scene - more on that later! These tough northern men each had a softer side behind a well-worn facade. As the men grew closer, taking personal risks and growing in their dancing skills, these masks fell away. They were able to express their inner worries and concerns to each other, as well as exposing their inner demons, in an endeavour to expose themselves to a paying public.
The male leads were superbly supported by the rest of the cast, several of playing multiple roles. They created some of the iconic moments from the film, with some minor alterations to location or timeline. A huge well done to Charlotte Powell, Jonathan McGarrity, William Ilkley, Fiona Skinner, Jess Schofield, Pauline Fleming, Andrew Ashford and Adam Beresford. They may not have bared their all tonight but they exposed us to some really acting talent.
The audience was predominantly female and as the final act drew closer the air of expectation became increasingly charged. Throughout the show we were teased and tantalised, much like a striptease act would - or so I am told! Then came the shift, the third wall dropped and we were no longer the audience watching a play, we were the audience at the Working Mens' Club ready to see our six heroes break off every inhibition, every self-doubt, every body hang-up and every item of clothing! We saw the actors playing with the audience, being cheeky (in every way possible) and thoroughly enjoying their moment - especially Gary Lucy, he seemed to enjoy it more than most! Finally, with a clever lighting change and pyrotechnics, all six men stood silhouetted on stage before the curtain closed and the audience erupted into cheers, giggles and whistles. It really felt like I'd gate-crashed a hen night! It was a fantastic, fun-filled, flirtation - it was The Full Monty!
The Full Monty continues at the Opera House, Manchester until Saturday 5th November - a night guaranteed to end with a bang!
Reviewer: Alan Harbottle
Reviewed: 31st October 2016
North West End Rating: ★★★★
Photo: Matt Crockett