In 2019, you'd think the the LGBTQIA+ community would have a blanket acceptance, but that is really not the case. So many people still struggle, not just with coming out but in their day to day lives. We're hearing so many stories in the news about homophobic and unprovoked attacks in the streets, on public transport and even in pubs and clubs.
Hip Hip I'm gay! shares people's coming out stories, but it presents them in a way that is mostly funny and uplifting. There are also some interjected scenes that make you realise how some people treat the LGBTQIA+ community, with one scene making you believe a psychiatrist was talking to a really bigoted woman, but really instead of homophobia she had a fear of lemons! Whilst a majority of the time the room was filled with raucous laughter, the moments that really hit you were moments when the room was in complete silence and disbelief.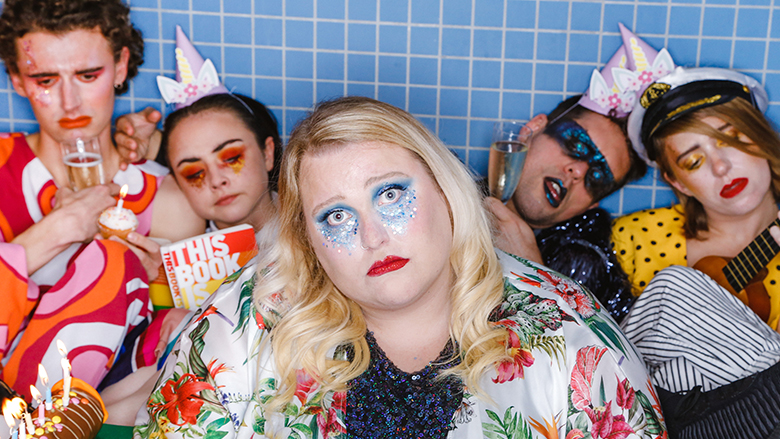 Not many shows can cause that reaction to a large number of people at the same time, and it is a true testament to the piece that it was able to be one of those performances.
Ashleigh Owen has truly created a genius piece of theatre that was enjoyed by all ages, genders and orientations! It genuinely made you think and reflect on any times that you possibly could have accidentally offended someone without even meaning to. When leaving the theatre, you wanted to apologise to everyone you know who is slightly different, because of how you may have possibly treated them in the past.
The cast all really gelled well together and worked well together. All five of them were outstanding and presented their stories effectively. One minute we were laughing along with them at something hysterically funny and the next minute we were crying for them at something so painfully sad, it was hard to believe that it was actually true. They all deserve credit for delivering a truly outstanding performance. Ashleigh Owen takes part in the show herself, alongside Isobel Balchin, Rebecca Clarke, Andrew McKay and Charles Oxley and they all fully deserved the applause and ovation they received.
It was a complete journey of a performance and there was definitely a rollercoaster of emotions tied alongside, but it was definitely worth it and it will be a piece of theatre that remains with me for a long time. https://liverpoolsroyalcourt.com/whats-on/hip-hip-im-gay/
Reviewer: Jenn McKean
Reviewed: 19th July 2019
North West End Rating: ★★★★★