An Officer and a Gentleman - The Musical is a stage adaptation of the 1982 Oscar-winning romantic drama starring Richard Gere. It tells the story of Zack Mayo (played by Jonny Fines), a seemingly confident and ballsy young man, who is training to become a US Navy Pilot and earn a coveted spot flying the Jets.
The story follows him on his journey as he falls in love with loveable local girl Paula Pokrifki (played by the incredibly talented Emma Williams) and attempts to fight the demons in his past to become a successful member of the navy.
The audience are immediately transported to the 80s era as iconic images and video clips of Michael Jackson, Cyndi Lauper and ET to name a few flicker on the stage before the show begins. The 80s theme continues with the soundtrack, including some well-known hits such as 'Girls Just Want To Have Fun', 'Livin' On A Prayer' and 'Material Girl.' The soundtrack contains hit after hit and effectively moves the narrative along.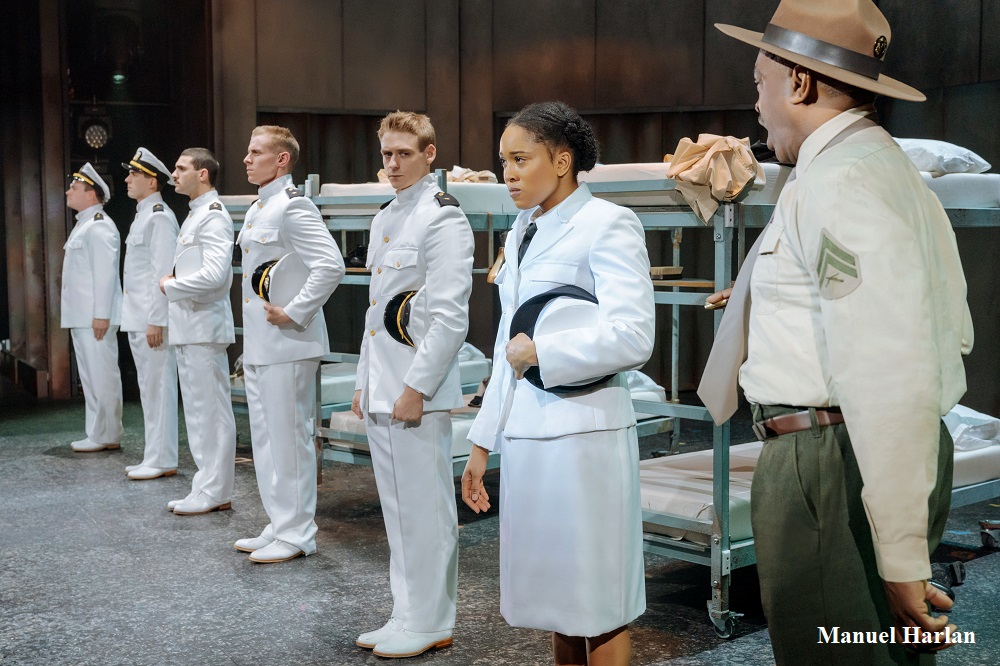 The cast is incredibly strong. Jonny Fines shows an impressive amount of energy throughout- especially during the physical when the characters are undergoing their gruelling training- and his vocals never suffer despite the physical effort he puts in. Although the supporting cast are superb (Ian Mcintosh and Ray Shell in particular) it is without question that Emma Williams completely steals the show with her unbelievable vocals and at times heart-wrenching performance as Paula. Williams' performance of 'Alone' is particularly incredible and 'Don't Cry Out Loud' which she sings with Rachel Stanley is spine tingling and a truly moving moment between mother and daughter.
Although the play maintains an overall upbeat and lively atmosphere- it does not distract from the poignant themes of alcoholism, suicide and the subject of an unhappy childhood that are significant to the narrative and the characters. Particular mention must be given to McIntosh for his performance as heartbroken Sid Worley and the staging of 'Kids in America' with Mayo's drunken father staggering on the balcony as flashback images played in the background is wonderfully clever.
The staging of the musical can't be faulted and the choreography, particularly during the navy training scenes, is clean-cut and pleasant to watch. The fight-scene between Zack Mayo and Emil Foley (played by Ray Shell) unfortunately came across as quite forced and false.
Overall, An Officer and a Gentleman - The Musical is a well-rounded, highly enjoyable piece of theatre that I would encourage anybody to go and see. It continues at the Liverpool Empire Theatre until the 26th of May. http://www.atgtickets.com/shows/an-officer-and-a-gentleman-the-musical/liverpool-empire/
Reviewer: Sarah Goldsmith
Reviewed: 21st May 2018
North West End Rating: ★★★★