John & Jen is an Off-Broadway musical which explores the relationship between siblings and a mother and her child. Written by Andrew Lippa and Tom Greenwood in 1993, I had not heard of this show before and was pleasantly surprised by the great story and wonderful melodies.
It begins in the 1950s and focuses on Jen and here younger brother John, reflecting the bittersweet relationship of siblings in the America of the 50's and 60's. We then follow Jen's story as she has her own son, also named John, taking us up to the beginning of the 1990s. It reflects the turmoil every child faces as they reach adolescence and the struggle that parents have in letting go, these are common themes throughout modern history and they resonated with the audience. There are moments of humour, pathos and intelligent insight.
These emotions were amplified by the wonderful acting of Sharon Byatt and James Lacey in the intimate surroundings of The Lantern Theatre. Sharon perfectly personifies the character of Jen from child, to adolescent radical, to single mother.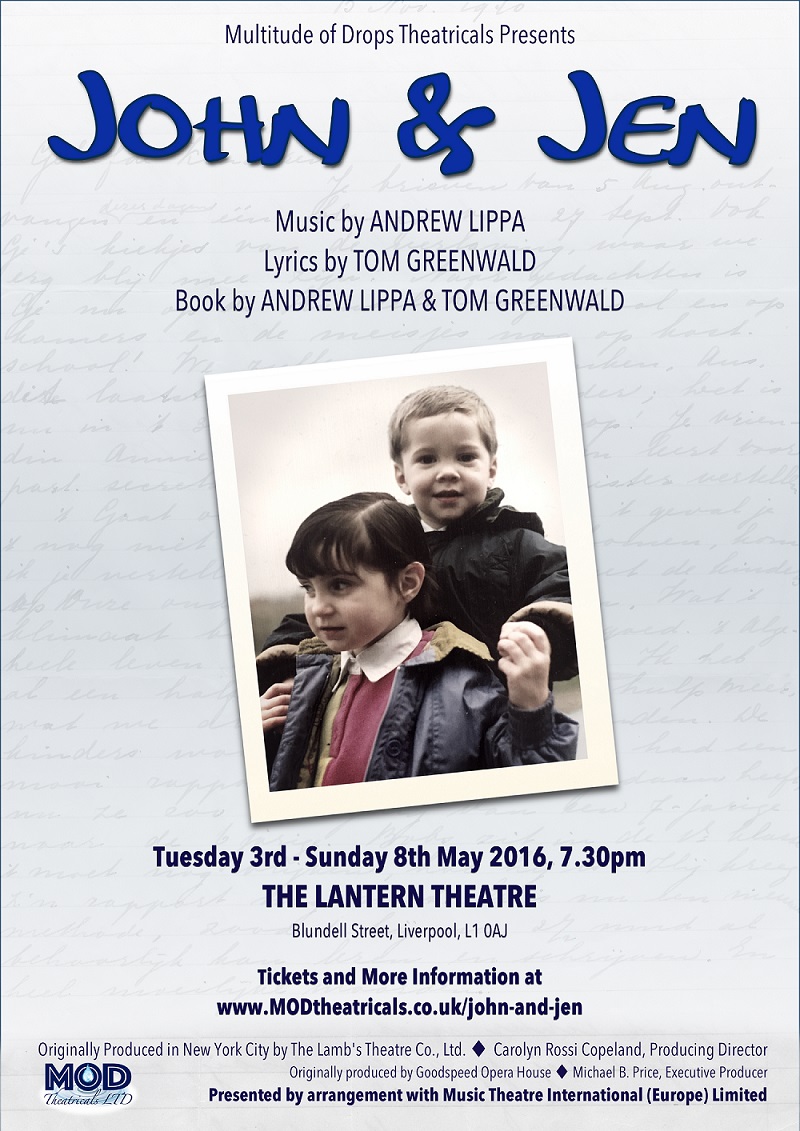 While James' depiction of both the brother John and the son John are flawless. Both their voices are outstanding and Sharon's more emotional songs packed a real punch with the rawness of her performance. The intensity of relationship between these actors was perfectly balanced, evoking both laughter and tears from an audience who were, at times, on the edge of their seats, at close proximity to the action.
In fact, the whole production team brought excellence: the simple but effectively used set, designed by Sean Gibbons, along with the great lighting, by Tania Walton, mirrored the emotion of the performances and enhanced the beautiful score; which was created live by Henry Burnett, on percussion, Matthew Frain, on cello, ably conducted by the Musical Director George Francis, on piano. I loved the way that the songs and refrains were reframed to reflect the different and yet similar relationship between Jen and her brother, and Jen and her son. This talented company was under the direction of Sam Donovan who made some wonderful staging choices, using the space brilliantly.
I agree with Sam's comment in the program about the importance of spaces like The Lantern, they are unique, special places that enabled this work to shine, I don't think it would have the same impact in a large theatre. It is particularly sad to hear that The Lantern will be closing in the summer, it will be a great loss to the theatre scene in Liverpool. I only hope a new venue can be found.
John & Jen is a musical that is small in scale but perfectly formed with a wealth of emotions that is surprisingly impactful. This production runs until Sunday 8th May and I urge you to go and see it, you, like me, will not be disappointed.
Reviewer: Alan Harbottle
Reviewed: 3rd May 2016