Annie, dubbed "The World's Best Loved Musical" has enjoyed new life in the past couple of years: A smash hit revival on Broadway, a film remake, a current US tour and of course this UK tour have tried to breath new life into this classic story of the young orphan girl who is transported from her dull, dreary life of cleaning floors for the tyrannical Miss Hannigan to the whirlwind, colour and splendour of the billionaire tycoon Oliver Warbucks' mansion. Set in New York during the time of the Great Depression of the 1930s, Annie is a story which reminds us that a little bit of optimism can go a long way!
This is a slick and stylish production framed by designer Colin Richmond's jigsaw inspired set (symbolic of the puzzle of Annie's life) and brought to life by a strong ensemble company who succeed, on the most part, in portraying these well known characters with nods to what we expect, as well as allowing their own take on them. It is in fact, the ensemble numbers that really stand out in this production with energy and flair in Nick Winston's choreography throughout but especially in numbers "NYC" and "I Don't Need Anything But You". At times, however, it felt as though the company were rushing the delivery of their lines in order to maintain the pace set by the musical numbers.
Alex Bourne's Warbucks has the presence and power needed early on, which soon melts under the spell of Annie, here played by Sophie Pettit of Team Wardarf. Bourne's Warbucks almost seems understated at times; gone is Albert Finney's brash and formidable interpretation and instead we have a Warbucks who appears calm and almost calculated until his true feelings for Annie are revealed and we see a more human and touching side to the billionaire which is very well played in later poignant scenes.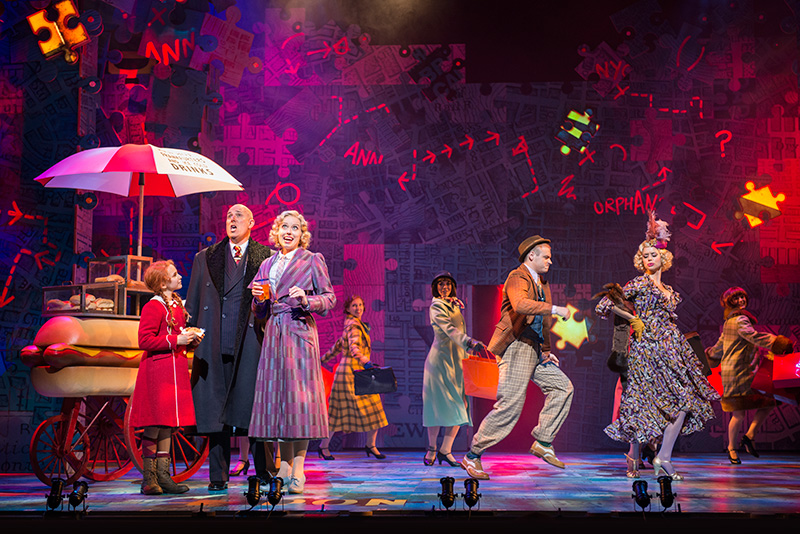 Other classic characters are brought to life with gusto including Holly Dale Spencer as the dutiful Grace, Nic Gibney as a likable Drake and Lewis Bradley's smooth Burt Healey being particularly good. Jonny Fines and Djalenga Scott play a suitably conniving and villainous Rooster & Lily respectively; their "Easy Street" is a slick and energetic number paying homage in part to the original film version.
The real disappointment in the evening however, has to be Lesley Joseph's Miss Hannigan. Joseph is less than convincing in the role, failing to bring us a believable drunk or American accent. Whilst her more successful moments did lay in the number "Easy Street", her rendition of "Little Girls" fell flat, in both tone and impact. It was surprising for me that someone who arguably made a career in sitcom seemed to lack comic timing here and I am sad to say that her interpretation of the role overall was rather bland and fairly forgetful.
The true stars of this production were, as you would hope, the children. Team Wardarf exuded energy and charisma whenever they were on stage. "Hard Knock Life" and "Never Fully Dressed" were delivered with faultless precious in choreography and a real passion behind the vocals of each of these 6 talented girls. Pettit's Annie had perfectly pitched optimism and charm, giving beautiful renditions of "Maybe" and "Tomorrow", whilst not allowing her four-legged friend Sandy's scratching to put her off!
Overall this is a slick and well-staged production with excellent orchestrations that brought their own dynamic to the show. Despite a few of my criticisms, this is still a great feel good show for the whole family and you are sure to leave the theatre as Burt Healy would want it- fully dressed with a smile.
Reviewed: 18th January
Reviewer: Ashley Price