Every morning when pop superstar Sting left his childhood home on Tyneside it was into the shadow of a giant boat being built in the next door shipyard.
This is his love letter to that community, and the destiny he ran away from, as Sting takes us back to the eighties into a Wearside shipyard that has one ship, Utopia, on the slipway, but will it ever get launched?
Enter Gideon who is another Wearsider like Sting who walked away from the dirt and danger that is present in any shipyard heading off to sea, and 17 years he is back home to find his lost love Meg. There is a big surprise in store for the prodigal son as charismatic yard foreman Jackie White and his wife Peggy try to find a way to keep the yard open and their community alive.
Like any love letter, The Last Ship's book by Lorne Campbell occasionally lapses into sentimentality about a world former teacher Sting was really never a part of, but selling 100 million records is a solid clue that Sting does have an ear for a tune, and this show is packed with the sort of big anthems that helped him fill stadiums in his day job.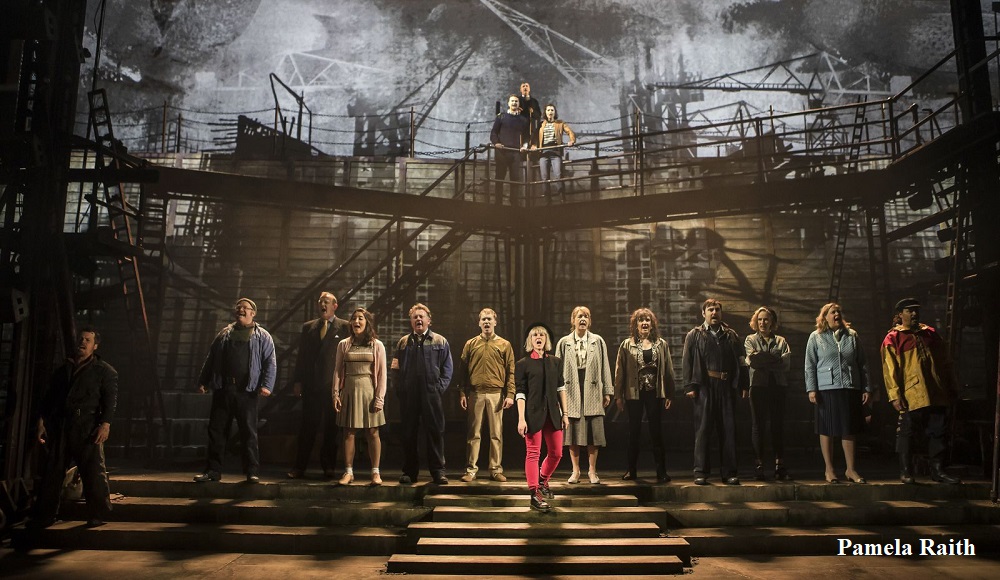 Sting has always been a restless artist taking on all sorts of musical styles, which are spread liberally throughout his tuneful and powerful score, beautifully orchestrated by Tony nominee Bob Mathes.
It remains one of theatre's great mysteries why such a very British play about the class struggle was premiered on Broadway, where it struggled, but that chastening experience has allowed Sting time to tighten everything up and tweak the tunes.
This improved version and the world it draws the audience into is brought to life by a simply sensational set design by 59 Productions, who have not only created a set that evokes a shipyard's dangerous infrastructure, but used the huge height of the Grand's stage as the perfect canvas to show the sheer scale of what was being built by skilled workers. Awe inspiring projections move the action from the arches of a church to the spiritual home of the workers on the slipway overshadowed by towering cranes then into a charged union meeting as the men make their case to a clichéd Tory minister.
Joe McGann and born and bred Geordie Charlie Hardwick learnt their trade together at the very height of Thatcherism, which makes the White's love story feel utterly authentic, and anchors the frantic bid by the workers to save the yard. Both sing well, but more than that their quiet integrity serves as a reminder why the working class needs credible leaders more than ever.
Richard Fleeshman has grown into a genuine leading man, and when this show hits the West End this charismatic performer must be odds on for an Olivier nod as he masters tricky numbers like The Night The Pugilist Learned How To Dance, as will his sparring partner Frances McNamee as Meg who puts him in his place during the spirited If You Ever See Me Talking To a Sailor. Both are powerful singers who invest real emotion and wit into the estranged childhood sweethearts.
Every one of a talented supporting cast are clearly heavily invested in this timely and unashamedly political piece that asks us to learn from our recent history in this era of Brexit and austerity. Kevin Wathen contributes a bluesy roar as drunken shipbuilder Davey and Joe Caffrey is in equally good voice as the bolshie shop steward.
When the cast stand shoulder to shoulder across this big stage belting out the defiant We've Got Now't Else you can forgive some of the sentimentality, and slightly heavy handed polemic, because Sting is not shy of making his point that we are at our best when we stick together.
Pop stars have often come a cropper when they have attempted a musical so Sting has smartly used all that experience from his stadium gigs, and his undoubted musicality, to create a moving piece that not only has heart and toe tapping numbers, nit repays the debt he felt he owed as one of those kids who swapped the slipways for another life.
The Last Ship is at Leeds Grand Theatre until Saturday May 5th and touring. To book go to www.leedsgrandthatres.com or 0844 848 2700.
Reviewer: Paul Clarke
Reviewed: 1st May 2018
North West End Rating: ★★★★