There is something special and unique about a piece of theatre which takes place in a non-theatrical environment. In my first, and hopefully not last visit to The Grove Hall, South Kirkby, I was not left disappointed. Cornermen which is written and directed by Oliver Forsyth – a former boxer himself, is a fast-paced, at times humorous and high octane piece of drama, which hits each and every audience member with the force of a heavyweight boxer's right hook.
Mickey, Joey and Drew, a failing team of trainers are on the lookout for a new boxing star. They are looking for a 'Journeyman', a boxer who can take his punches and earn them hard cash. They strike lucky when they come across rising star Sid Sparks. He is a real contender – much better than they ever expect. However, the pressure to make a fast buck soon sees the three of them pushing Sid well beyond his comfort zone and into a world that threatens to break his mind, body and soul.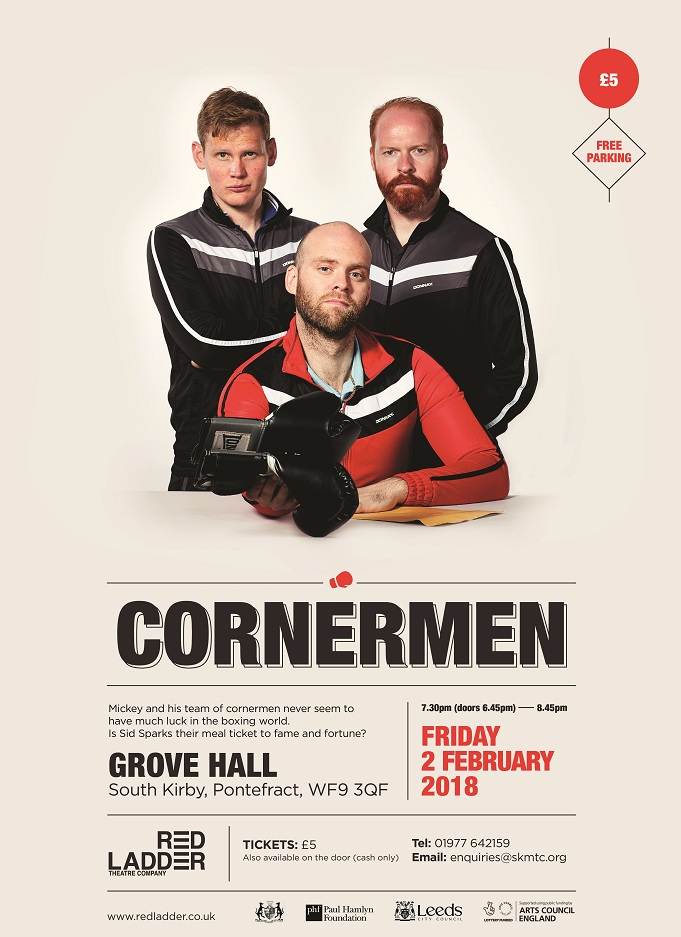 This was a very strong production. Perhaps one of the biggest successes in Oliver Forsyth's writing and direction is his ability to keep audience members who are not well versed in the world of boxing absolutely gripped. The script is cleverly laced with boxing trivia – It really does have something for everyone. In this 75 minute – one act play you are not given a moments rest – you could be forgiven for thinking that you yourself had been in the boxing ring. There is plenty of blokeish humour to cut through the pure tension which ebbs and flows throughout. James Barbour as Mickey, Oli Forsyth as Joey and Jesse Rutherford as Drew are all excellent – their characters are all extremely well formed and well-rehearsed.
However, it is George Jovanovic who deserves the biggest credit for embodying both vulnerable victim –used to make a quick buck but also the strong, determined champion-slaying, rising star.
The minimalist set worked perfectly in the intimate environment and lighting design by Josh Lucas was executed to perfection – cleverly depicting several locations with a relatively simple set up. Josh Lucas should also be praised for his intricate and clever sound design which transports you in an instance to the harsh flood-lit world of the boxing ring.
This was a great piece of theatre and in every aspect, Cornermen was a left jab and right hook out of nowhere which has thrust it into the centre of the ring.
If you haven't yet had the chance to see Cornermen, fear not - there is still chance to catch it. Next at Selby Hall, Selby – 3rd February 2018. The nationwide tour and runs until March 2018.
Reviewer: Chris Hanlon
Reviewed: 2nd February 2018
North West End Rating: ★★★★