For every theatre goer a good old farce is a guilty pleasure so it's no surprise that The Play That Goes Wrong has been a smash hit in this country and has just opened on Broadway.
In these troubled and paranoid times people do want work that challenges the status quo, but just as desperately they want a few belly laughs, which this smart reinventing of the traditional farce certainly delivers.
Unlike most farces which focus on professional actors making the most of a situation that gets increasingly daft as people fall out of window s or miss their cues, The Play That Goes Wrong is about an amateur company who can't act their way out of trouble as literally everything falls to bits around them.
This focus on amateur thespians is both a strength and a weakness. The Cornley Polytechnic Drama Society are terrible actors which allows for plenty of overacting and am dram mistakes, but it is also a reminder that it takes very good actors to act badly.
In fairness I've seen acting not much better than this in some creaky touring productions of classic whodunits as a hapless cast with zero talent stage a banal murder mystery, Murder At Haversham Manor, on a badly constructed set.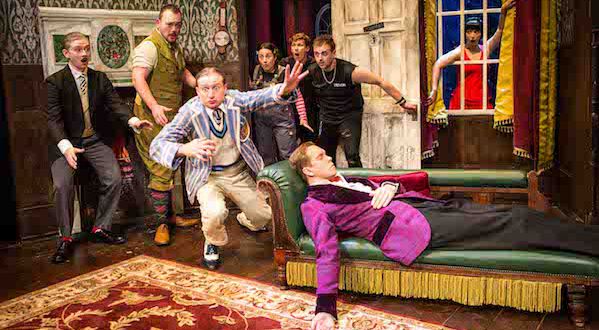 From the moment one murder victim has to crawl offstage as the action continues round them you know you are in classic farce territory as doors are flung open knocking people out and the cast can't even remember their lines.
The first half is a mixed bag of too much dialogue and some decent physical comedy as bits of the set fall off as actors and props go walkabout. I thought the woman next to me was going to have a fit she was laughing so hard as the rotund Edward Judge tries to take a phone call while stretching to hold bits of the set in place.
Act two is much more fun as the cast really get going with the pratfall count ramped up as Judge and Patrick Warner conjure up the Marx Brothers and John Cleese while clinging to a piece of collapsed set. Edward Howells is great fun as the Butler who relies on cues written on his hands while Alastair Kirton and Meg Mortell madly overact, but not always well.
Graeme Rooney and Katie Bernstein are both sensational as the useless stage hands press ganged into acting roles as cast members are indisposed by accidents in the midst of the mayhem.
One of the problems with this cast is there is a feeling that sometimes their timing of the lines is slightly off, and they often lack the over the top facial expressions of sheer panic and double takes that makes farce such a delicious pleasure.
Michael Frayn defined farce with the majestic Noises Off and this show lacks the pathos and insanely clever plotting he brought to the genre. To be honest I didn't belly laugh once - although it is hard not to amused by a hard-working and well drilled cast - but then what do I know when the rest of the audience jump to their feet to give the Cornley Polytechnic gang a standing ovation.
The Play That Goes Wrong is at Leeds Grand theatre until Saturday 27th May and touring. Book online at www.leedsgrandtheatre.com or call Box Office on 0844 848 2700.
Reviewer: Paul Clarke
Reviewed: 23rd May 2017
North West End Rating: ★★★
Photo: Helen Murray