In a day and age of scepticism, magic shows seem to be few and far between. Pete Firman is remedying this drought with comedy, flair and a nationwide tour!
Firman is an accomplished comedian and magician, and a TV regular having appeared on several high-profile TV shows including: 'The Generation Game' (BBC1), 'The Next Great Magician' (ITV1), 'The John Bishop Show' (BBC1), 'The Sarah Millican Television Programme' (BBC2), 'The One Show' (BBC1), 'This Morning' (ITV1) and 'Tommy Cooper Forever' (ITV1), among many others.
Before the Marvels show began some intriguing props were positioned on stage including a blank chalkboard, and tubes labelled 'A' and 'B'. An air of mystery was set as the audience wondered what these items were going to reveal, and that suspense was then carried through the whole evening. Firman himself wore a quirky, checkered suit, and entered the stage with confidence and energy that never faltered.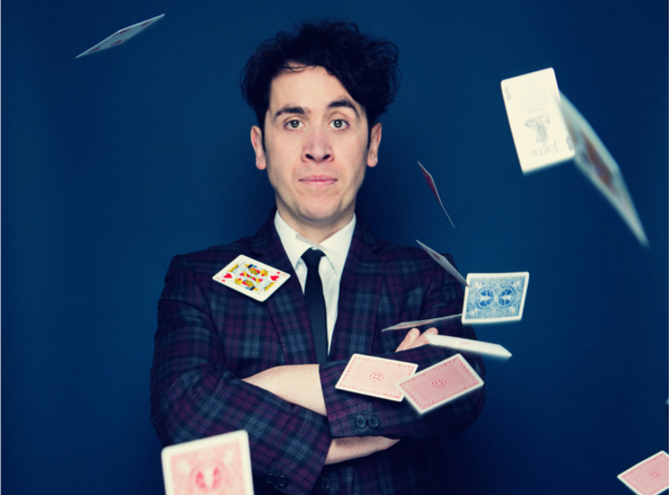 Despite it being a Sunday evening bringing with it some pre-Monday blues, Firman warmed the audience immediately with his cheeky demeanour, quick wit, and great audience rapport. He picked out a front row audience member from the very start to direct jokes towards which made for some amusing moments and fantastic one-liners. Firman's ability to not take himself too seriously was liberating to watch, and made the delivery of the evening all the more enjoyable. He seemed completely at ease on stage; a true showman.
Between (and during) the many jokes, were masses of impressive magic tricks. The evening was varied with some card tricks, mind reading, contemporary takes on classic tricks, and lots more. Of course a large amount of magic depends on audience participation, and due to Firman's relationship with the audience, the individuals chosen to partake were happy to oblige and even to offer up items of value for some tricks. Pop songs accompanied their journey up to the stage which kept the energy of the evening upbeat.
The mark of a good show is when the audience never sees how difficult the performance actually is, and Firman made the whole show look effortless. All the tricks were incredibly slick and executed with style. The laugh-out-loud comedy complemented the magic and vice versa. Pete Firman: Marvels, was an all-round entertaining evening; the mind-boggling magic will cause you to leave the theatre still wondering how he did it.
Reviewer: Becky Mottershead
Reviewed: 30th September 2018
North West End Rating: ★★★★