Initially greeted by an irate and extremely hostile reception as we queued outside the theatre, soon turned in to a sense of relief as we realised that the man demanding we 'got in single file' was actually Christopher Saint who played the Headmaster, Mr Silsen in the production.
Written and Directed by Michelle Victoria Riley and supported by ALRA (Academy of Live and Recorded Arts) with the assistance of generous crowd funder sponsors this production was quite simply charming.
The story is about Amelia (Hannah Rose Hughes) who is a die-hard Manchester United fan and the story highlights her passion, her adoration and her obsession with the team and more importantly the game itself. Football is in her blood, she carries it with her at all times and it seems to provide her with a sense of self. On a very simple level it brings her joy. Hannah Rose Hughes is energetic and endearing to the audience in her portrayal of Amelia. Her bounding energy on stage is exuberant. She is certainly one to watch as had the audience captured as soon as she appeared on stage to the very end.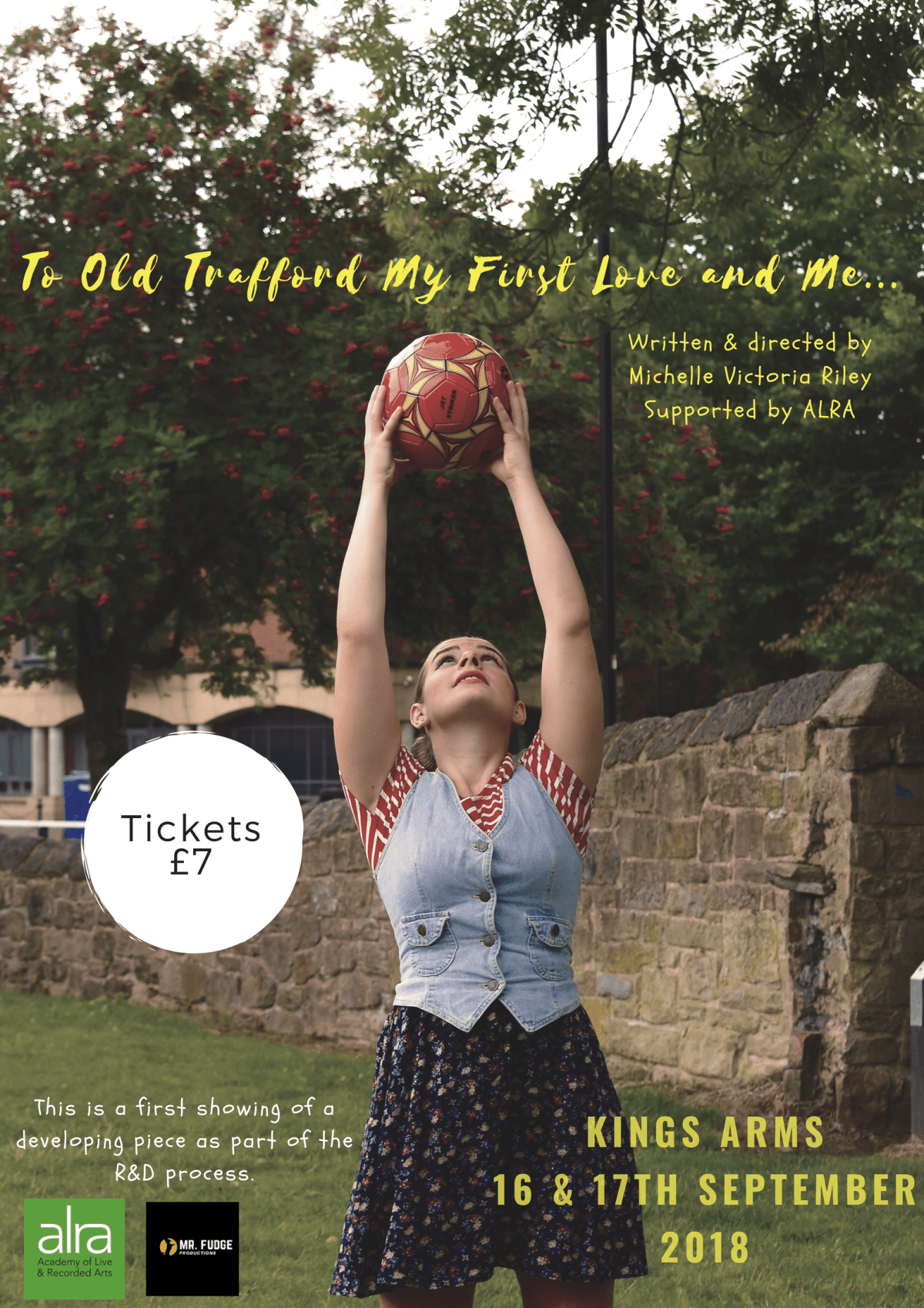 A special mention should go to Ian Kay who plays Amelia's close friend 'Davey'. Hilarious, camp, struggling with his own identity at school and too apprehensive to 'come out' he demonstrated an awe of Amelia which perhaps demonstrated that the admiration he had for her highlighted his own uncertainties in life even more. Kay is a wonderful actor with a natural ability to be funny without trying. An accidental (I presumed) choking on a piece of popcorn was very well executed in a scene with Hughes.
The most meaningful relationship on the stage was between Amelia and her Nanna (Debra Speakman). This relationship depicted the past and the future beautifully. Debra Speakman was almost acting as Amelia's confidante and Amelia held on to her every word. Although Amelia goes on to meet her first true love 'Jack' (Kyle Fisher) I'm not sure this was entirely necessary as although it did not take anything from the story it also didn't really add to it. However, Fishers portrayal of Jack was calm and steady and even as 'A Blue' he demonstrated a deep love for Amelia and all that she entailed.
Although the production contained many references to Manchester United's successful treble winning year it is not simply a play about a football fan- it is so much more. It is about relationships, how love never really dies and how gifts can be passed down from family members who are no longer around. The stand out scene was certainly the actors 'slow motion' depiction of the disbelief, amazement and elation when Manchester United won the Champions League and the impact this win had on the city of Manchester.
The scenes of Old Trafford, the scenes of Manchester, the backdrops of musicians of the time and fabulous music throughout represented the era perfectly and certainly added to this fabulous production.
To Old Trafford, My First Love and Me, is utterly heart-warming and very sensitively produced. I would love to see it again and think it could be certainly transferred to a bigger stage. These fabulous actors certainly deserve to be seen by the masses.
Reviewer: Angela Kelly
Reviewed: 16th September 2018
North West End Rating: ★★★★