Rudyard Kipling's classic tale of The Jungle Book has been reimagined for a contemporary audience, with Olivier Award winning playwright Jessica Swale at the helm, direction by Max Webster, and a brand new musical score by Joe Stilgoe.
The fresh take on this piece has lost none of the heart-warming coming-of-age story of Mowgli the "man-cub" being raised in the jungle and struggling to accept he is different than his wolf brothers. Including all our favourite characters: Balloo the loveable bear, Bagheera the panther, and our not-so-favourite Shere Khan the powerful, dangerous tiger - this production has it all.
Despite a fairly small cast, there never seemed to be a shortage of animals due to many actors taking on multiple roles and an ingenious set creating a large jungle that filled the stage. The set consisted of ladders hanging from the ceiling that, when coupled with Charles Balfour's lighting, generated a treetop effect, and a revolving climbing frame of ladders on the floor, utilised as tree trunks and general wilderness.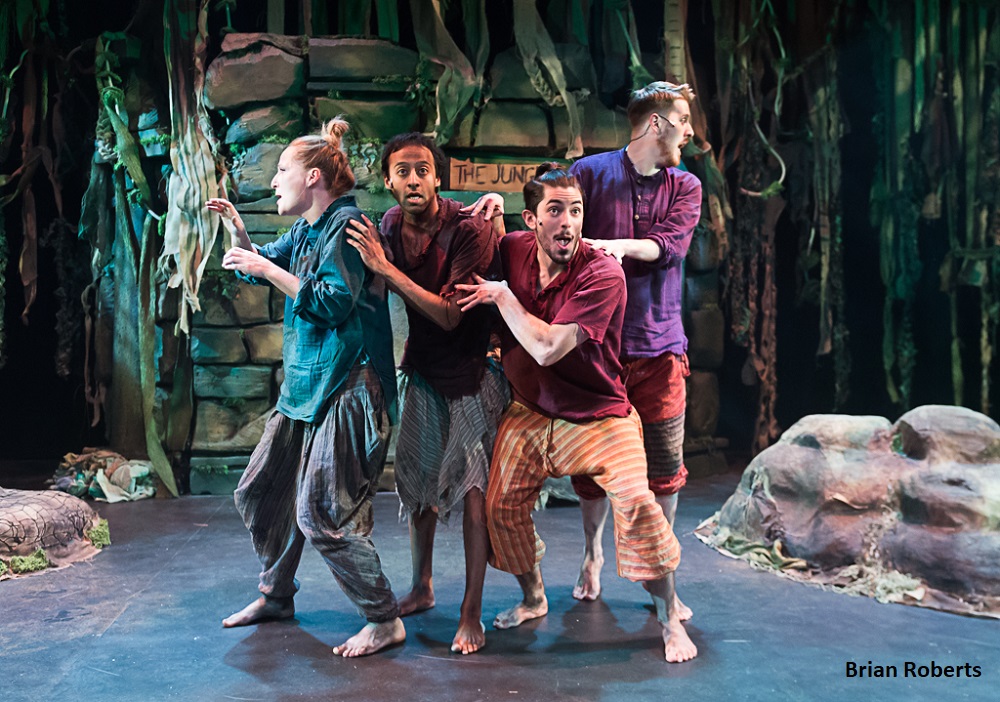 The same imagination was applied to the sophisticated costumes, with a gentle nod to the relevant animal features, and a clever use of puppetry at times. The costume of Kaa the hypnotising snake was particularly impressive.
Keziah Joseph led the production capably as the "man-cub" Mowgli. Joseph's playful energy was a driving force of nature throughout, and was matched subsequently by the rest of the actors. The show was extremely ensemble orientated and the cast worked well as a team – a special mention must be made for the apt partnership of Deborah Oyelade as a strong, feminist Bagheera and Dyfrig Morris as a fun-loving Balloo.
The performance was kept lively throughout with injections of fun and comedy by various characters including the monkeys who were as cheeky as their stereotype. However, this did not deter from the substantial principle at The Jungle Book's core of not only accepting but celebrating our differences, made all the more powerful by such a diverse cast. The audience was completely invested in Mowgli and his story due to Joseph's exceptional ability as a storyteller.
Stilgoe's original score fitted the story seamlessly, and included actor-musicians playing the music live on stage effortlessly despite simultaneously being animals. The upbeat songs were a beacon of joy, including nods to tribal music and beats, and were sung excellently by the whole cast. Lizzi Gee's fitting choreography gestured animalistic qualities throughout and captured expressions of emotion. The whole production exuberated joy, and the cast created an atmosphere of playfulness and fun that was infectious to the whole audience, who all left the show with a smile on their face.
This vibrant, colourful adaptation was, on the whole, a celebration of diversity and culture, and fun for all the family.
Reviewer: Becky Mottershead
Reviewed: 2nd May 2018
North West End Rating: ★★★★