Opera North's season of Fatal Passions brings crowd pleasers Madama Butterfly and Don Giovanni to the stage alongside Verdi's lesser known Un ballo in maschera. Based on the real life assassination of the Swedish king Gustav III Un ballo in maschera features some of Verdi's most sophisticated and subtle music combining the composer's French and Italian influences. This production - nimbly conducted by Richard Farnes - highlights the score's sophistication, making the most of every melodic moment.
There are crashing cymbals, foreboding drum beats, soaring strings, a haunting cello refrain and regal brass fanfares. However, the beauty of Verdi's score cannot detract from the limitations of the plot, and Antonia Somma's libretto. True story or not, Gustav isn't introduced to the audience in a way that makes us care about him so his tragic demise is rather diminished, and the passionate love between Gustav and Amelia is somewhat muted.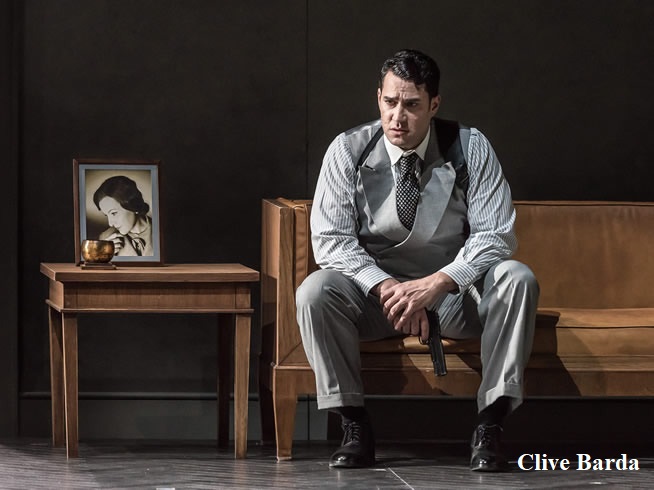 Tim Albery tries to heighten the drama (unfortunately at the expense of any comic moments) setting the opera in 1940s Sweden. Hannah Clark's modernist set (stunningly lit by Thomas C. Hase) adds to the overall atmosphere of foreboding and fear. The set changes are smoothly choreographed, making the scenes bleed into one another and the chorus appear to be always watching and waiting. Clark's costumes evoke 1940s films – there is a feel of Marlene Dietrich to Patricia Bardon's fortune teller Ulrica – and the muted pallet ties in with the realist aesthetic. When the cast appear in powdered wigs for the titular masked ball it looks wonderful and is suitably disorientating, but the political resonances are lost. The decision here to have Oscar (one of Verdi's few trouser roles) appear in a dress adds further confusion to the scene.
The voices on display are excellent as ever. The chorus, under Chorus Master Oliver Rundell, relish the rich choral writing, particularly their emotional ending. Philip Rhodes wrestles with guilt and anger as Count Anckarström, showcasing his rich baritone. The female performers are the real highlight though. Bardon is suitably spooky and spooked as the pivotal fortune teller Ulrica. Tereza Gevogyan fizzes with Puckish mischief as Oscar, relishing her role and the deft music that accompanies it. Opera North newcomer, Hungarian soprano Adrienn Miksch, is a wonderful Amelia, wringing every ounce of emotion from her arias and soaring above the orchestra (as Rafael Rojas's Gustav struggles to do).
On the whole this is an enjoyable evening watching a rarely performed opera.
Reviewer: Clare Chandler
Reviewed: 10th March 2018
North West End Rating: ★★★