It would be easy to imagine that the Ukulele Orchestra of Great Britain is basically a one-trick pony: they perform well-known popular songs using just eight ukes of various sizes as accompaniment. But you don't get to have a career lasting over three decades, and become a national institution unless there is a bit more than quirky cover versions to your game.
The group offered a largely familiar programme to a very receptive audience at the Lyric Theatre, but managed, as they always do, to keep it fresh and to surprise us at times. The first big surprise was the absence of George Hinchliffe, who is usually, as director, centre stage and the focal point. The Ukes have always had a policy of maintaining a fluid line-up, choosing eight players from a slightly larger pool, but to miss George was a departure. Also missing was Kitty Lux, who now does not tour at all, and Hester Goodman, who is currently performing in a Ukulele opera, no less, in Bridport. Despite this, the group provided terrific entertainment to a packed auditorium.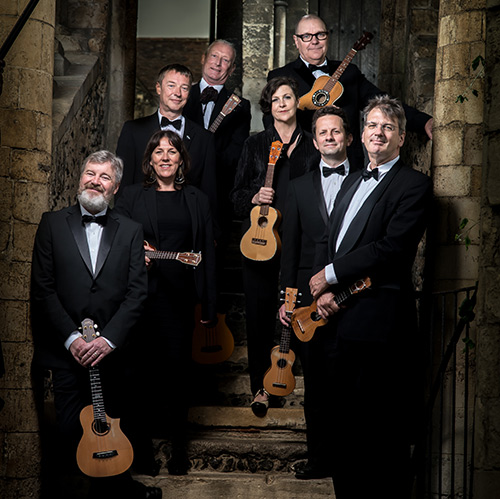 The format remains unchanged – the members, in formal orchestral attire, sit in a semi-circle on stage, and run through their ever-extending repertoire, usually highlighting one member in each song. The range of their musical palate is tremendous: from the great American songbook to grunge, soul, show tunes, disco, film themes and pop, they are brilliantly adept at making it seem that eight ukuleles are the most natural accompaniment in the world.
Tonight's show was a judicious mix of crowd-pleasing favourites, together with some new material, all delivered with wit and humour. Highlights included the David Byrne classic 'Psycho Killer', sung with manic intensity by Will Grove-White, and the Zutons' 'Valerie', which Leisa Rea made her own. There was room, of course, for the group's unique take on Morricone's 'The Good, the Bad and the Ugly', and the hilarious mélange of George Formby's 'Leaning on a Lampost' and a Cossack balalaika tune. Founder member Dave Suich belted out 'Born to be Wild' and 'Highway to Hell' with some venom, and bass man Jonty Bankes was, oddly, a perfect Grace Jones alternate in 'Slave to the Rhythm'. Although the predominant mood is light hearted fun, the version of Joni Mitchell's 'A Case of You' was suitably poignant and beautifully judged, as was a rousing version of Shirley Bassey's 'Diamonds are Forever.'
The band showed off their vocal virtuosity as well as their instrumental excellence on some of their trademark mash-ups, where a single instrumental line supports the singing of different songs in counterpoint – so 'Life on Mars' was joined by 'My Way', 'For Once in My Life', 'Born Free' and 'Substitute'. It's brilliantly contrived, and must be fiendishly difficult to manage, but they do it effortlessly. As an encore, they produced another of these items, with 'Hotel California' battling against 'Fly Me To the Moon', 'Killing Me Softly' 'I Will Survive' and even the Pussycat Dolls' 'Don't Cha'. The audience was sent out into the balmy Salford night with a version of Nile Rodgers's 'Le Freak', once again showing the adaptability and versatility of the ukulele.
George Hinchliffe's absence meant that there was no 'Wuthering Heights', but this scarcely mattered. There was so much to enjoy, as the standing ovation that the audience gave the group testified. As we left, I heard one member of the audience say "they should prescribe that on the NHS." I'd vote for that.
Reviewer: Rob Spence
Reviewed: 21st May, 2017
North West End Rating: ★★★★