This was a one act performance written and performed by Stephanie Ridings.
Ridings set the scene by explaining about her own domestic circumstances, with her ginger cat Tiggy, her boyfriend 'Stompy', her brother with Aspergers' and her personal struggle with mental health issues. This seemed to be the most authentic part of the show.
She spoke about the research that she had undertaken about other women's experiences of falling in love with men who were on death row, seeming quite opinionated about the 'types' of women who would be attracted to these men.
Ridings 'threw away' bits of important information that I had half expected she would use to delve deeper into her experience, rather than just brush over. This made parts of the story quite disjointed e.g. her reference to feeling suicidal whilst on Blackpool Pier, seem to have little relevance to the rest of the story... but I suppose you would have had to be there!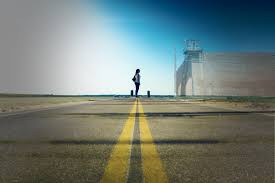 Ridings seemed quite detached from the whole Huntsville experience, which made me question if she actually went there or if she was using her research with poetic license to provide the foundations of her story. As her lack of feeling about the death of the inmate whom she had 'visited' did not resonate for me. The basic assumption being that for most people who have an interest in these matters, the death of another human would be traumatic, especially someone whom they had developed a relationship (albeit a long distance relationship) and met the person and their family member. Whilst dehumanising the murder victim in the process.
Sadly the show was a disappointment, there were so many layers that she could have included to add some depth and believability to her story, for example the political context. The show felt somewhat like a rehearsed lecture, a book promotion and had Ridings concluded with 'On sale in the Foyer' I would have been unsurprised. The story would have probably been better suited to reading rather than a performance but I do feel that the material had some useful raw ingredients that, presented differently, could have a more powerful impact. An example of this could be using her research about other women's experiences in a similar way to The Vagina Monologues.
Reviewer: Elaine Hardie
Reviewed: 17th May 2017
North West End Rating: ★★★