So when you go along to a show knowing its roughly classed as a circus performance and then you are confronted by a bunch of blokes dressed in Hawaiian style shirts and shorts, looking more like a group of mates out on a stag night, it suddenly hits you that The Race Horse Company's latest act is going to be full of surprises. No sequins, make up, glitter or lycra here! There is a bizarre opening to the show as one by one the six artistes (Hannu Abonce, Mikko Karhu, Rauli Kosonen, Kalle Lehto, Odilon Pindat, Mikko Rinnevuori) take to the stage with unexpected and unusual props, wearing deadpan expressions and leaving you wondering what is about to happen. And that sets the scene for the evening, you are always on the edge of your seat in awe, speculating what they are going to do next! Amongst the tense and high drama of the actual skills they present, is a lot of humour as they stare into the audience and then with a little smile or wiggle, they have the attention of everyone there.
An old disused fairground with defunct carousel, a high flying car, trampolines and a wheel of death, a test your strength side show and including a living, large cuddly teddy bear completes the setting which is brought to life with impressive skills amid boyish pranks and what appears to be utter chaos, but is actually very well choreographed routines.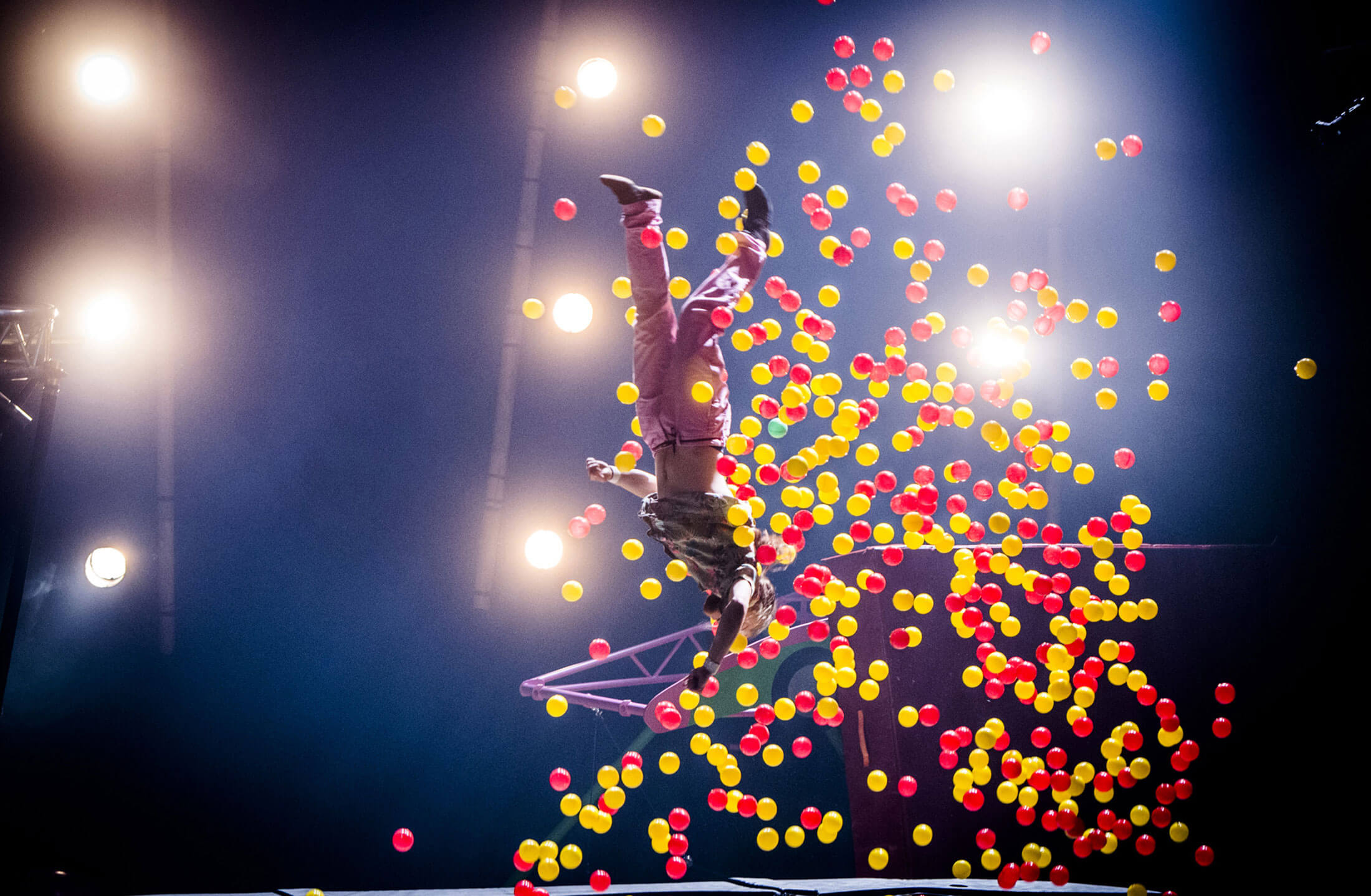 There is loud pulsating beat music throughout the show adding to the atmosphere as the guys exhibit excellent balance and acrobatic talents around the carousel. With synchronised trampolining at its best and some incredible manoeuvres as all six somersault through the air, you will be left spellbound, particularly when the trampoline is covered with coloured balls, the effect is absolutely stunning. Pindat, wearing an outfit that leaves little to the imagination and showing off his lean and toned muscular body, demonstrates unbelievable stunts as he is catapulted through the air in a way I have never seen before. Even the poor, old, loveable teddy bear, takes to the air as he is reluctantly rocketed skyways. Seesaws and counterbalancing take on new meaning with jaw dropping skills portrayed.
There is a slightly uncomfortable crucifixion section followed with the 'body' removed from the cross and attached to the wheel of death on the outer side by clingfilm which prompts the companies statement, 'Important Considerations... Super Sunday features irreverent humour and Christian religious motifs. We think the show is most suitable for people aged 12 years -adult.' There is also a warning before entering the auditorium too, but even so, there were several younger children in the audience tonight.
Performing on a stage has its setbacks, not all acts can be completed as was explained in the post show talk. Tonight, due to height limitations the wheel of death was not fully utilised although we still witnessed some hold your breath moments as the performers spun around in death defying moves within the wheels. Again due to stage restrictions there are some prolonged changes as the next piece of equipment is set up which although humour is used to try and cover it does not always work. Another minor criticism is although you are guaranteed an evening of total wonderment, it is all crammed into a far too short 75 minute performance.
The rollercoaster is definitely the craziness of the show, one minute laughing along at the bizarre and downright silly antics and then total amazement at the incredible agility these guys portray making it all look so easy.
Reviewer: Lorna Weekes
Reviewed: 3rd May 2017
North West End Rating: ★★★★