If you want traditional pantomime in every sense of the word, look no further than The Chrysanthemums Pantomime Society. Founded in 1918, it is the oldest pantomime society in England and this year their annual production is that of Jack and the Beanstalk performed at the Floral Pavilion in New Brighton.
This is a huge production in terms of cast. Boasting a company of sixty plus surprisingly at no point did the stage feel cramped or over crowded. The show sticks to traditions in almost every aspect with troops of dancers split into groups named after flowers by age group, all with superb matching costumes throughout. This is, as you'd expect, the traditional version of Jack and the Beanstalk almost all of us are familiar with and features all the characters you'd expect, Daisy the Cow and of course the Giant!
Jack Sprout (Emily Beresford) is one of three brothers along with Will (Charlie Delaney) and Simple Simon (Ben Thomas) all born to their mother Dame Sprout (Terry Davies), and as they fall on hard times owing rent money to the Baron Botchup (Phil Gilroy) and his bumbling debt collectors Scowler (Jed Flowerday) and Prowler (Graham Leigh) are forced to sell their beloved cow Daisy to raise funds. But Evil-Lyn (Leanne Sweeney) has other ideas and after conning Jack into selling Daisy for a bag of beans kidnaps Princess Marigold (Jessica Leigh) taking her to the Giant's Kingdom in order for her to marry the Giant, Evil-Lyn's brother. Watching all this and ensuring good triumphs over evil in the end is word perfect Fairy Snowdrop (Claire Garrett).
There is no denying this is a talented cast who all sing and dance as well as deliver the script from Graham Leigh almost word perfect on this the opening night, however the show lacked pace for me at times. The first scene in Greendale Village seemed to last for an eternity, a fact echoed by my 11 year old son who accompanied me to the show. I accept there are numerous characters to meet and set up the story in the opening scene of a pantomime but the pace just wasn't there. Davies as Dame Sprout being a particular example as he laboured on and on with joke after joke that were clearly not working with the audience. I was willing him to move on, but sadly the script wouldn't allow. Trimming this scene down alone would contribute to shortening the two and three quarter hour run time last night (including the interval).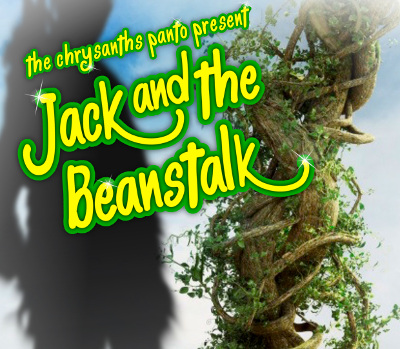 Once we were away from this opening scene however, the pace of the show picked up and it became a joy to watch as the story unfolded.
What I did enjoy about this production was the fact there were no over amplified ultra-modern pop songs included throughout, with the preference being made to songs that the whole family could relate to. This is something pantomimes don't seem to do as often these days as they try to 'keep up' with the younger members of the audience and their musical tastes. It made a pleasant change for me not to turn to my 11 year old during each song to enquire the title of what was being sung.
Despite my critic above of pace Davies as Dame Sprout put in an excellent performance to what was in fairness a tough crowd to extract laughs from. With a wardrobe of costumes each more colourful than the last it was impossible not to be impressed. Beresford and Leigh were well matched as they made their journey from first meeting to falling in love and eventually marrying and both displayed good singing ability.
Flowerday and Leigh made a great comedic partnership stumbling from one disaster to the next as they attempted to recover the debts from the villagers on behalf of the Baron. I particularly enjoyed the well-played out scene where they attempted to force entry to the Sprout household. You knew what was coming, yet somehow were surprised when it did and was topped off by a superbly placed one line joke at its conclusion.
Sweeney at Evil-Lyn has to be singled out in this production, she was superb. As the evil sister of the Giant she was chillingly evil with one of the best cackles I have heard in a long time. Dressed almost in gothic costume this role was cast just perfectly and I could easily see Sweeney treading the boards of a professional stage at some point in time.
The set for the production was simple yet effective making use of the large stage at the Pavilion. The beanstalk was substantial, although I think possible first night nerves hindered its growth fully and Giant Blunderbore (Greg Nixon) was an imposing figure as he took to the stage extracting gasps from the audience.
Both lighting and sound were well designed throughout however, the voice of the Giant when he took to the stage in the second half was distorted just enough to make it difficult to understand the rhyme he was saying. Something no doubt that can be rectified after this the first night.
On reflection, this as I have mentioned is as traditional a pantomime as you are ever likely to see, performed well and with evident passion throughout by a dedicated cast. I am looking forward already to making a return trip to New Brighton in 12 months' time to see what Chrysanthemums have in store for us.
Reviewer: Paul Downham
Reviewed: 7th January 2016