A musician friend of mine recently told me that after a gig he demands of himself to be physically and emotionally exhausted, as then he knows he couldn't possibly have given anything more to the performance.
Ruby Turner pours so much of herself into every show that it's impossible not to be moved by the intensity, velocity and emotional power of her music. The Epstein Theatre is a beautiful, relatively small venue, a little time capsule of the charm of epochs; and such as it is, Ruby is barely containable.
With explosive power and range of voice, Ruby performed favourites and lesser known tracks from nearly all her albums, including ones with her 'boss', as she called him, Mr Jools Holland. Ruby is famous for her booming stage presence and voice to match, and provides a magical dollop of sass to the jazz-man's big band set, but seeing her on her own, with her own wonderful four piece band, is another thing entirely.
The lady sings the blues, cries it from the rooftops with every ounce of gusto she can manage, before tapping into funk and R&B rhythms, and yes, the show wouldn't be complete without an homage to her heritage: Jamaican calypso. Ruby started singing as a child with her local community in the Pentecostal Church, but has actually only ever produced one gospel album over the course of her career. A many these songs where performed last night with feeling, rousing the audience to dizzying heights.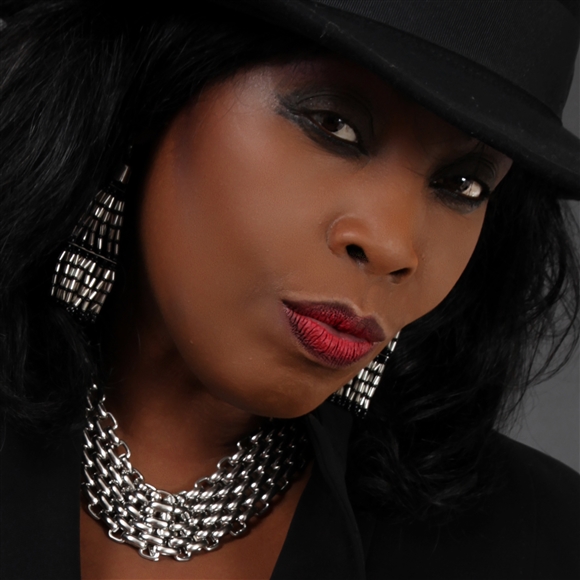 Covers originally pioneered by soul legends BB King and Etta James were sung, to such a reaction from the audience! There were some lifelong Ruby Turner fans in the theatre last night; one man in particular who stood for nearly the entire second half whooped and even sang along with ruby, on which she commented, "We're all singers tonight! We all have a voice! And, Liverpool, I know you have a voice." She had the crowd hanging on her every word anyway, but they were rapturous after that one. During an Etta James cover made entirely her own, ruby played the crowd with the expertise of someone who's been doing this a long, long time. Slowing the tempo of the song "I'd Rather Go Blind" right down to the last beat, her emotive voice drew in the audience and had everyone holding their breath as her words echoed off the walls and filled the air, dense with poignant energy, before exploding into full force and compelling vigour once more—the perfect point for a full standing ovation.
I'm going to admit I was moved to tears. With great power comes great responsibility, a saying we've probably all heard; Ruby Turner has a wonderful power to be a great role model, an inspiring figure all over, not just to musicians and fans of her music, but as an example of someone with passion, integrity and love; love for her gift, love for her creations, and the ability to share it, totally unabashedly, completely, with a room of total strangers crying out for more. The strength and wisdom apparent in Ruby's performances is inspirational.
As a fan of Jools Holland's live performances, the chance to see Ruby Turner live in her own right was something I jumped at. I had every faith this inspiring woman would deliver, but hadn't thought about exactly how. Let me tell you: there was some magic in that theatre last night. Expanding to fill her own stage, Ruby's presence is a force of nature.
Reviewer: Natalie Romero
Reviewed: 15th April 2016