Arriving at Liverpool's St George's Hall, I was transported to Philadelphia in the 1970s as soul superstars, The Three Degrees took to the stage. Dressed in some of the most sparkly frocks I've ever seen, they looked every bit the part and sounded it too, with great voices and hitting notes, other groups can only dream of. The band has had many members over the years (15 to be precise) but has always been a trio, and the trio of talent currently comprises of Original members; Valerie Holiday since 1967, Helen Scott since 1976 and the newly joined Freddie Pool since 2011.
The women work incredibly well together, although other members have come and gone in the past, this really is a very strong line up indeed and it's a very slick performance too throughout with all three fantastic voices demonstrating why they are the longest touring female band in the world, belting out crowd favourites such as 'Get your love back' and 'When will I see you again' you can see why they still have a big following.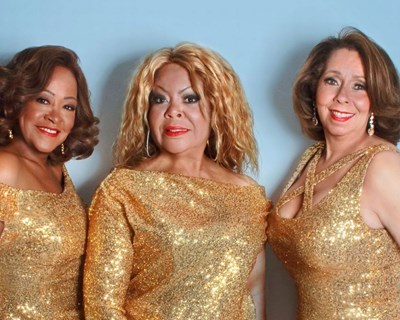 It's not just the vocals either, they have a wicked sense of humour and had me and the audience in stitches throughout the performance with audience participation and a very funny introduction to themselves. A personal favourite song performed of mine was 'Dirty Old Man' where Valerie's Deep soul voice filled the beautiful St Georges Hall with Beautiful Music.
Performing all of their own hits they also included a few up tempo covers from Philadelphia including the opening song; Shake your Groove Thing, originally performed by Peaches & Herb and other timeless classics such as Boogie Wonderland and disco inferno, which the trio added their own special soul style to.
If you enjoy soul and disco, this is the concert for you and the best way to hear the true original sound of Philadelphia. If you don't know the three degrees, they are not a tribute act, they are the real deal and it's one great big fun show, and I find myself asking; when will I see them again, hopefully very soon!
A fun filled evening of timeless classics.
Review: Max Eden
Reviewed: 11th April 2016