Eagerly awaiting at the Lowry for Paul Carrack and onto the stage walks a solitary figure and announces he is Robert Vincent, puzzling as no mention of a support artist anywhere and picking up a guitar he launches into a song entitled Lady. This is followed by 5 more 'sad and depressing' so described by Vincent's own admission for the lyrics written and sung by him tonight…. But it has to be said it was far from depressing to be in the audience and be entertained by him for 30 minutes with songs including Light of the Stars and my particular favourite The Bomb. With excellent vocal and an obvious talent for emotional songs Liverpudlian Vincent is definitely going to be one to watch out for in the future.
But I digress…… onto the main attraction on stage this evening Mr Paul Carrack.
Now when I said to friends and family I was excited to be going to see Carrack I was met with blank stares and the question 'who?' Yet as soon as I mentioned hits How Long, Tempted, The Living Years and Over My Shoulder the recognition was immediate. They could be forgiven as Carrack performed these songs with bands Ace, Squeeze and Mike and the Mechanics and it is only over the last few years he has truly established himself as a solo artiste despite having a long career in the music industry. Previously recognised as a talented songwriter and musician Carrack has worked with some of the top names in music including Eric Clapton, Elton John, Roxy Music, and Van Morrison and has done session work with former Genesis guitarist Steve Hackett amongst many others.
Without any introduction Carrack and his backing artists take to the stage and treat us to 'Too Good To Be True' a track from his latest album Soul Shadows promoted during the 2016 tour. Steve Breighton should be mentioned here for his brilliant performance on saxophone. Shivers down the spine stuff!!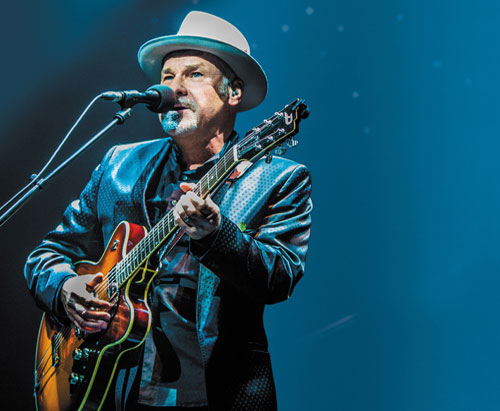 Further songs from the new album include 'Let me Love Again' which Carrack hints as may possibly be the next single to be released. The audience are warming up and are clapping along by now and a resounding ripple of applause is given when Carrack dedicates a song co-written by him and first performed in 1994 by the Eagles 'Love Will Keep us Alive' to Glenn Frey founding member of the Eagles and who sadly recently passed away. Glancing around the audience I see many a tear shed during the soulful rendition of 'The Living Years' which is also interpreted on stage by the Warrington British Sign Language Choir.
The tear jerker for me has to be 'That's All That Matters To Me' taken from the Rain and Shine album and which Carrack says was inspired by his daughter setting off on a 6 month trip abroad.
Audience participation is encouraged during 'How Long' and Carrack is not disappointed, we are all in fine voice and join in the chorus and are up on our feet and dancing in the aisles. Throughout this evenings performance we are treated to the brilliant playing on guitar of Andy Staves and Jeremy Meekon on bass. On drums and percussion Jack Carrack, (Paul's son), and Dean Duke on drums and the aforementioned Steve Beighton on saxophone all giving 100 percent performances. (Not forgetting the multi-talented rock pop and soul star Carrack who also played guitar keyboard, Hammond and melodica!) The sound level was perfect, not too loud to enjoy or drown out vocals.
Drawing to a close after a solid 2 hours on stage and hardly taking a breath between songs the audience were rapturous in their applause and Carrack and Co were deservedly awarded a standing ovation in the packed to capacity theatre . Upon leaving the stage the crowd continued to applaud and demand to hear more and after several minutes were rewarded with a return to the stage and a performance of Gerry and the Pacemakers hit 'Don't Let the Sun Catch You Crying'.
This genuine man from Sheffield dubbed in a BBC documentary as 'The Man With a Golden Voice, takes nothing for granted and is appreciative of his many fans old and new. Would I go again? 'Bet Your Life!' (Another from Soul Shadows)
The 2016 tour continues around the country until the end of August http://www.paulcarrack.net/tour-dates
Reviewed: 21st February 2016
Reviewer: Lorna Weekes